The Seer team keeps a running doc of Google search features and oddities, which we collectively update any time we spot something new. This allows us to identify trends in what features Google is testing and to provide our partners with up-to-date information about their SERP landscapes.
Here's what we've spotted in recent months, and what it could mean for your brand.
Knowledge Panels Are Looking A Lot Like Featured Snippets
It appears that Google is featuring more image results for certain queries by moving the featured snippet to the right rail, including multiple images (with a link to "More images"), and then supplementing with "People also search for" image results below the snippet that include keywords with high search volume or intent.
We noticed this feature appear for several queries like "spark plug replacement", "spark plug socket", and "stone walkway".

What Does This Mean?
Google has been doing A LOT of testing in the right rail - from Knowledge Panel Verification to new designs for Product Panels. It's safe to say we'll probably see more testing in the right sidebar of the SERPs.
Interesting Finds
Mobile users began seeing Interesting Finds as an additional SERP feature this summer. The Interesting Finds SERP feature shows 3 to 4 related news stories or articles with the option to view more. Although some Interesting Finds sites are AMP-enabled, it doesn't appear to be a requirement.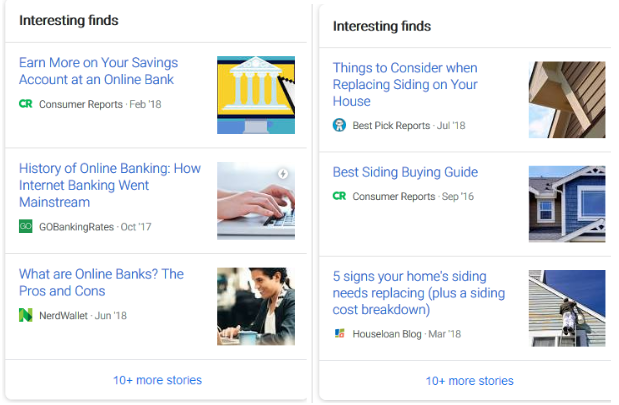 Google appears to be showing these results in order to re-surface news articles and other timely publications when their older content is still relevant.
Nutrition Searches and Calorie Info
Google has begun showing more nutrition, calorie, and menu information for relevant search terms. While Google has included basic nutritional information before, this new update includes the full nutrition facts label info and relevant menu information for restaurants where applicable.
This update may be the result of the FDA menu labeling requirements which went into effect on May 7th 2018 for any chain restaurants with over 20 locations.
Unfortunately, there's no current schema definition for nutritional information. Google appears to be extracting information from websites and validating that against the USDA Food Composition Database.
"People Also Search For" Results with Images
In summer of 2018, the Seer Team began seeing related search results with images at the bottom of search result pages. Desktop users will see related results for their original search query with images. In some cases, users may also see broader category results as well.

Mobile users may see even more related search options, with directly-related results provided in an image carousel and broader topically-relevant results that are accessible via the drop-down.
These results appear to be driven by the categorization that Google has been introducing to search results as well as the newer "People Also Searched For" results that show up under an individual listing when users click back to their search result. We've been seeing these related/people also ask results for entertainment, lifestyle, and how-to searches.
Forum Site Displaying "Answer Carousel"
On mobile searches, it appears Google is leveraging Question Schema and Answer Schema to display a carousel of answers to a question from a forum site like Stack Exchange.
The search below for "why are roasted coffee beans bigger than green beans" on a mobile (iPhone) device using Chrome, returned Stack Exchange at position 1 with a carousel of answers with the number of upvotes for each.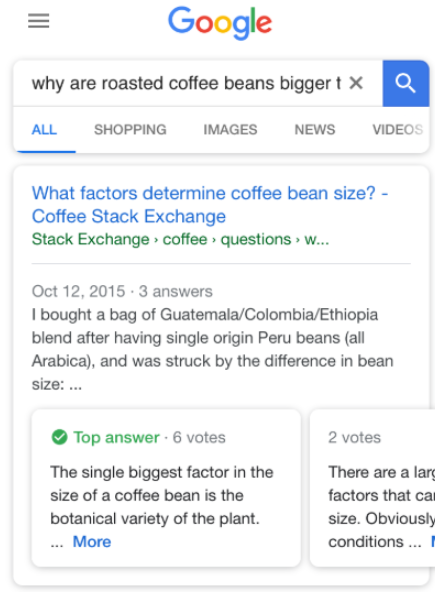 This feature could put some power back in the hands of site owners who want to leverage their communities and forums to gain more real estate in the SERPs.
Google was busy making changes to search results this summer, but our team stayed on top of the updates and shared their findings. Did you notice anything we didn't include in this post? Let us know in the comments below!
To receive our industry updates and SERP oddities articles, make sure to sign up for our newsletter!