Now that you have an idea of how to manage your budget thanks to Nick, you might want to consider where your ads are currently showing, and where you can expand! There are tons of options for engines that you can show ads on but the two biggest players are of course Google and Bing. Both of these engines have different options you can choose to show your ads across different channels and sites.
Google:
Google is probably the most common engine that advertisers choose to run paid search ads with. Google receives more than 1 billion searches per day. So, when you're deciding where you want to show your ads, this is a good place to start. Once you've decided to partner with Google, you can decide where and how you'd like to serve your ads.
Google Search:
You can choose to show your ads only on the standard Google.com search page. In order to choose this option, you want to choose "Search Network Only" under Campaign Settings in AdWords.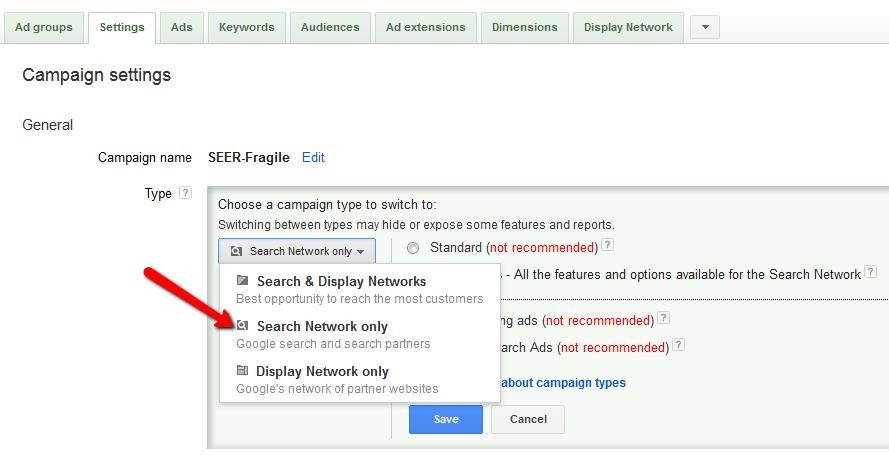 When you select "Search Network Only" AdWords will default to showing your ads on both Google search and search partners when users search on your keywords. Google Search partners are a group of various sites that Google partners with to show ads on when users search those sites. Google doesn't tell us exactly what sites this includes but they drop some hints that sites like AOL and Ask.com are a part of their network. You can choose to opt out of search partners by going to your campaign settings and unchecking the little box that says "Include search partners".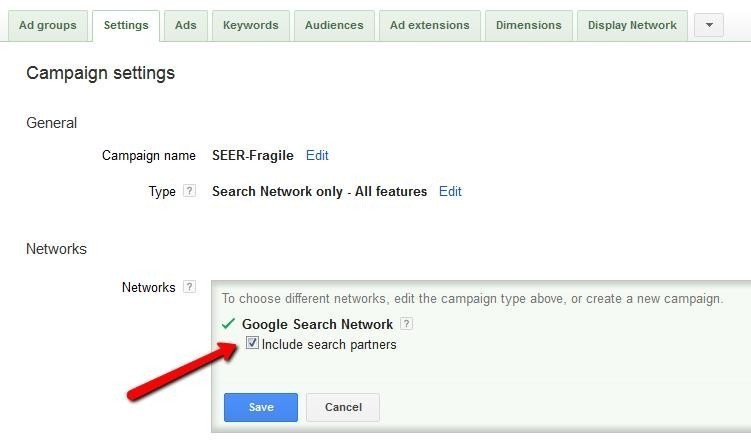 If you choose to opt out of search partners, your ads will only show when a user searches on Google.com or other Google search sites such as Google Maps or Google Images.
Google Display Network:
If search isn't your thing or if you want to reach more people, the Google display network is a great option. In order to show ads on the display network you'll want to choose "Display Network Only" in the campaign settings tab.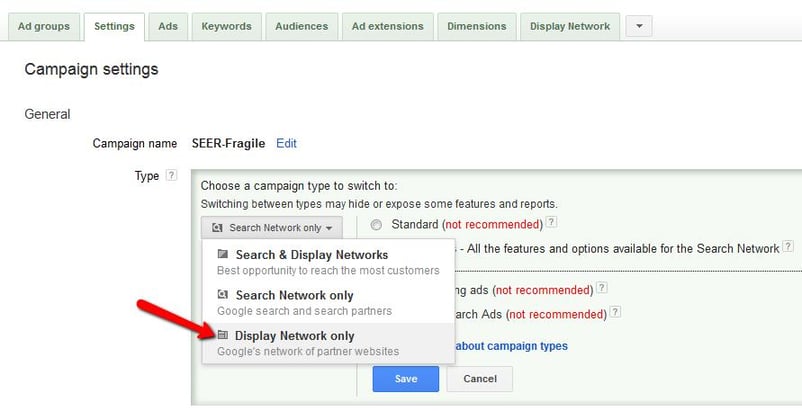 The Google display network is a wide range of sites across the internet that partner with Google to show ads. This even includes ads on mobile devices and within apps. (Ever wonder about those ads that pop up during candy crush?) Your ad can show in many different places throughout these sites. You can also choose to show both text and image ads. Similar to the search network, you can use targeting methods to determine where your ads show. You can target specific sites with managed placements or you can use keywords to tell Google which sites might be relevant to automatically place your ads on. In addition to these, you can target by overall interest categories (like showing on sites related to games) or even by user's gender or demographics. If you want to get an idea of what kinds of sites are in the Google display network, Google's ad planner is a great tool!
Remarketing:
Another option within the Google display network is Remarketing. This is when you can cookie users who have visited your site and then serve them ads as they browse different sites across the display network (yes this is a little creepy, but it does work!). Remarketing can be a great targeting option because you can re-engage users who did not convert originally. You can even show them special offers or coupons to make them more likely to come back. In addition, since this serves ads within the display network, you can show both text and image ads to grab the user's attention.
YouTube:
Yet another option under the Google umbrella is showing ads on YouTube. There are a few different options for YouTube advertising. You can go big and choose Masthead advertising which is similar to a banner ad on the YouTube homepage or you can stick with more traditional paid search options like TrueView advertising. Within TrueView you can decide if you want to show ads within the video search results, alongside a relevant video, or within the viewing screen before the video starts. You can run text or image ads on YouTube as well as video ads. To learn more about YouTube advertising check out my colleague Jess's blog!
Bing:
The other most common engine for paid search advertising is Bing. Bing recently reported that "47.3 million unique searches in the US only use Bing". Bing tends to be lower volume but sometimes the cost per click is less since there is less competition on this engine.
Bing Search Network:
Just like Google, you can choose to show ads on both Bing and Yahoo! Search (they are partnered together) or on their search partner network. To choose your network, go to the settings tab in a particular ad group and check the box for "Search network" and then choose your specific network option.
On Bing Ads you can choose these settings at the ad group level. Also, on Bing you can choose to target only search partners on their own (this is not an option on Google). This can be helpful if search partners are under performing or out performing and you'd like to test them at different bids or budgets so that you don't miss out on potential volume.
Bing Content Network:
Bing also has a content network that you can target like Google. You can choose this setting at the ad group level by clicking the "Content network" box in the settings tab like you can see above. The Bing content network does not include as many sites as Google's and therefore has not been known to have as strong performance.
In addition to Google and Bing, there are many smaller engines you can also show ads on. We'll be covering these in our next post so stay tuned!