What are Ad Extensions?
Ad extensions are additional features that show with text ads on the SERPs. Ad Extensions are optional features on Google AdWords (google.com) and Bing Ads (bing.com and yahoo.com). Ad Extensions are not available on search partners.
Ad Extensions are most often shown with ads in high positions (usually 1-3) but can sometimes show in lower positions.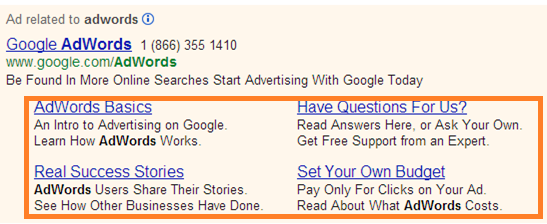 When did Ad Extensions become available?
Ad Extensions were introduced on Google AdWords in July of 2009, and on Bing Ads in March of 2012.
Are SiteLinks and Ad Extensions the same thing?
No. Though these two terms are often used interchangeably, Ad Extensions and SiteLinks are not the same thing.
SiteLinks are one type of Ad Extension (for a more thorough discussion of ad extension types tune in for the next installment of this blog series next week!) SiteLinks can also be associated not just with paid search ads, but also with organic listings. In fact, were rolled out on organic listings in 2006 on Google and 2007 on MSN, years before they were available as an option for paid search advertisers.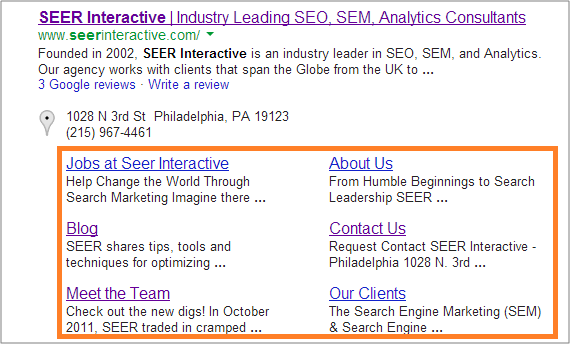 Organic SiteLinks on Bing
What do Ad Extensions do?
While different Ad Extension formats offer specific benefits (again, tune in next week!) there are a few perks that are universal across all variations:
Get attention

While in position two, the second ad featured above takes up more space on the SERP and draws more attention with the addition of an Ad Extension (in this case a form ad extension.) This can help improve your click-through-rate and lower your cost per click by improving quality score.
Provide additional information
Ad Extensions offer additional characters or fields to communicate information about your website, company and products. By using this space to outline additional benefits or more explicitly describe your offerings you can entice qualified users to click and disqualify users that aren't likely to convert before they click and cost you money.
Drive to a more specific landing page
Many Ad Extensions offer users the option of clicking deeper into the site based on the extension. By offering different landing pages via Ad Extensions, you can offer users more options and place them on more relevant pages. This can boost conversion rate.
How do I get Ad Extensions?
Ad extensions can be opted into and customized from within the Google Adwords and Bing Ads browser interfaces. Select extension types can also be created and personalized via the AdWords Editor and Bing Ads Editor desktop tools (one more time, tune in next week!)
Is there an additional fee for Ad Extensions?
No. Ad extensions can be incorporated into your existing paid search ads for no additional fee. Users will be charged up to your maximum CPC for a click to your extension the same as if they had clicked on the primary body of your ad.
Hopefully this overview ad extensions helped! I'll be continuing this series next week with a deeper dive into the different types of extensions available on Bing and Google, and the benefits of each type of ad extension. Be sure to check back in on Thursday 7.18!