Below are the highlights followed by a summary of what happened on the Google Analytics blog in March. I also discuss how you and your team can take advantage of these developments!
Highlights:
In March Google...
Released 2 New Mobile App Analytics Reports
Hosted a talk with Neil Hoyne on moving beyond just the conversion point
Released a solutions guide for implementing Google Analytics via Google Tag Manager
Released a product release notes section
Who Should Care: App owners/marketers
Level of Complexity: Medium
The Gist:
Google has released 3 more reports for Mobile App Analytics, the Active Users report, the Cohort Analysis report, and the Lifetime Value report.
The Active Users report shows you how often users interact with your app. This allows you to compare drop-off rates for users over different periods of time.
The Cohort Analysis report allows you to segment users into cohorts based up a specific dimension, in this case the dimension is when the app was installed.
The Lifetime Value report is the only report I haven't seen in the interface yet. But even so, it can be used to help determine CPA and effectiveness of a campaign.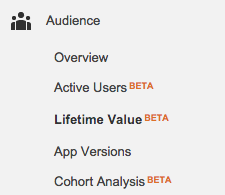 Your Action Items: First I highly suggest reading further about each individual report (linked above). After you understand these reports, use them to tease out insights like effectiveness of specific channels and CPA based on channel.
My Take: While I can't speak to the Lifetime Value report, as I haven't seen it yet, the Active Users and Cohort Analysis tools are extremely insightful, once understood. While there is a learning curve associated with these reports, they shed light on otherwise hard to find insights. Using the Cohort Analysis report, for example, can show you how effective a specific campaign was in terms of making users come back to your app over time. The Active Users report will enable you to compare groups of users by the number of unique users that interacted with your app within a set period of time. For instance you could research how someone who interacted with your app in the last 30 days vs. within the last 7 days to unearth how these users are different.
Who Should Care: Analysts, Marketers, Advertisers
Level of Complexity: Beginner to advanced
The Gist:
This post leads to a 30 minute video that discusses how the conventional thinking of measuring success based on conversions is only a piece of the picture.
A few key takeaways from the Google Analytics Blog via the video:

Evolve your measurement plan to better fit the state of the web & complex customer journey (see Google's recent measurement guide to help).
Question if you have the right goals or you need to adjust, and don't be afraid to change goals if need be. Really make sure you have the right macro & micro conversions.
Build an attribution model (also see Google's guide) that works for your brand, considering the unique factors that make up your business and what messages make sense in each different context (for example, mobile, social, email, etc).
Measure your customers in a user-centric way, move beyond the old session-based world.
Your Action Items: Watch the 30 minute video to learn why conventional thinking is outdated, and how you and your organization can overcome it with small steps in the right direction.
My Take:This talk made me re-consider how I viewed metrics, conversions, and the customer in general by questioning the reasoning behind our data-based decisions. For instance is the last touch point really the place where we should be spending the most of our dollars? Does a non-converting channel still deserve our resources? How can we decipher these two questions and determine the best place for spend?
I highly recommend watching, at the very least, the first 10 minutes of this video. If you've got the time, watch the full video for full GA insights and advanced methodologies. And if you'd like to learn more about the Customer Centric approach read Pete Fader's short (less than 200 pages) book; Customer Centricity: Focus on the Right Customers for Strategic Advantage.
Who Should Care: Analysts and Developers
Level of Complexity: Advanced
The Gist:
Google has expanded their Analytics Help section, found here, to include a solutions guide for Google Tag Manager (GTM)
It focuses on the implementation of GTM, but also explains why you should be using GTM, and when to use certain functionality vs. another.
Your Action Items: Use this guide to learn how to implement and use GTM to its full capacity.
My Take: This is an extremely helpful guide that clearly lays out the "why" and "what" of GTM. Over the past few months Google has been making GTM easier and easier to use (Google released GTM version 2 in January making it much more intuitive) and this addition ties everything together. If you don't currently deploy Google Analytics using GTM, here is a resource to help learn why you should, and when you're ready deploy GTM.
Who Should Care: Any Google Analytics User
Level of Complexity: Beginner
The Gist:
Google has started publishing Release Notes in their product Help Center.
The release notes are a simple, but robust way to stay on top of Google Analytics feature and product releases.
Your Action Items: Bookmark this page for future reference. I also set up a If This Then That (IFTT) recipe to email me when this page changes. If you're not a IFTT user or unsure how to do this check out Seer's Ultimate List of IFTT Recipes for Marketers.
My Take: I love this for two reasons, it makes keeping track of all Google Analytics updates simple and links to relevant help articles to quickly get more information. I'll be keeping an eye on these over time, and you should too.