At the start of every new year or quarter, many marketers begin the same discussion with their team: "What content should we create next?" Content marketing introduces new people to your brand, educates potential customers, and helps existing customers answer questions about your products or service offerings.
Aligning your content strategy with seasonal trends is a great way to boost your brand's awareness and leverage higher volumes of search traffic during a particular time of the year when users are most interested in certain topics.
When people go to search, they modify their search queries with seasonal or year keyword modifiers (i.e winter, 2016, etc.) In this post we'll share with you how to identify these types of seasonal opportunities using free tools and how to better optimize your content to satisfy these specific searches.
Identify Seasonal Trends for Your Industry
The first step to tie seasonal search trends to your business is to identify common search engine queries with seasonal or yearly modifiers. To start, here are several of the free tools and techniques you can use.
Google Suggest
The quickest way to see if people are adding seasonal or year modifiers to your targeted search terms is to enter those terms into Google search, add a space but don't hit enter. Doing this allows you to see the most common modifiers on your targeted keyword. If there is a seasonal modifier or year, you know there is a significant amount of people searching this way in your industry. The image below shows an example of a query for "safe cars,"
Similarly you can scroll to the bottom of the SERP and view the related search terms from Google for the same search query:

There are a couple of tools that aggregate this Google suggest data. One of my favorites is Keywordtool.io.
Google Trends
After you've identified your search terms that have seasonal modifiers, throw those into Google Trends to discover at what time during the year search volume peaks for those search terms. As you can see below, the term "buying a car" peaks every year during the summer months.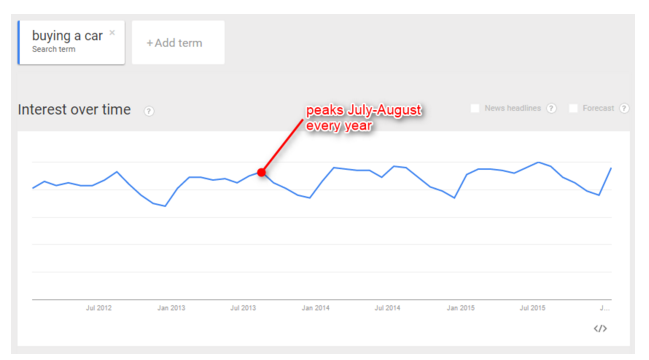 Google's 'Marketer's Almanac'
On the Think With Google blog there is a great resource called the Marketer's Almanac which lists the most popular holidays by season and month for the year as well as articles and case studies that correspond with each holiday.
After you've identified the peak times for your targeted queries, this is a great resource to identify the holidays and trends that occur around that time to develop additional relevant and related content pieces.
Optimize for People
Once you've identified some specific modifiers that people use to search for content in your industry, it's important to work it into your copy to ensure it aligns with your audience's interests.
For a client that operates in the wedding dress space, our team noticed that people add the year to their search queries to look for the most current collections of wedding dresses. The account team made recommendations to update meta descriptions to include the year of the collection and saw at least 50% increases in click-through rate for those results.
Make sure you include proper on-page optimization for your content as well by adding the seasonal modifiers to the Title Tag, headings and description to improve click-through rate and ensure Google will understand your content in the context of the season or time period.
Start your month off right. Send Seer's marketing updates, tips, and strategy straight to your inbox.
Updating vs. Creating New Content
If you have identified a trend that occurs every year, you should plan to budget money and time for updating this content every year. You also need to determine if your content should live on a consistent URL and be updated each year or if you should leave old content alone and add new pages to optimize for trends year after year.
SmokyMountains.com has produced an interactive map of the fall foliage for the Tennessee Smoky Mountains. A piece of content like this map is evergreen because it contains information that will be relevant to people year after year, but of course it will need new data each year. People are not interested in fall foliage data for past years, so Smoky Mountain's best approach to this content would be to implement two tactics: 1) update it each year to contain up-to-date information 2) Leave it under the existing URL so that Google is not introduced to the new page each year. By taking this approach, Smoky Mountains will be able to build compounding authority with search engines year after year.
However, in some cases, as the the wedding dress collection example above, users may be interested in past seasonal trends. If this is case, the company may want to leave old content live on the site and add new URLs when creating content new seasonal content. For example, domain.com/wedding-dresses-collection-2015 or domain.com/wedding-dresses-collection-2016.
| | |
| --- | --- |
| Create New Content If... | Update Old Content If... |
| People have a need for previous versions of your content | People only want the most up-to-date information |
| There is still search volume for past trends in your industry | Search volume is declining for past seasonal modifiers and previous years |
Launch at the Right Time
If you're producing content to leverage a seasonal trend, be sure to launch your content by the time search volume peaks.
In the chart below, you can see the search query "first year of school" peaks every year in August which makes sense as most school years in the U.S. start in late August or September. If you're producing a content asset for people performing this query, you'll likely want to start planning at least 2-3 months prior and launch no later than early August to make sure you are ranking and promoting your content in time for peak search interest.
Leveraging seasonal trends for your brand's content strategy is a great way to drive new people to your website and ensure your brand provides users with the specific content that they are searching for.
Is seasonality something you consider in your content strategy? Share the seasonal content you've created and any strategies you've used to create it!