What is Google Surveys?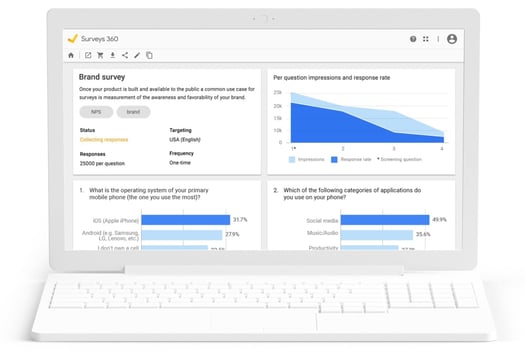 Before you get started using Google Surveys, make sure you take a moment to review the following resources:
In this post, we'll walk through early stages of planning out your research study using Google Surveys guidelines and later, analyzing your survey results. Let's do it!
---
Step 1: Strategy Planning
Research Objectives
What do you hope to learn?
Defining goals is an often-overlooked initial step in planning your survey. To get valuable data with insights that you can take action on, you first need to define exactly what you're looking to get out of running the survey, why, and from whom. Ask yourself these three questions to get started:
What data am I hoping to collect from this survey and why?
Who is my target audience?
What do I want to be able to accomplish when I have my final results?
Defining your goals may also involve seeing what other information is out there. Doing preliminary research into the question you're trying to answer could save you time and money. It can also give you ideas for what's missing from the current data and what specifically you'd like to answer.
Target Audience
How do you want to target?
Publisher Network:
Respondents are internet users reading content on Google's Publisher websites.
Publishers monetize online content through a surveywall in order to incentive responses.
Demographics are inferred based on respondents IP address and browsing history.
Opinion Rewards App:
Respondents are users of the Google Opinion Rewards App.
The app monetizes users by rewarding them for completing a survey with Play Store credits.
Demographics are self-reported by users when they sign up to use the app.
Now that you've defined your goals and selected which type of survey you want to run, take careful steps to target your audience(s).
Who are you trying to reach?
Google Surveys allows you to target users based on a variety of attributes including: Age Range, Gender, Language, Device Type (Android Only vs All Devices) and Location (Region).
These targeting options differ depending on the type of survey that you choose to run. You should know, based on your defined goals, what's important to you in an audience:
Do you want a representative sample of a country's population for a policy poll? If so, use general population targeting.
Do you want to reach users of Android phones about a new product you're developing? If so, target Android-smartphone users on the Google Opinion Rewards app.
Do you want to poll your website users before making a change to your site? If so, Google has free satisfaction surveys or custom website surveys that can be run in conjunction with general population surveys so you can compare the general population to your own.
Step 2: Pricing
The price per completed response for the survey is the cost to have one user answer all questions in the survey. The price per completed response varies based on your survey targeting, number of questions, and whether or not you include screening questions. Review pricing.
Surveys are charged on a price per completed response basis beginning at $0.10 for one question in general population surveys. .
If your survey includes screening questions, the price per completed response is custom. Google determines this price based on a short audience test.
Prices for surveys with screening questions start at a minimum of $3.00 per completed response and vary based on length of survey (10 question maximum), target audience, and incidence rate (minimum of 5%).
Surveys 360 customers receive a monthly invoice for ongoing research study development. This is in contract to the free version of Google Surveys where you pay on a price per completed response basis. More on this later!
Estimating Budget
How many responses do you need?
Since pricing varies based on the number of questions you ask, carefully select the right survey type to match your budget and data needs.
Remember to keep your objectives in mind when estimating the cost of the survey. Screening questions may or may not be critical to achieving your client's survey objectives. If these are critical components to your research, note this automatically raises your total cost of running the survey.
How much are you willing to pay?
For general population survey audiences, the price ranges from $0.10 to $1.50 per completed response.
For website audiences, the price is $0.01 per response (completed or not).
Standard surveys run through the website satisfaction product are free.
Step 3: Survey Design
To craft the perfect questions, ensure you do the following:
Submission Criteria
Having good survey design for your research helps to enhance data quality and a better user experience. Here are two excellent resources that introduce things to keep in mind when creating surveys for conducting quantitative research in Google Surveys:
Note that your survey can be rejected by Google if it does not adhere to the following requirements:
Submission Process
All surveys have to be reviewed for adherence to Google's program policies before going live. If the survey needs any edits, you'll receive an email with instructions. English surveys are reviewed within 1 hour and non-English surveys within 24 hours after submission.
Step 4: Analyzing Results
Google Surveys aggregates and analyzes responses from users and presents the results in a simple online interface. You can view these results online or export them to a spreadsheet.
View Mode:
Sign in to Google Surveys.
Click the survey you want to view on the survey dashboard.
Click the text of any question to see individual question results. Keep in mind that the responses reported for each question include all users who answered that question, even if they did not complete the survey.
Click the inferred-demographic segments in the left-hand pane to segment the data by inferred age, gender, or geography.
Raw Data Export:
Sign in to Google Surveys.
Click the survey whose data you want.
On either the survey-results or question-results page, click Download . The Excel file is saved in your default download location.
Bonus:
Google Surveys vs Surveys 360
Surveys 360 is available as part of the Google Marketing Platform. To invest in Surveys 360, contact a Google Analytics 360 Certified Partner (like Seer!)
The premium version of Google Surveys includes monthly invoicing for ongoing survey development, building remarketing audiences from survey respondents to push to Google Ads, zip-code level targeting - among other capabilities.
See below for a full comparison:
| | | | |
| --- | --- | --- | --- |
| | Google Surveys | Google Surveys 360 | Google Surveys 360 serviced through an official Google reseller |
| Perfect for… | Mid-size companies for ad-hoc surveys | Large enterprises with multiple users and advanced targeting needs | |
| Pricing | Starting at 10¢ per complete | Varies (contact Sales for more details) | Varies (contact reseller for more details) |
| Billing | Credit Card | Invoiced monthly | Invoiced monthly |
| Representative Sample | Yes | Yes | Yes |
| Respondent Source | Network of online publishers or Google Opinion Rewards | Network of online publishers or Google Opinion Rewards | Network of online publishers or Google Opinion Rewards |
| Demographic targeting by gender, age, and geographic region | Yes | Yes | Yes |
| Custom targeting with screening questions | Yes | Yes | Yes |
| User-list targeting | No | Yes, with support from Surveys 360 service team | Yes |
| Zip-code targeting | No | Yes, with support from Surveys 360 service team | No |
| User and account administration | Basic | Via Google Marketing Platform administration (Platform Home) | Via Google Marketing Platform administration (Platform Home) |
| Support and services | Self-service Help Center and email | Enterprise-level service, support and SLAs | Enterprise-level service, support and SLAs |
| Legal entity | Individual as owner | Corporate entity as owner | Corporate entity as owner |
If you are interested in running Google Surveys, fill out our contact form to get started!
---
Sign up for our newsletter below for more tips and tricks on using the Google Marketing Platform to grow your business.