About our Guest Author
This is a guest post by Brian Roizen, co-founder of Feedonomics.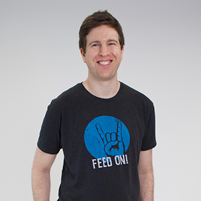 Brian Roizen is the co-founder and chief architect of Feedonomics, a full-service feed optimization platform that optimizes product data for hundreds of channels. He has been featured on numerous podcasts and webinars, and regularly contributes to Search Engine Land and other industry-leading blogs.
Brian graduated summa cum laude from UCLA with both a bachelor's and master's degree in Mechanical Engineering.
---
Pay-per-Sale vs Pay-per-Click
What's Best for Advertisers?
Curious about getting listed on Google Shopping Actions, but have yet to take the plunge? With all of the buzz surrounding Shopping Actions, we thought it was important to share a how-to guide on Google Shopping Actions (GSA), a marketplace where retailers are turning to in large numbers to have their products showcased across the Google ecosystem.
Before we get into present-day Shopping Actions, let's look back on the GSA origin story. Do you remember the Purchases on Google program? This pilot program launched in 2015 and allowed merchants to sell on Google and featured a "buy button" next to their product ads. When the user clicked on the ad, the shopper was taken to a Google-hosted landing page where he or she paid for the item using Google Wallet.
Fast-forward to March 2018 when Google introduced Shopping Actions, a program that evolved from Purchases on Google. Unlike Google Shopping, which uses a pay-per-click model, Shopping Actions follows a commission-based model; businesses only pay once a sale takes place. Commission rates range from 5-20%, with the average commission rate at 12%.
Think of GSA as the intersection where marketplace and sales transaction meet - a collection of major retailers and brands list their products on GSA and the payment transaction takes place on Google Express.
Currently, Shopping Actions is available only in the United States and France.
How Does 'Shopping Actions' Work?
Retailers list their products across various Google platforms (Google Search, Google Shopping/Google Express mobile app, Google Assistant with voice search) and coming soon, YouTube and Google Discover. We know that shoppers often turn to a search engine for product research and that based on the user's search, a relevant ad will surface.
Imagine that you are in the market for an instant pot pressure cooker and you turn to your smartphone to look up images on the internet for inspiration.
After you type in the words "Instant Pot" an ad surfaces at the top.
After clicking on the "Shopping" and "Buy with Google" tabs, additional product listings appear.
Once the shopper decides on what item to buy, a click on the listing takes the consumer to the checkout phase, where a quick and simple transaction occurs via a universal shopping cart and instant checkout using payment information that is stored in the system.
An advantage of purchasing through Google Shopping Actions with a shopping ad instead of a standard landing page on a retailer's website is that there are fewer steps in the checkout process. Payment information is saved, checkout is fast, plus Google's platform loads fast and is mobile-friendly.
With Shopping Actions, it's easy for the consumer to bundle products. For example, the person buying an Instant Pot may receive personal recommendations for products associated with a pressure cooker, like a spoon or ladle, which can ultimately lead the shopper to build a bigger basket.
Advantages for Retailers:
Increase visibility and acquire new customers across various platforms
No upfront costs for retailers due to pay-per-sale model
Low administrative costs since customer support and returns are handled by Google
Customer data is yours to keep, unlike Amazon
A friction-free shopping experience often leads to bigger basket size
Customers on Shopping Actions get personalized product recommendations, which can potentially lead to an increase in sales and repeat business.
Build loyalty and trust with your target audience/customers because your purchases are backed by the Google guarantee.
Shopping Ads vs Shopping Actions
What's Best for Advertisers?
How about both!
Now you may think, should I stop running Google Shopping Ads and focus solely on Shopping Actions? Not so, in fact, we have a strong case as to why it's best to run both strategies in parallel to augment your sales.
Recently we worked with our client, Ambush Board Co., to study the impact of Shopping Actions on pay-per-click performance. Our findings revealed that sales increased when both Shopping Ads and Shopping Actions were used due to increased product exposure. This resulted in a 115% increase in conversions and doubled Ambush's revenue.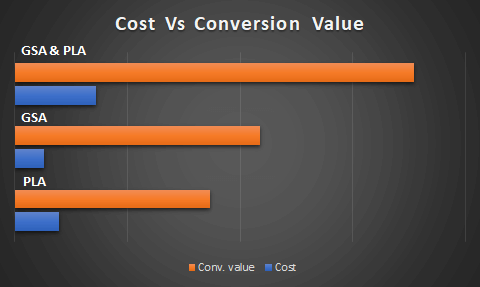 Ambush Board increased conversions by 115% with Shopping Actions. Although costs increased by 80%, total revenue increased by 104%.
You can get all of the details about this real-world Google Shopping Actions vs. Google Shopping case study here.
How Do I Sign Up for Shopping Actions?
1) Complete the interest form and send it to Google. Note: To sign up for Shopping Actions, you must have a Merchant Center account already established.
2) Google will review your submission.
3) Once approved, Google will send you next step instructions that businesses need to complete to get active on Google Express. These steps include setting up your shipping and return policies for Shopping Actions, as shown in the image below.
4) Upload your product data using a Content API, a product feed, or with the help of a Google Shopping Partner like Feedonomics.
5) Once the steps are completed, you will then review and preview your storefront on Google Express and lastly, "request final validation."
6) You will be notified by Google once your account is approved (it usually takes a few days) and then you can publish your store listings.
Best Practices to Maximize Your Sales Opportunity on Shopping Actions
Improve your chances of more sales by opting in your entire product catalog to Shopping Actions. Every eligible item that you have listed increases your chances of visibility.
Price your products competitively. If possible, utilize a pricing program tool to evaluate and analyze the pricing of products in similar categories, then make adjustments accordingly.
Monitor your inventory and ensure the numbers are accurate and up-to-date.
Google recommends a fast delivery time for optimal customer satisfaction. If possible, structure your shipping settings to ensure it's as fast and low-cost as possible.
Be diligent with your handling time. If you fail to update an order with tracking data and/or shipment status within 3 days of your assigned handling time, then it will result in a canceled order.
Offering a minimal charge or free returns makes your offer more compelling to customers.
If your business is looking to expand its online presence and gain new customers, this is the marketplace for you.