Google My Business Adds Insurance Info Feature For Healthcare Provider Listings
Recently Google My Business has updated their healthcare provider help page and added in the new section, "Manage insurance info for your practice." The section describes that a new insurance feature will be available to select GMB profiles within the US "whose insurance availability is provided to Google."
"Important: Insurance information is available for select merchants in the US only. It displays for merchants whose insurance availability is provided to Google.
On your Business Profile on Google Search, under your business's hours, a "Check insurance info" link might display. We automatically include this link if we identify insurance availability through our third-party provider. The link opens an "Insurance information" page that lists the health insurance providers your business accepts."
GMB "Check Insurance Info" feature seen in the wild
While conducting a local search for dentists in South Jersey, we've seen this new insurance feature pop up in the wild for the first time-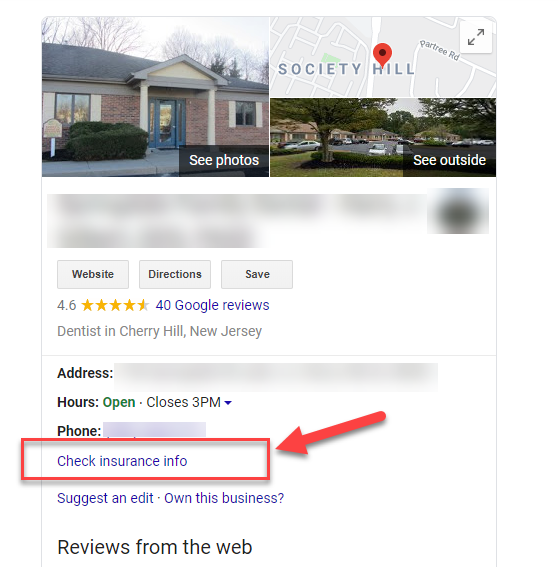 Note: While we have seen this in the wild, we have been unsuccessful in replicating the presence of this feature when other team members of ours performed the same search.
When the user clicks on the "Check Insurance Info" GMB link they are brought to an expanded view of the insurance associated with the healthcare provider-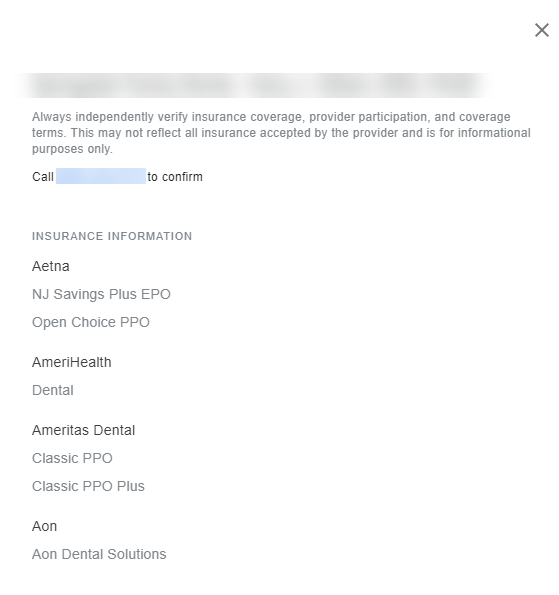 As Google stated, we believe this insurance information is being shown on GMB because it is being pulled in from third-party providers, such as Zocdoc.com for example, where it is also listed. At the moment, healthcare provider listings don't appear to be able to manually add insurance information as a feature to their listing.
What do you do if your GMB insurance information is inaccurate?
In case this insurance information is inaccurate, Google My Business does list the actions needed to be taken in order to have it removed-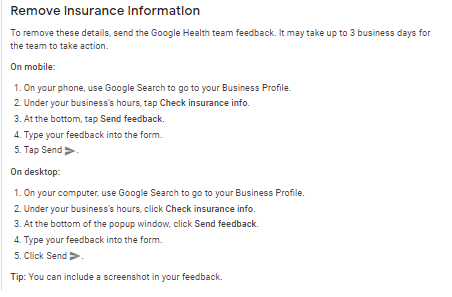 Why is this GMB insurance feature important?
Like many advances that Google makes, this new insurance information listed within GMB allows Google to keep users within their search results experience without ever having to click into a site. It also adds an additional feature to optimize for, allowing healthcare providers to differentiate and further appeal to potential customers by showing them the insurance that they accept.
Have you seen this new GMB feature in the wild?
If so, leave a comment with what you've found or any additional insights you may have uncovered about this new feature.
Sign up for our newsletter for more posts like this - delivered straight to your inbox!