As performance marketers (and, frankly, as humans), we all lead busy lives. While we don't have the magic formula for bending the space-time continuum, there are a few things that we've picked up along our way that have helped us get back some of that precious time.
These are all small tweaks, optimizations, and efficiencies you can enable in those five minutes while your lunch heats up, or those 10 minutes in between meetings. Soon enough those minutes add up and could lead to a significant impact on your managed accounts. Check 'em out below and shoot us a message on other quick AdWords optimizations you'd like to share!
Enabling ad extensions
Potential customers are making decisions quickly on the search results page (SERP). Ad extensions offer additional helpful information to guide people to click on your ad over your competitors' ads. They add extra value by increasing visibility and creating distinction among other ads.
Adwords ad extensions are an easy way to add more prominence and allow users to interact directly with your ad by taking action right from the SERP. This can include calling your business, clicking to your website, or learning the address to visit your store, all at no additional cost. Clicks on extensions will be charged as clicks on your basic ad normally would.
Learn more about each extension and when to use it here.
Know if a landing page is down
One of the worst surprises an advertiser can have is the realization that they've been spending money to send traffic to a page that isn't loading properly.
Thankfully, there's an easy and painless way to prevent this using AdWords Scripts. AdWords Scripts allow users to leverage snippets of code triggering automated actions or alerts based on defined performance fluctuations, landing page changes, or even the weather.
There are a wide variety of free, helpful script resources out there, but our favorite is Free AdWords Scripts. Here's a link to a fairly plug-and-play script you can adopt and use for reporting on broken URLs, so you can avoid any unpleasant surprises.
Negate certain keywords
Adding negative keywords to your ad group and/or campaign is another quick win you can capitalize on to improve your ad's success. A negative keyword will make it so your ad will not show if a user's search query contains that keyword or key phrase. For example, if your client sells Halloween candies, but does not sell Halloween costumes, you may want to add "costume" as a negative keyword so your ad doesn't appear if a user searches for Halloween costumes.
You can find negative keywords to implement at the ad group or campaign level by reviewing recent search terms in AdWords. Once you click into your client's account, simply navigate to the "keywords" section in your dashboard, then select "search terms". If you're looking to review search terms for a specific campaign or ad group, adjust the filter in this view.
From there, we recommend filtering the keyword cost from highest to lowest order to quickly review the search terms that are spending the most. If you find a term that is irrelevant, just add the whole keyword or a portion of the keyword as a negative keyword at the appropriate settings level.
The goal is to find search terms that are irrelevant to your client's ad group, campaign, landing page, and service offerings so you can further reduce inefficient spend and drive more qualified traffic.
Refine your targeting
AdWords offers a variety of ways to refine targeting of users beyond the keywords you are bidding on, including device, location, time of day, and many more.
If your budget is static but you are seeing impression share lost due to budget each day, try refining your AdWords targeting by decreasing bids on select groups of users. For example, you can download AdWords data by day of week/time of day and then run a heatmap in Excel. If you are seeing very low conversions in the wee hours of the morning, go ahead and reduce your bids at those times.
If the general public is way too large of an audience for your budget, you can start targeting by using newer AdWords audience segments: Similar Audiences or In-Market Audiences. Using the targeting method as opposed to the observation method will limit your ad traffic to only users who fall on these lists. Below is an example of the various options you have within In-Market audiences for Search!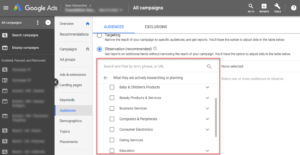 Set up Google alerts
A great way to demonstrate that you're taking your client's business success personally is to proactively come to them about industry updates or news about their business. In less than a minute you can set up Google alerts for your client and any competitors and get notifications right in your inbox whenever your client is mentioned in the news.
To set up your alert, go to the Google Alerts page, log into your Google account and type in the terms you want to receive alerts for. Simple as that!
To wrap it up
We could all use some extra hours in our days and more time in our weeks to get shit done. However that likely isn't going to happen anytime soon in the fast-moving digital world we live in, so try to keep these five options in mind to make a positive impact on your ads quickly!
Add ad extensions to your ads in order to improve quality score and take up more space on the SERP. There are many types of extensions you can ad including: sitelinks, callouts, call, location, reviews and more.

Ensure your landing pages are working properly over time and automatically by implementing a script.

Review a recent search query report and add negative keywords to your campaigns in order to drive only relevant traffic and cut out any wasted spend.

Be sure to use targeting methods and bid adjustments to optimize your campaign and better spend your dollars. Whether it be time of day, location, or demographic targeting—make some slight adjustments in order to improve impression share.

Stay on top of your client's industry trends and see what their business is up to. Sign up for Google Alerts to get daily alerts emailed to you on selected topics.