Long-tail keywords can be tedious to identify at scale, but are worth targeting in the long run, despite these keywords usually having low search volume. However, we know that long-tail keywords are low-funnel and have better conversion rates. So in addition to utilizing keyword research tools like Semrush, Ahrefs and Answer the Public, consider what else you have in your arsenal: PPC data.
Table of Contents
Definition of long-tail keywords
5 Steps to develop long-tail strategy from PPC data
What are long-tail keywords?
Long-tail keywords are longer, more specific queries. For example, for the keyword "restaurants", the longer-tail version of this query may be "restaurants in newport ri that have gluten free options". Since long-tail keywords have additional modifiers and details, they usually have less search volume but are more likely to convert than "head" terms as they're more specific.
5 Steps to develop long-tail keywords using PPC data
Using your PPC data to identify long-tail keywords is a piece of cake. What you'll need is access to your Google Ads account and a general understanding of what campaigns your PPC team is running and where gaps may be among them.
Step 1: Pull your search query report
The first step in identifying long-tail keywords through PPC data is to pull up your Google Ads account's search query report. This report is named "Search terms" and is under the Keyword tab in Google Ads: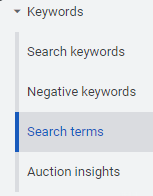 Once you click into the report, you may either download it or play with filters directly in the engine. If you don't work directly with your PPC team, such as if the PPC campaigns are run by a different agency, you can ask your client or agency for an export of the search query report. You'll want about a year's worth of data unless your site or client has gone through significant product or service changes.
2. Identify gaps in your paid data
As you dive into your paid search terms, consider where there may be gaps. For example, are your PPC campaigns only branded? Do they only promote a specific product or service offering? Are the campaigns only run for specific geographic regions? Knowing these gaps in campaigns will help you understand where there may be gaps for search themes in your data set.
3. Use filtering to narrow your data
Once you're ready to start identifying long-tail keywords in your dataset, consider the filters you want to use. Navigate to "add filter" and take a look at your options. You may want to filter by a specific campaign, filter out branded keywords, or set yourself up to only look at a certain threshold of clicks/conversions. My favorite filter to use is the "search term" "contains" filter:
I use this filter to narrow my scope to look at specific head terms. For example, if I'm optimizing a service page that focuses on cleaning services for business spaces, I'd take a look at head terms like "cleaning", "business", "covid", and "disinfect" to understand what questions or otherwise long-tail searches potential customers used to visit our ads or convert.
4. Target high-performing queries as target keywords
As you gather these long-tail keywords from your search query report, ensure that you're keeping track of paid clicks and conversions in order to prioritize targeting for the landing page you're working on. When I'm working on a content audit for a client, I like to add a note about the performance of these long-tail keywords. In short, PPC search terms allow us to understand how important these keywords are to our specific target audience, rather than a snapshot of how a keyword does as a whole through a tool like Semrush. Be sure to prioritize targeting keywords with the highest conversion rates.
5. Launch PPC campaigns to gain awareness and data for niche offerings
On the flip side, you can use PPC campaigns to gain more data to influence organic pages. For example, if your client has a brand new offering where organic search interest is low or even nonexistent, and there is no current awareness campaign on PPC, there's an opportunity to use PPC to drive awareness. By engaging your PPC team to launch awareness campaigns, you'll be able to capture all of the paid data and long-tail keywords that we've been talking about to better optimize your organic pages.
Share your findings and foster collaboration
As always, I'm going to leave you with the advice to continue collaborating with your paid media partners. When you combine insights across SEO and paid media, efficiencies are gained and innovation is boosted. Instead of working in silos, consider collaborating with the other digital marketing teams around you, even if they may be other agencies or vendors.