There's Always a Job To Be Done
What does a gym with 10 locations have in common with a fast-food chain of over 13,000 locations? They both offer a good or service that effectively allows a customer to fulfill something. Sure, they may be the exact opposite in terms of bodily health but we're only here to judge scalable strategies!
Clayton Christensen, a Harvard Business School professor and one of my all-time favorite marketers, believes that behind every purchase there's a "job-to-be-done."
It sounds a bit ambiguous, but when you break it down, the root idea is that consumers will "hire" (visit) your location if it can fulfill a job that they need to be done.
Think about it: You hire a trainer at a gym to scream at you for 45 minutes because you have a job to get into the best shape of your life just as much as you hire a cheeseburger to fill you up on your way home from work after a long day because you don't want to cook!
Note that these tips are set up in the order of a marketing funnel from top (prospecting) to bottom (lead) and include retargeting!
Tip 1: Do People Know They Can Hire My Location for That?
We can't always wait for someone to search on Google to capture their demand with a paid search ad. Instead, we may need to spark a little idea; like in the movie, Inception! By leveraging Facebook ads we have an ability to target top of funnel users that align with the offerings of your business.
Depending on how many locations you have, consider grouping these prospecting campaigns by region or by a grouping of locations. We want to ensure our prospecting audiences are large enough as this helps the Facebook algorithm perform better!
Sparking Interest for That:
If you're the owner of a multi-location business or franchise, you may just assume that everyone knows what your business or space can be used for. In my experience working with franchises, I've noticed that there's a common disconnect between the different capabilities that a location offers and those offerings actually making its way into the user's journey.
Depending on the industry you're in, you may offer birthday parties for kids. Is that readily available information or known by potential customers after visiting your website?
Or perhaps your location is only open for a select number of hours in the evening; Do folks know they can host an event at your location during the day?
These Facebook ads will ultimately let potential customers, who align with certain traits or interests that you've selected, know that your locations offer more!
If you're thinking, "Well, my location doesn't have the flexibility to shift hours or use extra space for different revenue streams," then you can still do your research! By looking at organic and/or paid search terms from users, you have the ability to gain transparency into the why someone might hire our location for their job. This can help guide us at the prospecting phase for sparking interest as well as the next tip!
Tip 2: Do People Know Why My Location is a Better Hire?
So, you've been running Facebook ads and it's sparking interest because you're seeing month-over-month increases in both paid search and organic search volume. Things look strong, however, you're noticing that your ad copy is generic and it doesn't speak to any of the interests you've already sparked in our first tip.
There are a few steps we can take to ensure that we're properly capturing this demand:
Have you looked into user searches? Are people adding modifiers to their searches that indicate they're looking for a special service or thing that you offer? You can work this into ad extensions like callouts, sitelinks, and structured snippets.
Your ad group structure, keyword themes, and ad copy should all align with user interests. If you're going to offer birthday parties, then your keywords and copy should cater to that experience.
Do you have any insight into your unique values like a better location, more competitive prices, wider service offering, deeper knowledge, etc. These are all strong ways to make your business stand out!
💡 Asking your repeat customers is a great opportunity to understand why they continue to hire your business for their job-to-be-done!
Tip 3: Can People Easily Hire My Business?
At this point, we're creating top-of-funnel demand with Paid Social, then we're capturing that demand with Paid Search or Search Engine Optimization strategy but we're not pushing the needle quite yet. When users go onto your website, especially to look at a specific location, what is the experience like?
User experience is important because if we're doing all of this work to drive user demand to the website but not giving users ample opportunity to convert, then what's the point?!
A user-friendly landing page might look like this: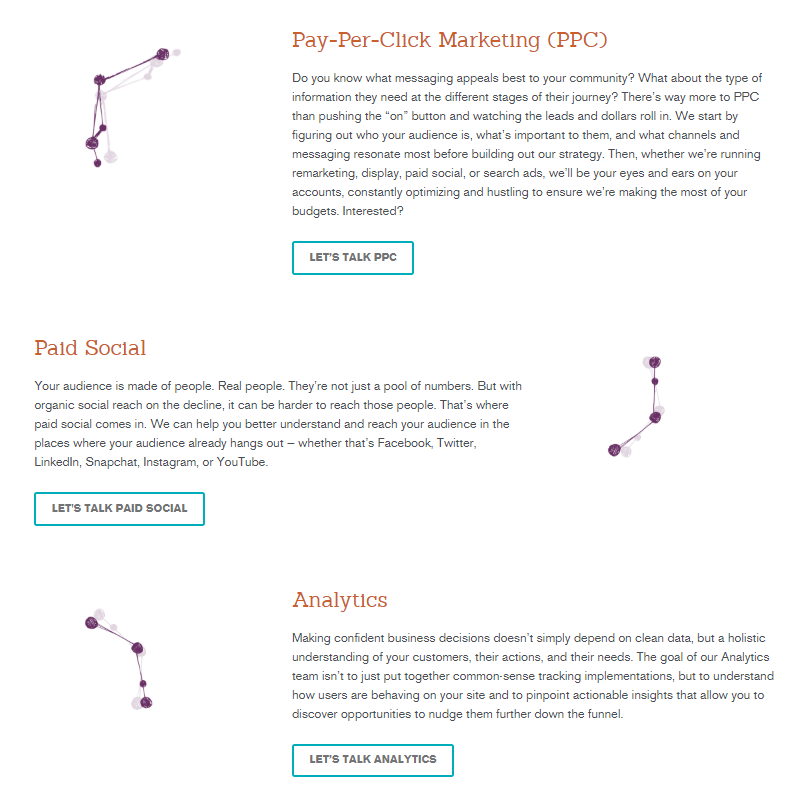 From there, any of these call-to-actions could lead to another landing page with even more information or even a contact us form, like this: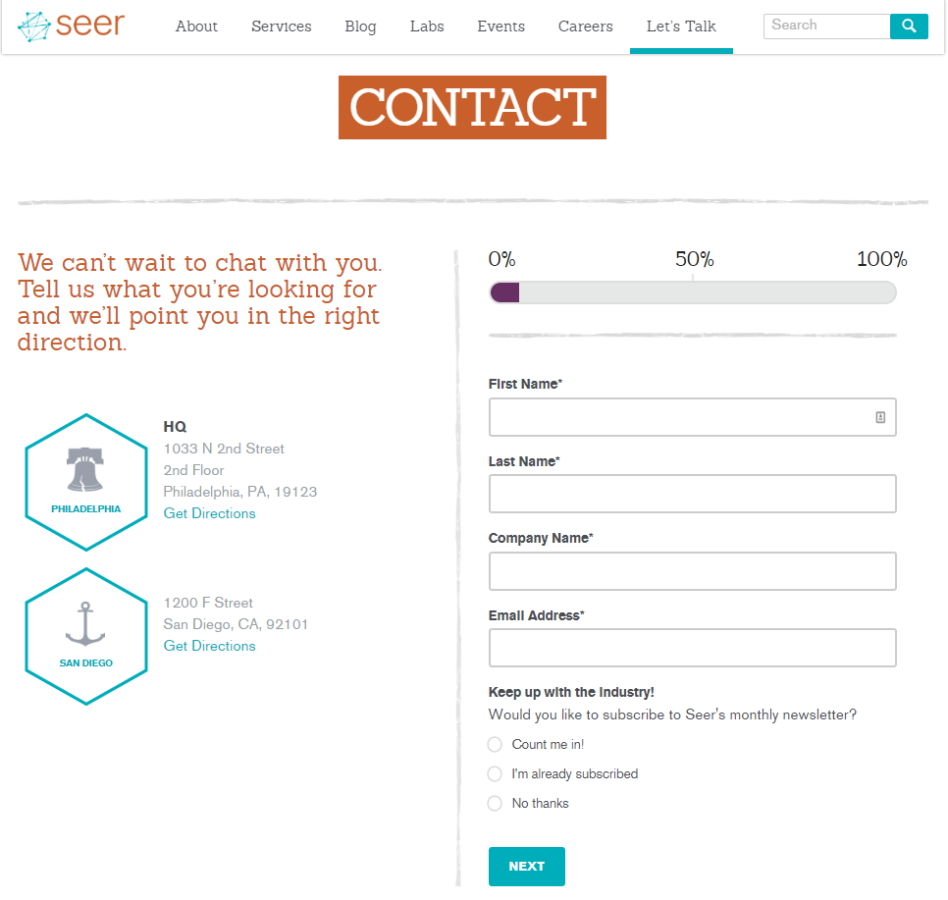 Notice the progress bar at the top in addition to fields large enough to see!
Here's a checklist you can use to ensure that your user experience is top-notch:
Clickable phone number in the header and footer
Simple contact us form
Photos or graphics that align with the interests of your audience
Simple copy that answers a potential question or pain point
Lose the long paragraphs!
💡 Consider creating multiple landing pages, each specific to an interest. We recommend that these pages should be used as landing pages for paid search ads.
We can take this a step further and use an analytics tool to help us track user activity on a landing page. Services like Hotjar are excellent for tracking users to see how they navigate a page, how far they scroll down, and where they click.
For example, if our landing page had an important statement this far down the page then we'd likely want to move it higher to ensure users are actually seeing the text!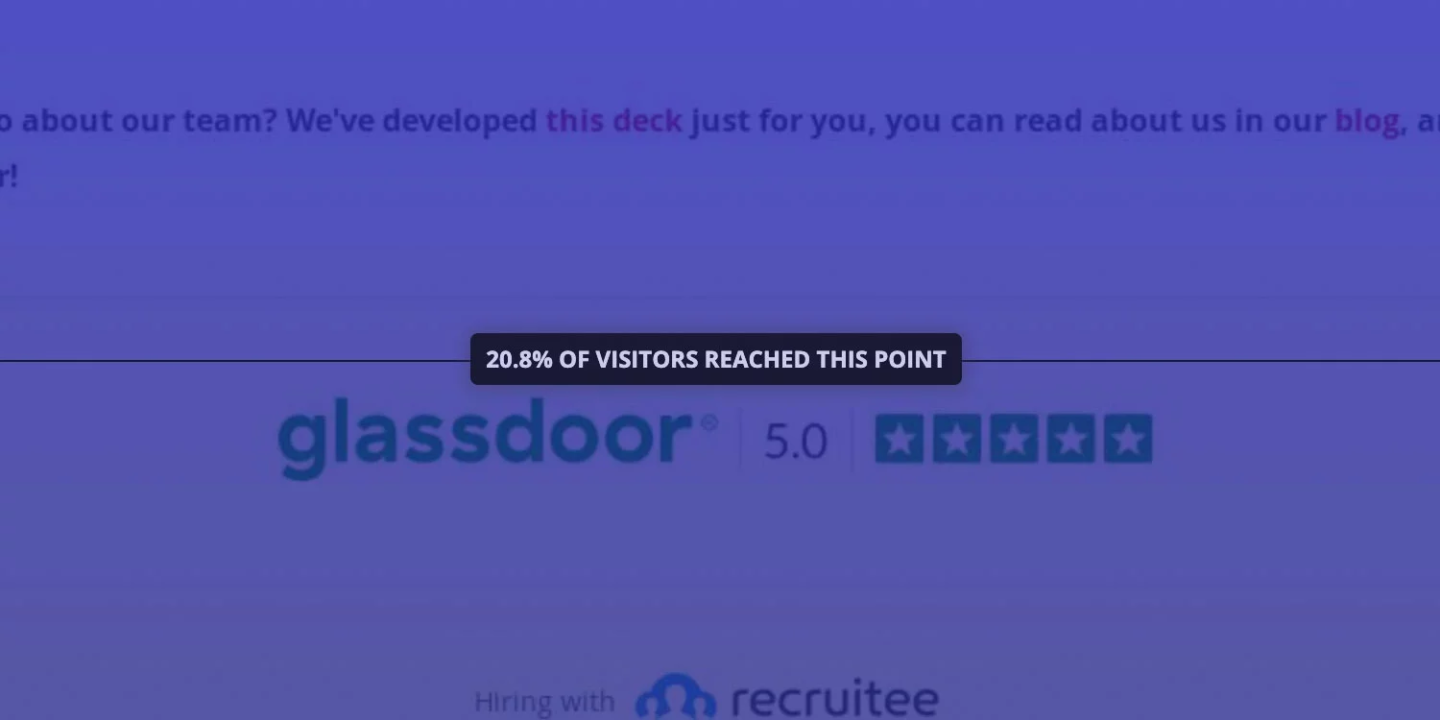 (Source: https://www.hotjar.com/heatmaps/examples)
This data will allow you to better understand your users and how to make changes that will improve their experience!
Tip 4: My Location Wasn't Love at First Sight…
Our funnel is looking full and we have everything in place but what if we're seeing great click through rates across our channels but users just aren't converting? Let me introduce you to retargeting via paid social!
Depending on your business model, it might take someone a while before they convert but that's OK because we have ample opportunity to make sure they don't forget about you! By using retargeting, you're positioning yourself to capture demand when your potential customer (who is aware of our brand and what we have to offer!) is ready to make a decision.
For example, if your sales cycle is 3 months then you may not leverage retargeting for 60 days after a user visits your website because you understand that anything sooner than that won't be beneficial. However, if we take this a step further then you can offer an additional piece of content after 30 days to keep users engaged; Pulling them further down the marketing / sales funnel.
Additionally, retargeting is a great opportunity to test different hypotheses that fulfill the job-to-be-done. The goal is to test ad copy and creative to identify which pain points draw your previous website visitors back into the funnel.
💡 Don't forget that your organic traffic is also eligible to receive retargeting ads. This can help you build an audience that you know is highly likely to convert at the right time and become a sales qualified lead / general lead.
You're Hired!
It looks like you're ready to get the job done! From using paid social for demand generation tactics to testing out landing pages for better user experience, these tips should be considered regularly where you're building a new campaign (or a new location!).
Curious to learn more about how Seer can fulfill your "job-to-be-done" and leverage multi-channel strategies to help your business? Get in contact with us and let's chat!
Sign up for our newsletter for more posts like this - delivered straight to your inbox!