So, you just completed your year-end reports and you noticed that Bing had a really strong year! No? You don't advertise on Bing?
You're not alone. We hear it time and time again from our clients, "Why should we advertise on Bing?" As well as: "Let's figure out Google first & expand to Bing later," "We have a limited budget, let's not waste it on Bing," "Nobody uses Bing, what's the point", and on and on.
My goal is to answer all of those burning questions and have yourself asking a new question - "How do I get started with Bing Ads?"
Let's Get to the Bing Facts
In 2015, Seer clients generated 76,587 incremental conversions on Bing Ads. This is almost 80k conversions that these companies could have potentially missed had they not been on Bing. One client alone even generated $461,159 in revenue.
On average, when compared to Google, Bing Ads CPCs are lower, CPAs are Lower, and CTRs are higher.
This data was collected over the course of a year from Seer client accounts across all industries and sizes. One B2B client at Seer has experienced 33% lower CPCs on Bing Ads but an average position 42% better, indicating less competition and more opportunity to strike! We've seen similar trends in other industries with one B2C service company experiencing 50% lower CPCs and an average position 12% better.
Ecomm Brand Sample:
On average, ROAS (return on ad spend) is higher as we see higher AOVs and lower costs

On average, CPCs are 48% lower

* Compared to Google
B2B Brand Sample:
On average, CPAs are 51% lower

On average, CTRs are 243% higher

On average, CPCs are 15% lower

* Compared to Google
B2C Brand Sample:
On average, CPAs are 45% lower

On average, CTRs are 125% higher

On average, CPCs are 54% lower

* Compared to Google
Bing Performance Snapshot:
We have additional data of another instance of Bing Ads outperforming Google. Earlier this year we approached one of our B2C clients about expanding to Bing Ads. The brand is in the home and garden improvement industry with a more affluent target audience generally over the age of 35. After some initial hesitation and push back, they agreed to let Seer run a short, limited test on Bing. We duplicated our top performing campaigns on Google and let Bing run its course. The results are below.
Of course, it's not always butterflies and rainbows. Bing searches are still only 33% of the entire market share. These are not guaranteed results and Bing won't magically solve all your PPC problems. We've certainly seen instances of higher Bing CPCs or lower conversion rates for specific clients but the overwhelming results seem to be positive! Still not sold?
Top 3 reasons you need to advertise on Bing in 2016:
1. You're missing an entire segment of the internet population, and valuable searches! According to Bing, it has 160 million unique searchers & gets 4.7 billion monthly searches to be exact.
Remember, because of unique partnerships, Bing.com is the default search engine for products like Internet Explorer, Windows computers & phones, as well as iPhones. Users that may not be as "tech savvy" will use these default settings.

Additionally, some highly regulated industries (think Government, Medical, Educational) will mandate the use of Internet Explorer - a browser that isn't set to Google. If you're an advertiser looking to reach one of these niches, Bing Ads could be huge.
2. Bing's audience is comprised of different demographics than Google which could lead to some drastically different results between your Adwords and Bing Ads performance.
According to

Bing

, 40% of their audience is between 35-54 years old and one-third of these users have an average household income that is greater than $100,000. This generally leads to larger AOVs and higher ROAS on Bing Ads.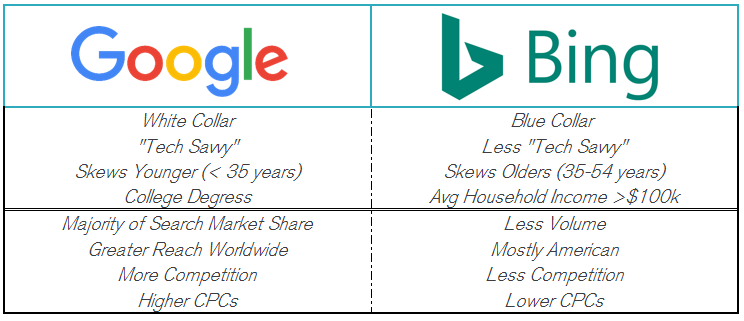 Source: Aborg
3. Bing Ads is investing money into its success and they're working on some awesome product offerings for your 2016 campaigns! Some of the ones we're most excited about include:
Ready to get started on Bing?
Check out some of our favorite resources and tips below before you dive in:
Don't reinvent the wheel - if you already have Google campaigns built start by

easily importing them to Bing Ads

. Optimize for Bing performance (max CPCs, budget, etc) as you collect data over time

You can also utilize the recently launched (Fall 2015)

Bing Keyword Planner

for additional insights and projections

Don't forget to download

Bing Ads Editor

to make your life easier!

Bing Shopping

Step by Step Instructions

(keep in mind steps vary slightly given the new Shopping changes coming this spring)

Look for free credits

to get started! Bing is usually pretty generous - at the time of this post they were giving away $100 - check here: bit.ly/1M2NhFs

Look out for webinars about how to utilize Bing's newest technology updates.