What is Native Advertising & Content Promotion?
Native advertising and paid content promotion, from sites like Taboola and Outbrain, are becoming powerful tools for engaging new audiences and expanding the reach of creative content. This method for online advertising provides content within the context of a user's experience, making the paid content feel less intrusive and more like part of a discovery process, all while increasing the odds that users will click-through.
The native ads appear at the bottom of well-known content sources like Time, CNN, USA Today, and Huffington Post and are served to users based on a variety of algorithms. This reduces the feeling of actually seeing an ad, as users are captured when they finish digesting other content and feel they have discovered the promoted content naturally.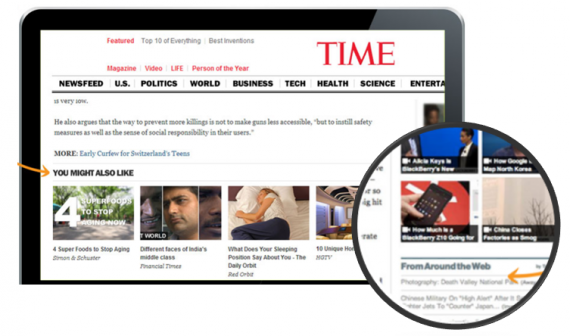 Native Advertising & Paid Content Promotion in Action
A healthcare client at SEER was looking to drive new & engaged visitors to their site to both educate users and provide additional resources around a variety of time-sensitive health care topics. In less than two weeks, our native advertising efforts were able to drive over 27,000 visits to a variety of landing pages, also exposing the brand through over 63 million user impressions!
SEER then analyzed the traffic and performance differences between the wide array of referring sites, which helped inform future business decisions. We A/B tested over 75 different title & image combinations to determine which content performed the best and which sent the best traffic to the client's site based on engagement and additional content consumption. The most engaging titles asked questions and peaked curiosity, leaving some interpretation up to the user's imagination. The titles also provided valuable context into additional content areas within the healthcare industry that users are most interested in and engaged with.
We also found incremental value through Taboola by driving site visits from socially aware users who actively shared the discovered content on Twitter, Facebook & Google+ with thousands of followers. High-authority twitter accounts were tweeting about their experience, further expanding the reach of this paid content promotion and adding additional value to the paid traffic.
Paid Content Promotion vs. Pay-Per-Click Advertising
Throughout the course of this campaign, we were also concurrently running traditional pay-per-click advertising (PPC) campaigns to drive additional visits to the site. These campaigns included search and contextually targeted display campaigns. In order to best analyze the differences in performance between the two mediums, we analyzed:
Similar time periods around peak times in the campaigns.
Contextually targeted display campaigns vs. content promotion campaigns
All PPC campaigns vs. content promotion
Key Takeaways
How did content promotion compare to PPC advertising?
Performance from content acceleration was most similar to CPC contextually targeted display campaigns.
When you compare Taboola to CPC display during peak times campaigns were running, Taboola drove a higher % of new visitors (+6%), but had a slightly higher bounce rate (+8%).
Paid promotion drove the highest % of new visitors at over 95%.
Taboola drove an 18.75% higher rate of social engagement than Google CPC.
Content promotion had the lowest conversion rate of any Source/Medium during any time period and the lowest page depth.
Looking at comparable spend during peak times, paid content promotion drove 62% cheaper traffic than PPC campaigns, 1977% more impressions, and 182% more visits.
Next Steps
Ultimately, we were very happy with the combined results of paid content promotion + PPC engagement. The main goal of the campaign was to drive visits to the landing pages, which content promotion achieved far more efficiently than other mediums for the health care industry. While content promotion & native advertising are less targeted than PPC, they worked best for encouraging social sharing.
Moving forward, SEER plans to continue using paid content promotion in conjunction with other CPC efforts like search, display and video campaigns. While PPC does give the ability to better target more qualified users and drive higher rates of conversions, content promotion was able to drive significantly more visits for nearly the same price.
We've previously discussed ways to improve paid content promotion measurement and since that time SEER has formed a Content Acceleration Team to better provide these services, insights and channels to clients!
Have you run any tests comparing traffic sources to each other for costs & conversions? What results have you seen? We'd love to hear more below or feel free to reach out via Twitter - @andrewmeyer8 & @Nick_Vigg!