At Seer, we believe that behind every search is a person. We believe that we should spend as much time understanding your audience as we spend on understanding Google. So we include audience research as a vital part of our SEO strategy.
Conducting audience interviews and moderated user testing is a large component of Seer's audience research process. Interviewing and observing current and potential customers is an extremely effective way to learn about their motivations and pain points. Unfortunately, it's also very time-consuming, what with developing interview questions and user testing exercises and recruiting candidates, not to mention actually conducting the research.
Don't get us wrong - the insights gained from audience research are well worth the time and effort! But what if there's just not enough time to conduct full research? Well, don't worry - we've got some quick and easy ways that you can learn about your audience. These won't preclude the need to conduct more robust research, but some data is better than no data.
Let's imagine that we're working on a digital strategy for a skincare line, and we're about to re-launch a product page for a moisturizer for dry skin. How do we ensure that we're actually speaking to our audience's needs, addressing their frustrations, and answering their questions? Here are 4 quick and easy ways to do so:
1. Mine Reddit & Other Forums for Discussion Threads
Reddit is a gold mine for discussions about anything you can imagine, and it's especially valuable for people who are looking for advice and product recommendations. Just search "dry skin" on Reddit and see what shows up: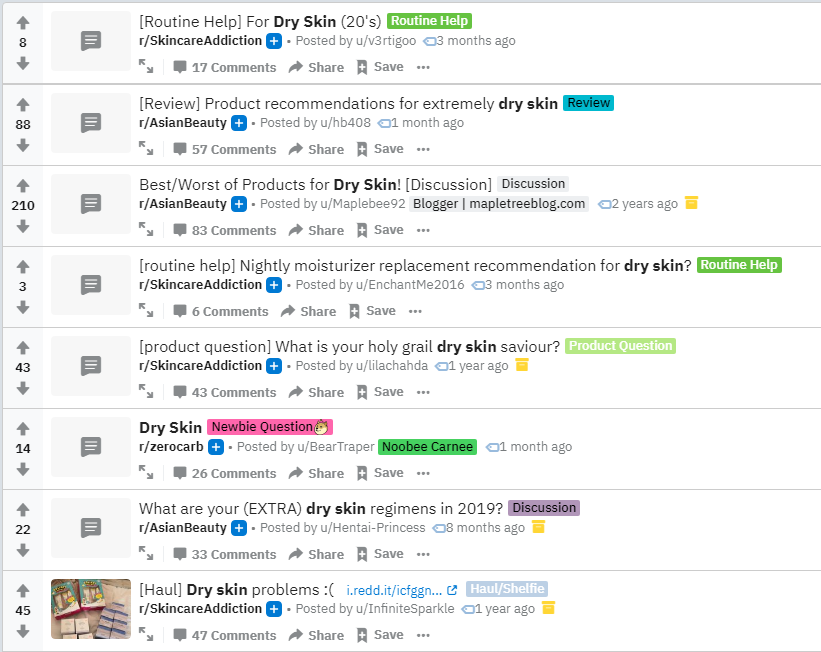 Before even clicking into a thread, it's easy to see what's important to people who talk about dry skin on Reddit: product information and skincare routines.
Opportunity: Consider including information on the product page about how this moisturizer would fit into a skincare routine for dry skin. Review as many threads as you can to see what kinds of questions people with dry skin have about their routines, and be sure to answer those questions on the moisturizer product page.
Dig Deeper: Look into other forums like Quora or industry-specific sites that will provide further insight into your audience.
2. Analyze Amazon Product Reviews
At the 2019 CTA Conference in Vancouver, presenter Joanna Weibe of Copyhackers shared a simple Advanced Google Search Operator that could be incredibly helpful in identifying your audience's pain points:
site:amazon.com inurl:"product-reviews" "tired of" keyword
When I replace "keyword" with "dry skin" and hit enter, the result is over 2,100 product reviews that clearly outline some pain points that users have with dry skin or dry skin products: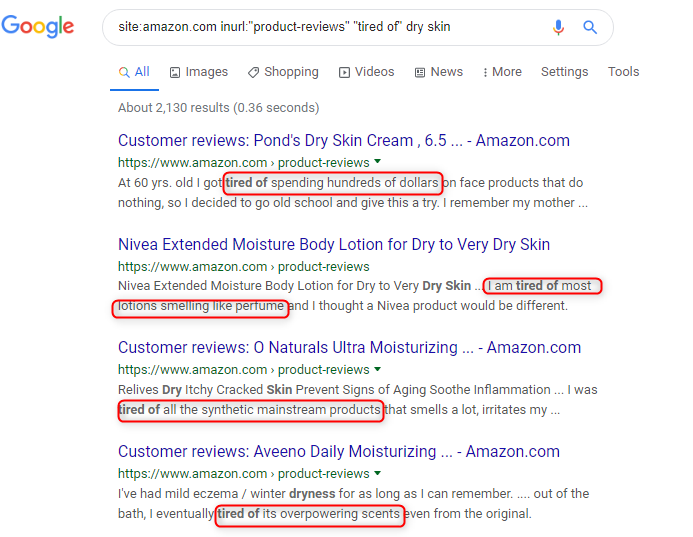 In just the first four results, before even clicking through, we can see that users have frustrations around high cost, overpowering scents, and synthetic products.
Opportunity: Consider highlighting what the users are looking for. If the moisturizer has a low price point, a neutral scent, and/or natural ingredients, be sure that those features are called out prominently within your content.
Dig Deeper: If you find a particularly thoughtful review, click on the reviewer's profile to see if they've reviewed any other similar products - their insights may prove to be helpful.
3. Review Site Search Terms
Log into Google Analytics, then navigate to Behavior > Site Search > Search Terms to see what users are searching for once they're on your site, which will provide insights into what's important to your site visitors.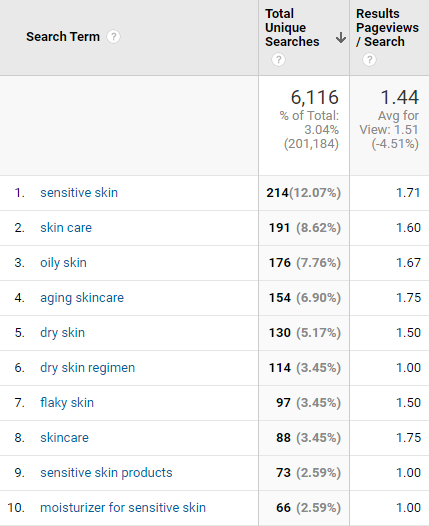 When filtering the site search terms by those that contain "skin," you can see that in addition to "dry skin" searches, "flaky skin" and "sensitive skin" are common site searches.
Opportunity: Be sure that the needs of users with flaky and/or sensitive skin are addressed in your page content.
Dig Deeper: Learn how to analyze your site search data at scale to identify opportunities for improving site structure and content.
4. Examine Your Paid Search Queries
If you're running paid search campaigns through Google Ads, you can view the actual queries that users are actually typing into Google to get to your site. Review these queries to see which ones are actually converting, and you'll be able to see what actual customers - not just website visitors - are looking for.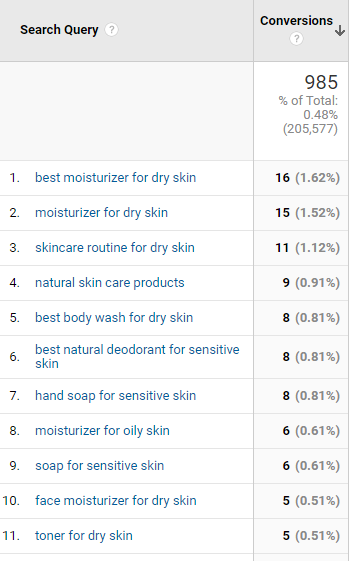 The top converting search queries here reveal a couple of interesting insights about these customers:
They are looking for the "best" moisturizer for dry skin.
They are also seeking other products like hand soap, body wash, and deodorant for dry skin.
Opportunities:
Consider adding user reviews or testimonials to the moisturizer product page so that your audience can see firsthand why your customers think that the moisturizer is the "best."
Consider adding other dry skin products as related products or cross-sells by adding prominent links/calls-to-action that feature those products.
Dig Deeper: Merge your paid search conversion data with organic ranking data in order to prioritize high-converting terms with limited organic visibility.
Now What?
If you found this helpful, check out some other posts on our blog about Audience Strategy. And if you have any other quick and easy audience research tips, please share them in the comments.