Navigating SEO strategy content can be a confusing place filled with tons of strategies that may or may not be outdated. As time passes and Google Bots get smarter, SEO strategy changes.
Below, I will outline strategies that will ultimately allow you to answer consumer questions with ease and create a fundamental strategy that is flexible and adheres to Google's ever-changing landscape. Google algorithm may change, but the importance of catering to your target audience never will.
Here are ten tips to enhance your SEO strategy:
1. Have a Benchmark Tracking System in Place
This may sound intuitive but it is the foundation of any successful SEO strategy.
💡 TRACK. YOUR. WEBSITE. 💡
More often than not, as SEOs, we can become so entrenched in our own strategy that we lose sight of how we are going to measure success.
By setting up a solid infrastructure within Google Analytics, you are able to measure performance, track your traffic metrics, and see what content is performing. By leaning into your data, you are able to create formulated next steps and capitalize on what is bringing your site conversions!
If you have never used Google Analytics before - no sweat! Go ahead and check out this guide on Google Analytics for beginners, to get a head start on tracking your progress to goals!
2. Create SMART Goals
We all have goals we wish to achieve with our business whether it be increase traffic, revenue, or free trial signups - but how do we go about this in a productive way to make sure we are successful?
Create SMART goals!
Smart goals can be defined as:
Specific
Measurable
Assignable
Relevant
Time-based
By creating highly measurable goals, we can tie back to performance within our benchmarking tools mentioned above. An example of this could be the following:
I am trying to drive an increase of 10% in organic traffic to my blog content by Dec 2021.
By setting measurable goals with a timestamp, you can keep a pulse on how your content is performing. This allows you to see if your current strategy is successful (keep doing what you are doing) or can show you that it is not successful - so pivot your strategy.
3. Write Engaging, Long-Form Content to Capture Consumers
When creating content, user intent and engagement are hugely impactful to content performance. In the study below, you can see that long-form content takes the cake for sharability and user engagement across many social media platforms.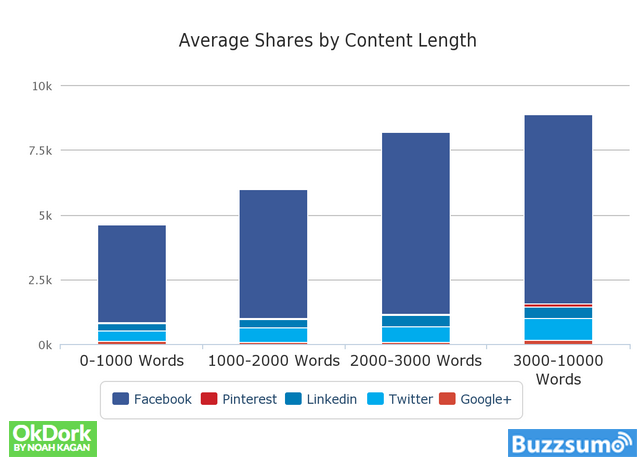 By creating content that increases dwelling time, you are simultaneously keeping users engaged while decreasing the bounce rate. Engagement levels can also be reflected in social media shares. The more people who find your content useful, the higher the likelihood they will engage with your website to learn more and share with their online communities, so when in doubt - type it out!
Bonus points for creating multiple pieces on a relevant topic in order to develop content hubs.
Check out this guide to content hubs to get inspired!
4. Research Competitors for Page Structure
Doing some high-level competitor research is easier than it sounds. A good place to start is by typing your intended topic into Google and boom! You will see who is winning for page 1 opportunity and will be able to identify search competitors within seconds. Some next steps here would be to identify featured snippet opportunities and look for answer boxes or people also ask.
Last, click into those winning URLs and identify how they are structuring their content.
Are they creating bulleted lists?
Are they using a variety of H2s and H3s?
Are they using long-form style or short definition type answers?
All of these factors will show you what Google finds valuable and will also give you jumping of point to start structuring your outline!
Take a look at this page hierarchy guide and its importance in content creation!
5. Create a Keyword Strategy by Focusing on User Intent
In order to create your keyword strategy, a good place to start is by looking at what competitors are doing. Ask yourself what is currently winning in the SERPs for your topic and if the intent is aligned with what you want to achieve.
Let's take an example of misalignment:
I am a jeweler trying to sell red cross necklaces. My first instinct might be to target 'red cross' however, in the SERPs you would be targetting the nonprofit organization 'American Red Cross.'
In this case, I would look at other defining factors about my product such as the 'gold plated necklaces' or 'colorful cross necklaces.'
Following the alignment test, ask yourself the following question:
Who is currently winning the SERPs for your topic?
This allows you to identify search competitors which is different from product competitors. For example, in terms of a product line, two jewelers could be competitors in the jewelry space, however, they may not be competing in the SERPs. Your online competitors may actually surprise you so checking who's winning on page 1 is extremely important to your strategy.
Last, you will want to plug those winning URLs into a keyword tool such as SEMrush or ahrefs in order to gain insight into what those pages are ranking for. This will give you a solid base in order to close gaps and inspire your written content.
6. Increase Click-Through-Rate with Solid Metadata
Once you have your keyword strategy, plug those into your metadata to further convey to Google what your piece is about.
The SEO rule of thumb is to keep your headers and descriptions within the recommended character amounts:
H1: 20-70 Characters
Meta Title: 56 Characters
Meta Description: 156 Characters
Another way to check your metadata is with this Google SERP Snippet optimization tool.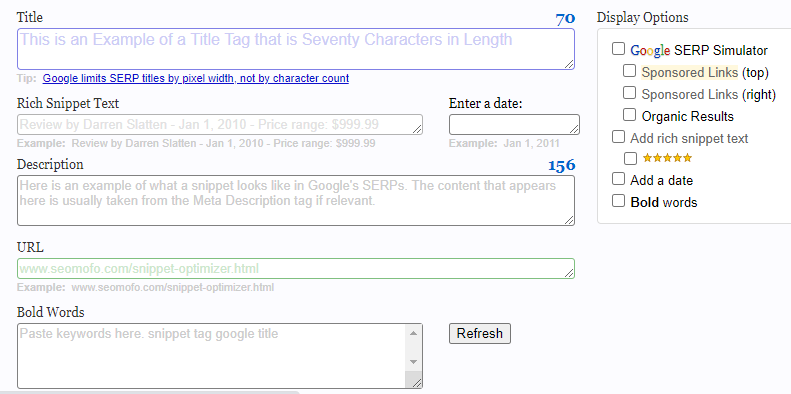 7. Add Internal Linking in Your Content
This step is simple but can easily be forgotten. While creating your content, think about relevant content that is already on your website and plug it into your content. This will increase engagement within your site and allow interested users to continue their educational journey throughout your site's pages. This practice also allows Google to identify that you are a thought leader in the space and have multiple pages to back up your topic!
8. Ensure Your Domain Caters to a Mobile Audience
This is a technical SEO piece but is extremely important to user experience. In today's age, people are accessing information at faster speeds than ever before. For most people, whether they are aware of it or not, are doing research through their phones for hours of the day. According to inc.com, people average 4 hours on their phones a day, which shapes how they digest the news, research their interests, and online shop.
One way to quickly check the mobile-friendliness of a site is through Google's Mobile-Friendly Test. This tool will allow you to plug in any URL to analyze and will provide you metrics on how to improve. Below is an example of how this will look using wikipedia.com: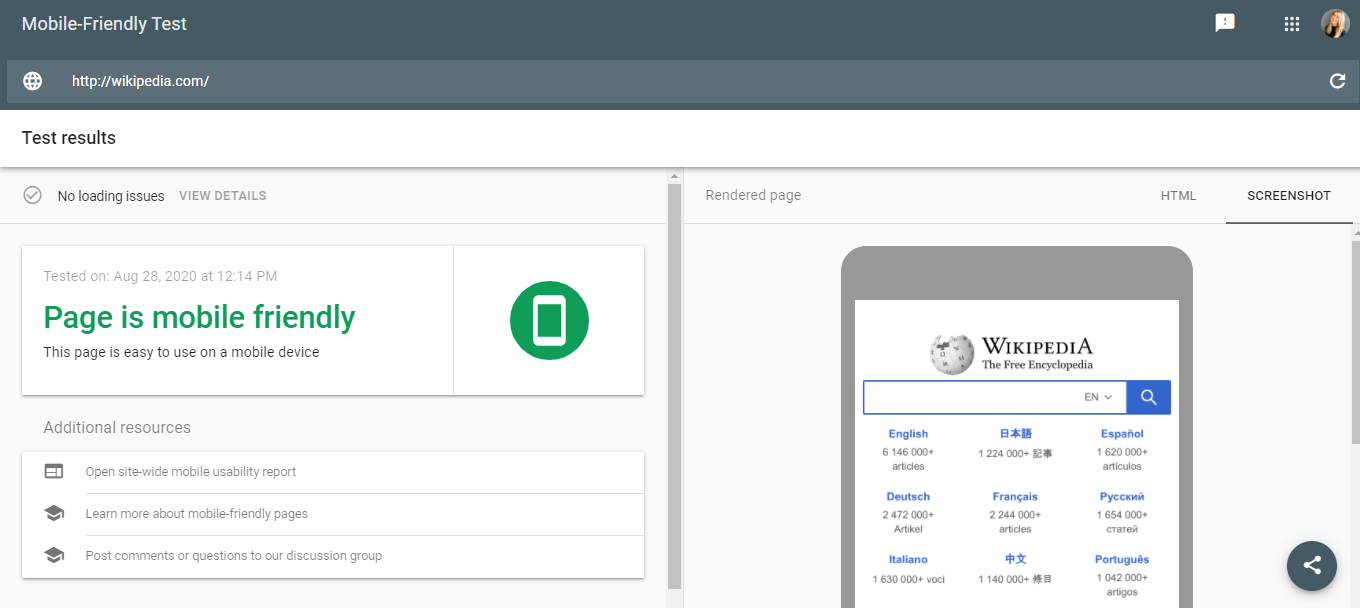 9. Add Actionable Call to Actions
via GIPHY

So you got your audience to your site - what's next?

Usually, if you are trying to increase traffic to your site, you will want the audience to perform an intended action. Examples of this could include:
Signing up for a free trial
Making a purchase
Signing up for a newsletter
Getting in touch with a representative
By including CTAs throughout your copy in a natural way can easily move users down the conversion funnel and direct them to intended actions.
10. Answer Consumer Questions
If you are familiar with any of my blogs - you should know how this ends. Before hopping into anything you do whether it's for PPC or SEO strategy, always keep consumer questions in mind. With the ever-changing updates to SEO, it's easy to get caught up in the 'best practice' mentality but something that will never change is answering consumer questions.
As Jerry Mcguire once said, "help me help you!"
via GIPHY
Happy strategizing! Sign up for our newsletter for more posts like this - delivered straight to your inbox!