It's easy to go off track if you're trying to explain to your boss why you need something changed on your website or when telling a client to make a change on their site. Below are a number of ways to avoid pitfalls & to gain acceptance of your digital recommendations.
Do you even know our company?
That's what is being said when a presentation lacks the current focus of the organization. How do you find the current focus of an organization?
Read latest press releases
Watch interviews with the CMO
Memorize the mission statement
Print it out, keep it on your desk, write it in your notebook or on Evernote before the meeting. Coming back to what is important to whom you're presenting to is key.
I picked Enjoy Life Foods and their CMO Joel Warady. It's not a full pitch, but if you'd like to compare what your research looks like vs mine, I've shared a Google doc on what I found over about 20 minutes of quick and dirty research.
But there are so many things wrong with their site and their business.
Yes. That's why you're presenting. Things are wrong. Mistakes have been made and you see how much you could be fixing and it's really, really, really exciting!!! Bottle that and take off your geeky SEO hat.
If you present about how much linkjuice the site is losing, you will lose.
If you present about why they should be 301 redirecting their legacy site, you will lose.
If you present about DA, PA, PR, LRD, nofollow, 404s, & link reclamation, you will lose.
It's easy to let your mind spin when talking about a topic, say link building.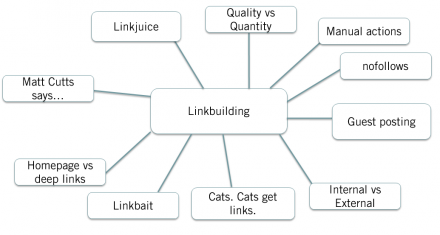 Why would any of this be important to a CMO or VP of marketing?
Bring it back to their mission statement. If you're taking a shot in the dark, bring it back to money. Never make it about links, it's about what those links can do.
Have a case study handy about the money links drive, not the linkjuice. At this point, in the great year of 2014, linkjuice impacting rankings should be the "oh by the way, it'll also help more words to rank & rank better in organic search."
Know what they hate & hate it too...but make them love the opportunity
Get a person who has been burned by their competitor on the phone and listen. Listen to why they hate them, what that competitor did that undermined their business, the ideas they twisted, the employees they took, the shady way they are presenting their products & services. Now, go & find why that competitor is succeeding. Often times, we'll see the following:
Competitor invested in data & created value for customers/the industry.
Competitor invested in people and wrote something great (or ongoing).
Competitor wasn't the industry lead, but was agile & took out the old king of the mountain.
Competitor has a technically sound site vs the prospect.
Competitor decided to engage in a great way to connect with customers or provide exceptional customer service.
Competitor invested in strategies Google is going to hate and they'll be penalized sooner or later.
Now is the time to strike. Once you find what their competitor did (assuming it was one of the first five above or something else really valuable), look to see how that relates to their current focus. The trail of Yes comes next.
They're the competitor you really want to go after? Yes
They're doing some pretty interesting things, but I think we can gain share back from them, want to hear the details? Yes
I remember seeing a video/reading a release where you said, [recite some of it], is this still the focus you have? Because it could take a little time to do something great. Yes
It looks like they've been doing X, Y, & Z. We don't have to do those things, but it looks like they're providing value to their customers. Are you alright evaluating options that can help provide similar value to your customers/industry? Yes.
It's not a flip the switch kind of investment, but I'm confident we can be successful and that will likely require resources. Are those resources available in order to take business back from Competitor XYZ? Yes
Here's the last part where you can shoot yourself in the foot; launching ideas on the fly. It is the rarest of moments when you have a group collected without much research and an investable idea comes into play. Let's go back to the chart: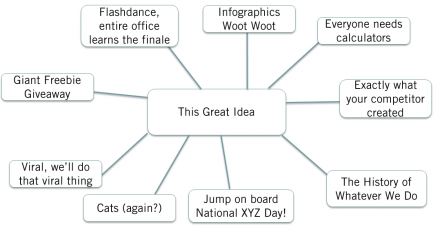 Stop. You've already researched about the company and have your notes. Pulled straight from a collection of customer service quotes on Forbes, "A customer is the most important visitor on our premises, he is not dependent on us. We are dependent on him. He is not an interruption in our work. He is the purpose of it. He is not an outsider in our business. He is part of it. We are not doing him a favor by serving him. He is doing us a favor by giving us an opportunity to do so."
Know what their customers are saying, how that impacts the business, and how you're looking to address this while staying true to the mission statement & current focus. Places to check out:
The company forums & support pages
Yelp – you'll find crazies, but also some legitimate gripes
Industry forums – what areas aren't being answered? What areas are the most talked about?
Twitter – what's being said about them?
Facebook – what are the comments to their posts? Are they connecting with that audience?
Google suggest – understand why they might have the words Scam, Lawsuit, or Customer Service showing up.
ComplaintsBoard/RipOffReport
Do a site: search on Reddit. You'll likely find the most random act a brand has done, how they wronged a customer, what innovative or obscene acts people do with their product, etc.
Now that you're armed with research on the company, CMO, press releases, customer service wins & losses, you're ready to craft that cloud of ideas in your head into something that will drive acceptance and action.