Facebook Graph Search
The new facebook graph search is slowly rolling out and might be Facebook's way back into our hearts. I've been using it for a week or two and definitely think it's a fun tool which holds a lot of promising features especially in local. For a thorough walk through on Graph Search check out this post by Ross Hudgens. If you haven't requested access to Facebook Graph Search do so (after reading and sharing this) now: http://www.facebook.com/about/graphsearch
Creating Relationships
If you work in SEO you know there has been a huge push in developing real relationships to get links, creating authoritative voices, and doing real company stuff that will get you mentioned on top news outlets. Besides using HARO or a PR company it can be a little hard to do since these journalists and bloggers get bombarded by stories. So what do you do?
Why not ask your friends to introduce you to a journalist they know?
Using Facebooks Graph Search you can search Friends of Friends and the companies they work at. I wanted to know if any of my friends know people at The Huffington Post. I searched for Friends of my friends that work at The Huffington Post and got about 20+ people who work at HuffPo and have a mutual friend with me.
Note: I blacked out all the identifying information because this is my black book and not yours :), but I'm sure you get the point!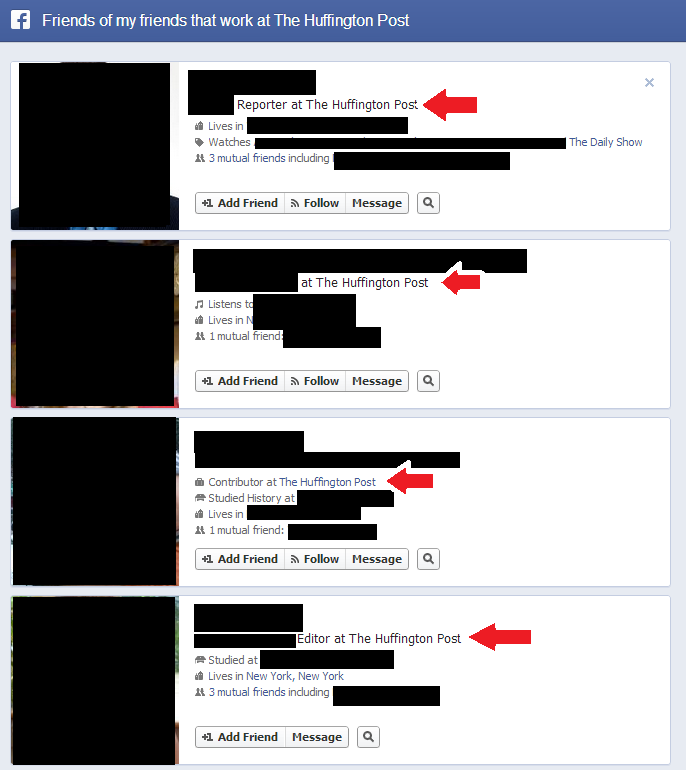 You can do this for any company and it will even show you people who used to work the company you searched for along with where they work now (since they will probably be in a similar industry). From what I can see and all of my searches it seems like it is ranked by friend in common and interaction with that friend. So in other words, the top results with a "friends of friends…" search mean that you have a mutual friend that you interact with a lot on Facebook.
This is a great way to create real relationships with these journalists and bloggers! So get out there and reconnect with your long-lost friends from college & high school!
This is Your Little Black Book - Don't abuse it!
Remember these are your friends that you will be talking to and asking to vouch for you and making the introduction. So make sure the content, story, or interview you're pushing is good quality and deserves to be pitched to a blogger. There are real world consequences for spamming your friends so use this method wisely - with great power comes great responsibility (thanks for that fitting line JH).
You can also stay up to date on your friends by searching for "My friends that work at The Huffington Post" in graph search and who knows-- maybe an old roommate might have just switched jobs!
What other ways are you using Facebook graph search? Have you found any good or funny queries? Please share in the comments below. If you liked this article please share it and don't forget to follow me on twitter @NicoMiceli and G+
Bonus Link: Check out this funny tumblr of actual facebook graph searches