The goal of this post is to help get you a peek into how I get "unstuck" when promoting products or services I don't use on the day to day, while illustrating another great way to use Wikipedia to build exposure and links. (note, I'll be presenting at SearchLove in Boston on just that topic, how to get unstuck in marketing).
As much we need to know extreme details about our clients' products and services to be effective marketers, sometimes there is a major keyword where they want exposure and you ask yourself…do people really call it..THAT? We have all been there. Today, I am going to run you guys through a process that I generated to create assets around a specific client product that I was previously unfamiliar with.
One of our clients is in the winter sport apparel space. They produce stylish affordable winter clothing for men and women with everything from heavy coats, fleeces, pants and whole lot more. The reason building an asset over link bait is important for a client like this, is that the right asset can serve three masters by 1) getting the link, 2) getting exposure (by ranking it well), and 3)the holy grail … selling product.
When I say "soft shell jacket", or "3 in 1 jacket", how many of you immediately know what I am talking about? How many of you understand how a 3 in 1 jacket works vs a typical winter jacket or hard shell jacket?
I was one of those people who went… soft shell what? But I still had to get unstuck and start thinking of concepts to help this client. So I did what every SEO should do…I started typing in letters and NOT hitting enter on Google. I saw the word wiki show up with the word soft shell jacket, which got me thinking.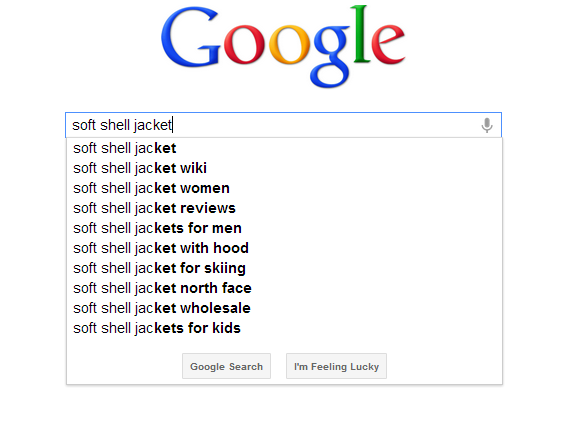 Before we go off running and working, the next step is to adjust your search settings to take this even further. By clicking on the "search tools" tab, you can then click on "all results" and adjust your settings to "related searched." This change will broaden your spectrum of searches in regards to what people are typing into the magical Google search bar.
After adjusting our settings, we notice that when we search for 'soft shell jacket,' we are finding that Wikipedia and definition are two common words people are associating with soft shell jacket queries.
Now PAUSE! THINK!
To me this says several other people are trying to understand what this is too, people like me, or who are confused. BINGO! That is the beginning of realizing that an asset that explains what soft shell or 3 in 1 jackets are might be a big help.
This next step was a curious inkling, but led me to discover something very interesting about how Google's machine learning works. Just by typing in "soft shell jacket" and half of the word definition, we find that Google is categorizing "what is" and "definition" as one in the same.
Our overall search results show that people are trying to better understand what this type of jacket actually is and also creates an opportunity for us to generate an asset around it. The next step is digging deeper into what this product actually is, by clicking on the related search titled "soft shell jacket definition" to see what comes up in the SERPS. The first thing we notice is that backcountry.com has built out a page on what a soft shell jacket is, with the title "What the HECK is a soft-shell jacket."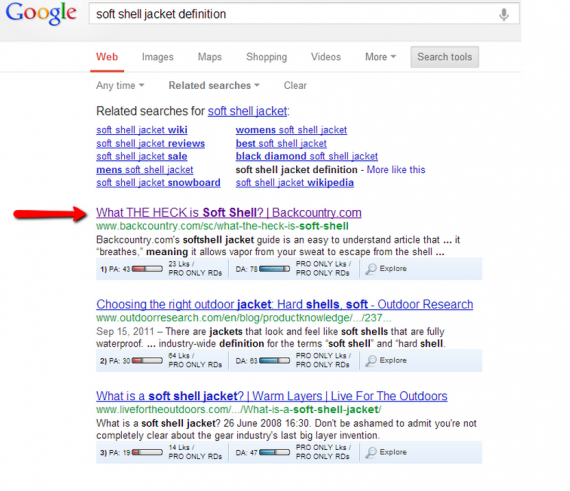 Shout out to the SEOs/Writers at Backcountry…that title is PERFECT!
By simply plugging the backcountry URL into Ahrefs, we can see that the page has gotten 23 links from 11 linking root domains. Knowing that this page is building links, we now have a little proof that if we build something decent some people may link to it, if we think we can offer a better asset, the question is, can we?
Let's go over to the Wikipedia page to see what we can learn. The first page that comes up in the search results is titled "Layered Clothing."
After reading through this page we start seeing words like thermal, insulation, breathable and other adjectives that help us better understand exactly what this category of clothing is. This page features a specific section on how to adjust parts of a soft shell jacket, a category of conversation that our client could add some serious value to, they know that inside and out.
The first idea around generating links for our client is to start editing this page if we think there is information to be added that ADDS VALUE! If you scroll down to the bottom of the Wikipedia page, we can see the sites that are earning links from this page.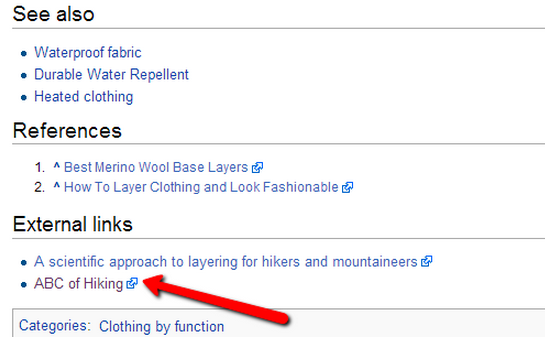 The first link is leading to a one page domain w/ no links, so moving onto the second external link we can plug this URL into Ahrefs to see what kind of links it is generating. Just by being linked to on the bottom of this Wikipedia page, this URL has generated over 400 links and 77 referring domains. Not bad.
This is clear data you can show your client when pitching the idea of editing a specific Wikipedia page focused around a product or service. It shows that you can add a substantial amount of value to Wikipedia, with a real asset, and that asset by being placed there may get links on its own over time, building links in our sleep. This is just one step towards generating links around a client's page or product. The next is generating a fresh, unique asset of your own.
Since we have figured out that people are searching for what soft shell jackets are, we can look to build out our own asset around that very idea. A video asset would work really well, focused around how these jackets work, specific adjustments and a description of the each particular layer. Got to get my client to invest in that, so let me start begging.
As I noted before, Backcountry has already built a page around this idea, which has generated a decent amount of links and referring domains. We can take a glance at their page to give us a better idea of what kind of content we want to build out. We see that the page is thick in content and is heavily optimized, but contains no pictures or videos.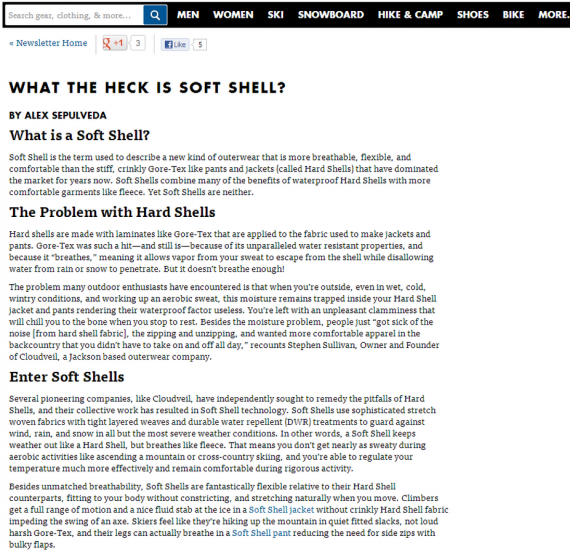 In most cases, when optimizing pages and creating content, you always want to think about the user experience. People are busy, we like pictures, video and interactive graphics to give us the information as quickly as possible. Graphical aids help us better understand what we are reading and make for an enjoyable experience. What we can observe here is that though this page has solid content, it lacks visuals. Embedding a video at the top of the page or even a few images of the specific jacket layers would enhance the page and create a more linkable asset.
After realizing that you have an asset, you can dig deeper into similar searches. By doing a search for "soft shell jacket vs.", there is a frequency of queries around jacket and clothing comparisons such as soft shell jacket vs. hard shell/ski pants/down jackets, etc. This creates another idea we can focus our asset around because we know that people are interested in the idea of comparison.
As all clients are different and some products and services may generate more ideas than others, we can take a lot from this specific process. Just being unsure of a product or service your client offers can generate linkable ideas and assets. After seeing the relevancy of soft shell jacket definition and specific information sought out by users, we can build out specific content pages and assets in an area in which our client has expertise. Whether it's putting a simple video together, a new page with content and images or-- even an infographic—when you start by learning the product and thinking of the user, you'd be amazed at how far this can go in building useful assets.
**Note**: Google no longer categorizes 'what is' and 'definition' as the same thing when searching for "soft shell jacket definition", so there is no screen shot available for that section of the blog post.