Why Advertise on TikTok?
Since TikTok is so new, and there's such a limited amount of information out there about it -- many marketers feel unsure about advertising on the platform.
"In 2020, TikTok became the fastest growing entertainment platform with nearly 1 billion active users world-wide."
Personalization
The great thing about TikTok, and one of the reasons why it is so popular with users, is because of the personalization. No feed is the same and there is a community for everyone and everything.
This also applies to companies with their advertising.
Interaction
TikTok ads can be interactive and loved like native content. The great thing is that users aren't disrupted like they are with in-stream ads that you find on YouTube.
TikTok is a place where ads help users and businesses create lasting connections.
Check out what types of ads you can create on TikTok below.
TikTok Ad Types & Formats
There are many ways to build a connection with your audiences with the innovative ad types that TikTok has created.
Branded Hashtag Challenge
s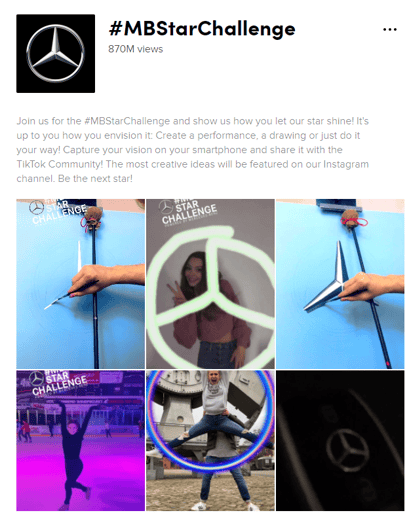 Branded hashtag challenges invite users to engage and participate with a business. Users will create and share videos of their own and attach the branded hashtag.
The main objective of this type of TikTok ad is for engagement which will create brand awareness and loyalty.
The unique fact about this ad type is that it can last beyond the campaign flight. Users can continue to create content and use the hashtag with no extra cost to you!
Top View Campaign
A Top View Campaign is an ad type that displays on the screen of users when they first open the app. The ad plays for about 2 seconds with a "Skip" button at the top right corner before the user can scroll through to their feed. This video is a 5-60 second video with sound on.
This allows a couple of seconds of leading access to the users attention. A hook has never been so important!
There's also a second option of this ad type called Top View Lite. The only difference is that you are given 3-5 seconds of video with no sound.
In-Feed Video
In-Feed ads appear alongside the regular content of TikTok on the "For You" page.
For the first second, it appears as organic content then the sponsored tag and CTA button is displayed -- taking users to your selected landing page.
There's also a second option of this ad type called One Day Max. This 15 second ad appears in the 4th position on users "For You" page. This is a one day only campaign.
Branded Effects
TikTok has a large library of filters and effects that users can use on their videos or try them out for fun. Similar to Snapchat, there are many different effects from shareable stickers, special effects, augmented reality, to beauty filters.
Branded Effects appeared within the TikTok effects library and are customized to how the company chooses. This incentivizes users to use and create content with the branded effects.
Affiliate Marketing
The Creator Marketplace allows you to find and partner with TikTok creators on interactive, branded content experiences.
TikTok can provide you with first party data to choose the best partner!
You provide revenue share with the creator and in return they will build out content or place product links on their profile.
Learn more about influencer marketing.
Boosted Organic Posts
Similar to how you can boost organic posts on Facebook, you can now do it on TikTok to aid in growing your following on your business account.
The CTA will bring users directly to your organic TikTok page.
Collection Ads
Collection ads on TikTok provide clickable tiles at the bottom of your video. This makes it easy for users to find the products that they want to buy.
TikTok now has integrations with Shopify so you can connect your Product Catalog Feed to make it even more convenient for users to purchase your products.
Get more information about the integration.
Dynamic Product Ads
Ad templates are customized to the user based on data.
Dynamic retargeting ads have shown great results of 25% lower cost per conversion and 20% increase CTR.
Shoppable Livestream
This is a newer concept called "Community Commerce''. This is customized by creators to build brand awareness and consideration.
Include a URL so that users can click on it, and be taken to your website to shop.
Still Unsure About TikTok Ads?
Because there are so many new concepts, it is normal to feel avoidant and stick to what you know. My advice to you as a marketer as well as a TikTok creator and user, is to browse the app for a few hours with an open mind:
Create an account

Check out what's trending
Explore how other businesses are interacting with users
Have you leveraged TikTok Ads and seen success (or maybe learned some hard lessons)? Let us know on Twitter (@SeerInteractive)!