This post was written by: Sam Merikallio and Kara Mehnert.
With this week's news of significant changes to both Facebook and Google's Ad Policies with minors, the digital landscape with how brands engage and promote to their youngest clientele has been drastically altered.
These policy changes seek to remedy a growing concern for how two of the biggest online companies track and use data for all minors, and to promote the safest space for kids just to be kids online. The biggest changes set out by both policies are:
The removal of interest targeting on both platforms for anyone under 18

The removal of age and gender targeting on Google for anyone under 18 (note that Facebook still allows for Gender and location targeting for minors)

The removal of direct monetary call to actions on both platforms for anyone under 18

Lower frequency of ads shown to minors on Google

Explicit indication of paid promotion for any content directed at minors on YouTube
In 2011 alone, unmonitored child spending on Facebook totalled around 3.5 million dollars. With the advent of even more games and products designed for children with microtransactions that number has grown, with roughly 50% of all children spending $10 or more dollars a month on mobile games in 2020.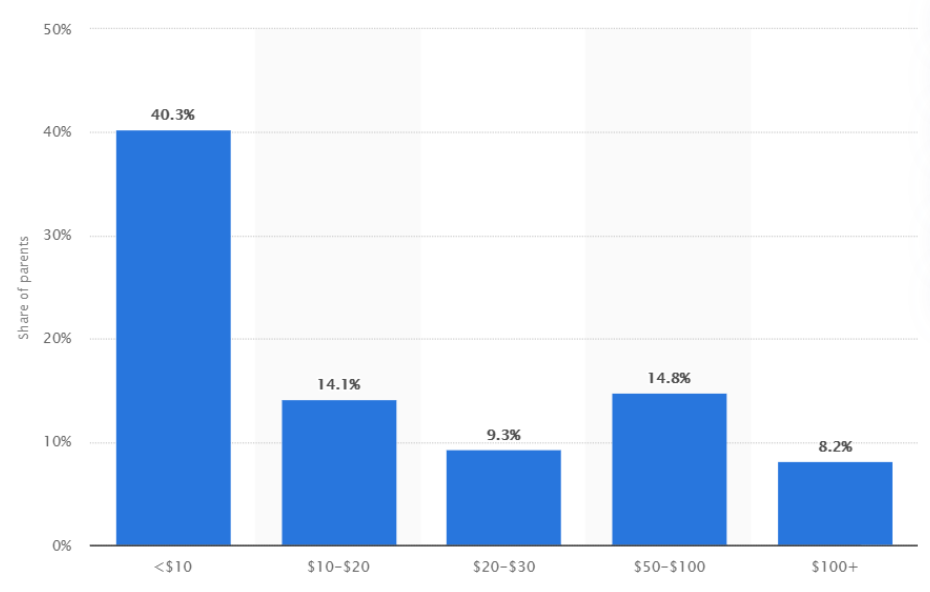 Source: Statista
These new policies are a welcome addition to helping minors remain safe and have a positive experience online, and all stakeholders involved owe it to these children to be as ethical and responsible as possible in how they engage and market to these younger audiences.
How Child-Focused Brands Are Affected
At a high level the two biggest changes from these policy changes as they relate to brands are the digital marketing customer journey and audience / creative targeting strategies. The online digital funnel for minors has essentially been split in half with these recent policy changes.
Gone are the days of spurring kids to purchase right then and there. Brands now must get creative and honest with themselves about how they'll get online users in the door to convert.
In terms of audience targeting, brands are now faced with a situation where they must decide whether to pivot their product offerings and messaging to a one-size fits all approach, or let the creative and messaging do the audience segmentation itself.
Simply put, are your digital marketing efforts aimed at all minors, or specific minors?
We've outlined some of the pros and cons of these two approaches below.
Creative and Messaging Segmentation:
| | |
| --- | --- |
| Pros | Cons |
| Increased Relevance With Preferred Audience Segment | Less Relevance To Overall Online Audience |
| More Explicit UVP | Potential Lower Scale |
| Potential Higher User Value | Potential Negative Sentiment for Non-interested Consumers |
Broad Message and Creative Targeting:
| | |
| --- | --- |
| Pros | Cons |
| Highly Scalable | Less Relevant to Core Audience |
| Reach Multiple Audiences At Once | Potential Lower User Value |
What Should Child-Focused Brands Do?
Pivot To Focus On Brand Awareness
Children are among some of the most hyper-aware consumer segments. According to data presented by Vulkenburg and McNeal, children become brand aware by as early as age 3! (Honestly kind of a terrifying statistic).
Pivoting your digital marketing efforts to focus on high funnel brand awareness allows your brand to remain top of mind in this audience segment for years to come. This awareness will give your brand a distinct advantage when the time comes for minors to make their purchasing decision with their parents.
This awareness has a direct financial impact as research from the NRF suggests that roughly 90% of parents are directly influenced by their children when making purchases for them!
(the learn more button will likely be the best call to action for young consumers!)
Build Relationships With The Whole Family
Family marketing has proven to be a difficult but highly rewarding technique in the digital age. Not only are there more stakeholders to directly market to through this strategy, but family structures have constantly changed in the past twenty years.
Family marketing, however, allows brands to access one of the most brand loyal audience segments possible. How we believe brands tap into family marketing successfully is by providing fun and highly informative messaging that incorporates all the decision-makers in the process.
There's an article I absolutely love by the National Arts Marketing Project that goes deep into the topic of how to market to families, but to briefly summarize, family purchases can be defined by an Initiator, an Influencer, and a Purchaser.
In order for a purchase to be made, all parties must be satisfied with the decision. By providing information, engaging creatives, and positive brand sentiment, brands can put themselves in a position to access this audience segment successfully.
Target Parents With Direct Calls To Action
As children, there were 1000s of things we wanted to buy (I wanted a pack of Pokemon cards everytime we went to the neighborhood Target for example), but ultimately it comes down to your parents or guardian to approve of the final purchase.
We advise that children-focused brands allow for their marketing budgets to incorporate targeting solely the parents or guardians of children with direct monetary calls to action (CTA's).
This involves changing both the messaging and creatives being pushed digitally. For example, the value proposition of an American Girl Doll is drastically different for the kid playing with it vs. the parents who bought it. Some key value propositions we believe align well with the parents and guardians of children are as follows:
Stress Relief

Accessing Your Inner Child Again

Gift Giving

Shared Family Experience

Education
This policy change is likely the first of many changes in the future of protecting our youngest digital consumers. As digital marketers it's our responsibility to be on top of these trends so we efficiently and ethically market to our consumers.
Learn more about the impact of privacy on marketing below:

With these new changes we believe the most successful child-focused brands will be ones that prioritize brand awareness with young consumers as well as leveraging more direct focused targeting at parents and guardians.
If you'd like to read more about other digital marketing trends, as well as tips and tricks to improve as a digital marketer please keep reading our blog!
---
Sign up for our newsletter for more industry updates and news like this delivered straight to your inbox: