It's no secret that we value our clients' audiences here at Seer. We've been talking about ASIC for quite some time now. There are plenty of ways to learn about your audience. You can search through forums, read customer chat logs, look at site searches, and of course… talk to your customers! Forums, chat logs, and the other tactics are great, but if you really want to understand the pain points of your customers and their journey to purchase, there's no better way than to simply ask them. In this post, I'm going to share why time and financial investment are worth it to sit down with real customers.
Time Investment for Audience Interviews
As digital marketers, our clients pay us for our time, expertise, and direction. When you pitch interviewing your client's customers, they might have some pushback regarding time and money. This makes sense, do we really want to spend our time interviewing people, analyzing our notes and comments, and then doing the research that goes into creating content? Is interviewing people going to help you reach that goal of increasing organic conversions by X%? These are fair questions to ask, however, learning exactly what the audience is searching for and providing this in your content yields big returns.
Financial Investment for Audience Interviews
Because it takes time to complete the interviews, compile your findings, then make sense of the interview responses, audience research costs money (or at least that's how most service-industry businesses work). Interviewing can take up to 30 minutes to an hour per person (in my experience). To really understand the online search journey, we watch (and record) interviewees for another 20 - 30 minutes performing searches so that we can watch, pause, rewind, rewatch, and really make sense of what they are doing. So if you want to interview 15 people, that's 15 - 30 extra hours to account for. That doesn't include making sense of your findings.
The ROI From Audience Interviews
Recently, we conducted audience interviews for a client to understand their customers' search journey, how they find our client and their competitors, and what kind of information they were trying to find.
The Interviews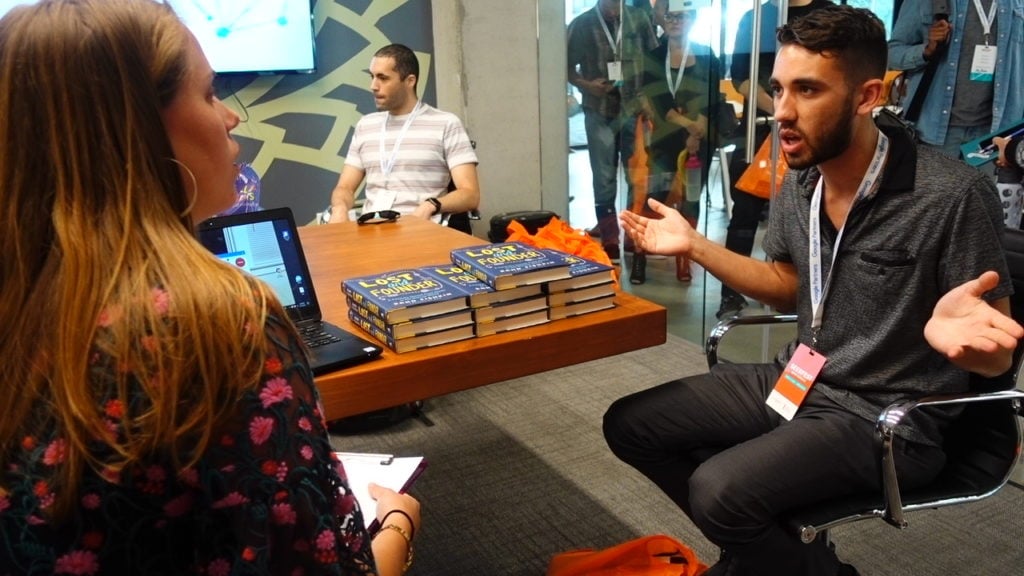 To kick things off, we were given a list of individuals from our client and we spaced interviews over 2 - 3 weeks. Each interview took between 30 - 60 minutes. We asked participants why they started searching to identify the initial pain point. From there, they walked us through their journey, told us what they searched for, where they went when searching, who they found and what they found. Finally, we asked them if there was anything they couldn't find on their search or anything that they wished they would have found. We also listen for "I wish the client site would have told me this," or "I was frustrated when I couldn't find…" and other types of responses that let us know something is missing.
We typically like to actually watch searchers perform a few searches while on a screen share with us (which, with their permission, we record) so that we can see how they interact with SERPs, what results they like, what results they don't like, what are the actual queries they use, what they think would make pages more trustworthy, etc. This helps us to really understand how people search and how we can give them what they are looking for.
Making Sense Of the Interview Data
When we were looking at our notes from the interview responses, we kept track of common themes. My colleague and I both noted several items that people said that they couldn't find or they wished they would have found. We knew that our client didn't have any content around the topics that searchers we looking for, so we looked at competitor's sites as well.
Audience Interview Wins for SEO
As a result of these audience interviews, we identified seven opportunities to create new pages and answer questions that simply weren't being answered by anyone else. There are topics that wouldn't have been caught in a content gap analysis (not even the ones we do at Seer using PPC data, SEO data, and data visualization tools) because there was not a single piece of content on the internet that truly answered the questions people were asking.
We brought our content ideas to our client and received IMMEDIATE buy-in. They had the answers and knew what to say, but never thought to add it to their website because they didn't realize that it was so important to potential leads.
Our Results
The interviewees explained to us what they were looking for, but couldn't find any information about on the internet. Something we noticed with this particular client was that searchers couldn't seem to find answer to some pretty low-funnel questions. We then created content related to these topics, which resulted in four new pages.
These four low-funnel pages, after only being live for two months, have increased traffic year-over-year by over nine percent. This is great, but we expect these numbers to climb as these pages are live for a longer period of time and begin to gain more authority.
We also made updates to existing pages that, as a result, have seen tremendous growth.
The 10 pages we adjusted have seen a combined total of 86% growth and sourced over 80% more new users year over year.
We have also seen an increase in average ranking position from 21 to 9.6, meaning we're appearing more frequently on the first page of SERPs.
Our client was able to walk away from our research understanding their audience's pain points and how they are searching to better serve them via other channels such as PPC, Social, and more.
The Takeaways
Although conducting audience interviews can cost money, the payoff is well worth the time and investment. After completing audience interviews, we know our audience better than they know themselves. We know what kind of content they're looking for, what will make them convert, and how they actually complete their search process. For us at Seer, this is priceless...at least until we see an increase in transactions, revenue, or assisted conversions!
When pitching audience interviews, you will most likely receive push back. Luckily, we have an ASIC section of our blog for you to read through!
Interested In The Seer Approach To Audience Research?
To stay up to date with our approach to big data, audience research, and all things SEO, PPC, and Analytics, subscribe to our monthly newsletter below! Interested in working with Seer to better understand your audience? Hit us up!