SEER recently lost a big opportunity, and not because the client didn't think we were the best match. It was because the agencies we went up against were comfortable giving this client predictions on a newly launched site (as in no data in GA yet.) Call after call, I tried to explain why predicting ranking impact based on tracking rankings and Click Through Rates was a bad idea. It makes something complex seem way too simple.
You've seen this great chart: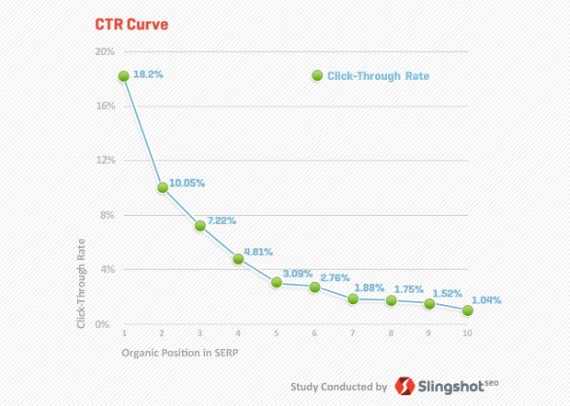 At the time it was great; quite helpful. However, clients don't get the 150 reasons why its not that simple. Yet, SEO companies, in house SEOs, and clients alike use this, setting themselves and their clients up for some tough realities.
If I was willing to give a prediction, I believe SEER would have been picked to the be the agency. Instead, we stuck to our belief that without any data to see current rankings and CTR for this client, specifically:
Mobile vs. desktop
Knowledge graph triggered searches vs. non-knowledge graph triggered searches
Branded vs. non-branded
The list goes on and on. My fear for this CMO was that she would walk these numbers into her CEO and put her neck on the line for something I had little to no confidence in since the time I gave it to her.
Then, an existing client sent me the graph above, and I decided to build out a way that SEER will respond to this consistently. This would show clients a model focused on getting better every month, increasing market share, share of voice, RANKINGS, etc. I didn't want to blame clients for not knowing. Instead, I wanted to help them understand why we have such low confidence in predicting rankings impact.
So I built this powerpoint for SEER peeps, and then I decided... heck with it. The whole industry might be able to reference this to help all of us get our clients and managers to understand why predicting CTR from SEO is so difficult. This narrowly-focused view of "If I get ranking X I'll likely get traffic Y" is a tunnel visioned approach to our impact and is also just flat out hard to do with all the SERP changes.
So quit the Tunnel Vision.
I've posted the PowerPoint I built for the SEER team below for you to use. I hope it helps you make more persuasive pitches to clients: