This post is meant to be a basic, high level overview of how local search marketing works, emerging opportunities, and how local search can fit in with broader business implications.
TL;DR – Local search marketing, you should probably be doing it.
Last week SEOmoz announced its acquisition of GetListed.org and local search was instantly thrown back into the Twitter feeds of marketers everywhere. With all the excitement, this is a great time to revisit what makes local search important to companies large and small and how to set your business up for local success.
Why is Local Search Important?
As of October 2012, local search accounted for 24% of all Google queries (with Bing and Yahoo even higher at 28% & 25%, respectively.) An earlier study even shows as much as 53% of all mobile searches have local search intent.
Previously, these studies were done with geographic modifying terms such as "Philadelphia barber shop" or "barber shop near me" to trigger the local intent. However, as more and more users are searching logged into Google services, search is becoming more personalized and less universal. Location terms are nearly becoming meaningless as Google decides on the locality of queries. Recent search interface changes have also made it tougher on searchers to opt out of being tied to a specific location.
Take the query "luggage" below:
From an incognito window, Google still "Auto-detected" my location as Philadelphia and delivered blended results with the following 7-pack:
Previously, a simple search for "luggage" would return purely organic results and require the geographic modifier for anything location specific.
Google is sitting around 100 billion searches per month and with more personalized search and growing smart phone adoption it is very likely that users will begin seeing local results for more queries than ever. This is precisely why both businesses large and small should take the time to understand the implications local search can have on their bottom line and how to take advantage of opportunities to maintain their competitive edge.
What is local search?
Simply put, it's a way for a search platform to deliver relevant, location-based results for products and services. In my experience, this is one of the best ways for smaller businesses to make an impact and compete with large franchise companies in a highly competitive, highly effective marketing channel.
Google local search results are exactly what you see in the graphic above. The 7-pack of results show up with a map along side standard, organic search. These results are easily distinguishable from organic results and often catch the eye quicker than regular organic. Additionally, local results can include links to reviews, Zagat scores, ratings, and Google+ Local pages. This puts the power in the hands of the searcher to do the proper due diligence before selecting a company. Rankings still play a large role in searcher visibility but they are no longer the only deciding trust factor in user selection.
How does local search work?
I was lucky to have the chance to see David Mihm speak at Search Love Boston this year and was blown away by the amount of local search knowledge he shared with the attendees. One of the most useful visuals coming from David has been the Local Search Ecosystem. I've shared this with clients time and time again and it has been an incredibly powerful resource when it comes to explaining how local search works.
Often, local search marketing practices are limited to Google+ Local but there are many outlets across the web that specifically return local search results. Yelp, YellowPages, HotFrog, SuperPages, and Local.com are a few of the big names you may know. However, with Google having the largest share of the search market, it is important to understand how each of the smaller guys plays into the big picture and optimize for Google search.
In Google+ Local, Google scans the web looking for structured citations in the same way that they look for links. Structured citations are instances of a company's name, address, and phone number (NAP) and are one of the primary local search ranking factors. Generally speaking, the more structured citations found for your company, the more likely you are to rank above competitors (with exceptions).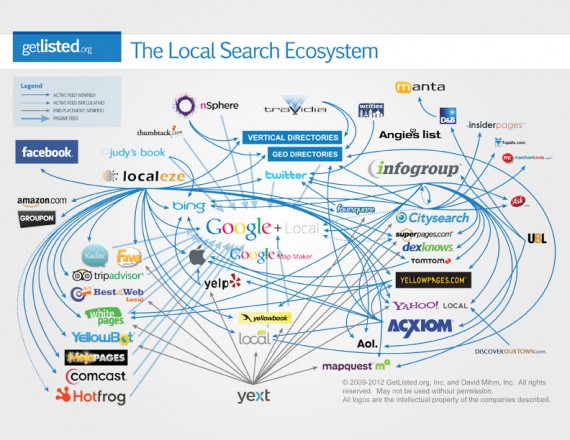 The visual above shows how directories, information aggregators, and social networks work together to distribute and sync business information across the web. Let's take Localeze for example. A company can submit their NAP and business information to Localeze to build citations. Localeze will take the company information and distribute it through their chain of partners. These links in the distribution chain then submit the info to their partners and so on. When Google crawls the web and finds the citations at each of these sources, they use this to further verify and authenticate a company's Google+ Local page, thus increasing its ability to rank.
How do I improve my local search presence?
Aggregators like Localeze, Acxiom, and Yext are great ways to begin building citations across the web and helping your local search results. One of the primary benefits of using these large distributors is that your information can easily be managed from just a couple anchor points. A change of address or phone number can easily be corrected by resubmitting your information at these points. The alternative would be to find every single place your business is listed across the web and make hundreds if not thousands of corrections.
Accuracy of citations and business information is crucial to helping your business rank. Rand Fishkin explained it really well in last week's Whiteboard Friday. If your company has duplicated Google+ Local pages for the same location (one with the correct information and one with incorrect) and hundreds of citations across the web with contradicting information, your ability to rank is essentially cut in half and distributed across listings with incorrect information. To find listings with the incorrect NAP, try the following query with your business information:
-site:yourdomain.com "Your Company Name" AND "Your Company Address"
Example:

This query can be manipulated to include phone numbers or other variables but this is a start that will help you identify outdated/incorrect listings and information.
Citations still play a very large role in the Google+ Local algorithm but as mentioned before, a number of other factors are becoming increasingly important. David Mihm (that guy again?) has the full list at DavidMihm.com and if you haven't yet, go check that out. But there are a few other factors I wanted to touch on that can be quickly and easily implemented to help you stay ahead of the competition:
Make sure Google+ Local page is fully completed with all the information you can provide. This includes description, hours, payment info, photos, and even video links if you have them. Full completion is important and not only can it help you rank better; it will allow your page to stand out among lazy competitors.
Claim all of your local listings and verify the correct information to prevent deletion or even sabotage by outside parties.
Naturally include business and location keywords in your company description. Most descriptions give you less than 200 characters to work with. Be creative, catch the reader's attention (NO CAPS), only work in keywords when it makes sense.
Begin gathering reviews. Don't do this in high velocity but begin by kindly asking recent, satisfied customers if they would be willing to leave a review. Do not pay people to do this. Make it a habit to follow up with customers after a purchase or project and let them know that you would love a review if they enjoyed your business.
(Shout out to Will and Fareed at South Street Barbers)
Third party reviews in platforms like Yelp, CitySearch, and InsiderPages are also aggregated and used as ranking signals like below.
Include your NAP somewhere (usually the footer) on every page of your website. Additionally, link to your Google+ Local page and be sure to include your website link on the page. Doing this will force Google to make the connection between your website and your Local page. When this connection is made, things like links and on-page optimization will continue to help push your rankings up in local search.
What kind of impact does this have on my business?
As I had mentioned, local search is beginning to have much larger implications for businesses that were once not deemed relevant for local queries. Take my query "luggage" for example. Not long ago, sites like Amazon, Overstock, and Macy's dominated the results. While they are still present (and not likely going anywhere), a whole new opportunity has opened up for small(er) local retailers like Robinson Luggage and PhillyCase. They can now gain business through an online channel has not always been as accessible.
Search is becoming more location based than ever before. Whether it is auto-detecting your location from your desktop or mobile, using your Google webapp preferences, or just plain making it tougher to turn off location detection, Google is obviously pushing local.
If you're a company that's been optimizing your local search for years, more opportunity is becoming available for you to engage with customers, develop a brand, and create a community through platforms like Google+ Local. All without costing a dime.
If you have not begun thinking about local search, there's no better time to take this chance and develop a valuable marketing channel that once may not have been as accessible. The sooner a company is able to adapt to this changing landscape, the sooner they will be in a position to compete in the market.
Valuable Local Search Resources