There are TONS of questions and complaints heard around the SEO community. This post touches on three biggies:
1. How can I get more links? 2. Where did my rankings go? 3. Why isn't Google indexing my pages?
How can i get more links?
Every website wants fast links, but the quality kind that Google likes. Anyone can outsource linkbuilding and have a company fetch 1000 links overnight and most likely get your site penalized a short time thereafter. So how do you get quality links?
Webmaster Tools provides two ways to get link value that is being discarded by your site. The first is through the "Not Found" page that lists a 404 report. It's normal to discover 404 pages and they'll show up for a variety of reasons:
1. Some pages were left out of a site relaunch. 2. Old news articles, case studies, or white papers have been taken down. 3. Products or services pages were taken down because they are no longer offered. 4. URL structure of the site was changed.
If it's a number above or any other reason, make the most of the links that were pointing to these pages. There could be dozens of links that need to be 301 redirected to an updated page or the homepage that are currently being wasted.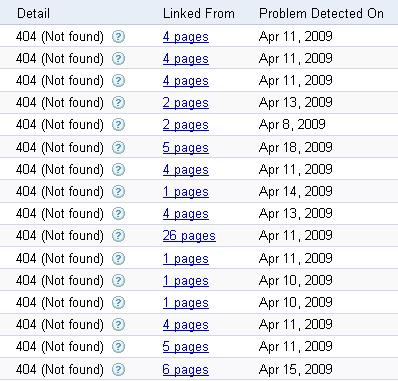 The second way Webmaster Tools can give your site link love is through the settings tab. It's here you're able to select your preferred domain, either the non www or the www version. While it's recommended that this be done through a 301 redirect, sometimes this request is further down on the list of things to do. Why wait a month to pass on link value that is currently being split? Selecting your preferred domain will pass on the link juice from the non www to the www or vice versa.
Where did my rankings go?
Many of you have woken up one morning to find your rankings dropped significantly. There are many reasons why rankings can fall and it's usually difficult to pinpoint exactly why it happened. It's especially difficult to pinpoint a reason why some keywords for a site fall while others have not moved at all. Taking an Edison approach to the problem is one of the best ways to figure this out:
"If I find 10,000 ways something won't work, I haven't failed. I am not discouraged, because every wrong attempt discarded is another step forward."
Eliminating areas that could have caused the problem is one of the best ways to narrow down a working solution. Webmaster Tools can help with this issue in two ways.
Pages returning timeout errors & 404 errors are listed in the Overview section. Google states at the top of the page "We had problems crawling the pages listed here, and as a result they won't be added to our index and will not appear in search results." If pages are showing up in here and rankings have fallen, you should dig further into defining what caused your site to have a timeout or another type of error.

The second way Webmaster tools helps determine why rankings fell is a little less common, but still something that should be checked. Google reports on all pages being blocked by your robots.txt file. Using robots.txt is a great way to keep Google away from pages that are necessary, but you won't want the engines to index them. These might be secure pages, pages that create a duplicate content issue, or development/test site pages. If you've recently implemented a robots.txt file, scroll through this report in Webmaster Tools to make sure you didn't accidentally block the engines from accessing pages you are targeting. The answer might not be there, but why wouldn't you want to eliminate the possibility?
Why isn't Google indexing my pages?
This can be a big issue for newer sites. For a good way to monitor how well Google likes the flow of your site, Webmaster Tools suggests running a site: search on your domain.

Watch how many pages Google is indexing every few days. If this number is not growing, check to see when the last time your site was cached, then jump into the stats in Webmaster Tools to see if there are any errors. New sites can take a long time to be cached on a regular basis. If you are seeing pages indexed in Google, but not Yahoo, jump into Site Explorer to monitor how many pages are being indexed. Another helpful resource is Autocrat in Webmaster Help. He lays down a number of other reasons why your site could be having trouble getting indexed.
Webmaster Tools is a great resource for the above complaints, but also for solving a host of other issues. If you're unfamiliar with Webmaster Tools, it's easy to use, so dig around to find possible errors and opportunities for your site.