Ryan Fontana is one of Seer's SEO Team Leads. Ryan started with us in our Philly office and, being a self-proclaimed beach bum, jumped at the chance to move to San Diego to help us open Seer West almost three years ago. He'd never share this himself, but the dude's got heart—he pours himself into every aspect of Seer's culture that he can and always makes time for his team, no matter what.
We caught up over an east coast/west coast Hangout so that I could learn more about Ryan's day-to-day as a Team Lead. Continue reading to learn more about what brought Ryan to Seer, what challenges and learning opportunities have presented themselves along the way, and what has him breaking from the beach to kick it in our Little Italy-based office. We had a light-hearted chat, but in this post we'll cover: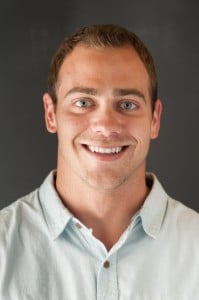 Name: Ryan Fontana Location: Some undisclosed beach town in San Diego Title: Team Lead, SEO Education: Master, Business Administration, Marketing - LaSalle University Bachelor of Science, Business Administration, Marketing - University of Delaware
Fun Fact: In a 12-hour span, Ryan went bungee jumping in an Australian jungle and then sky diving with the great barrier reef in view.
---
Can you tell our readers who you are and what brought you to Seer?
I always had an interest in being a college professor and wanted to teach a classroom about marketing and leadership. I found myself working in the digital marketing space and was actually looking to get out of the industry, but heard great things about Seer and decided to apply. To be completely honest, I didn't have any intention of staying here very long, but when I got here and learned how smart people were and how much they care, I stuck it out.
I've had a ton of opportunity to incorporate leadership and "teaching" since I've been at Seer. I helped to revive and revamp the internship program, and being in a Team Lead role gives me the opportunity to work with people on building their careers. That's the professional Ryan, but outside of work, I'm pretty big into music and attend a lot of festivals; I play the guitar and I've been trying to travel more. [He left out that he sings a bit, too.]
Ryan is a yearly participant in no-shave November
What are some things you've struggled with during your time at Seer?
One of the things I constantly struggle with—and, honestly, it ebbs and flows—is creating your identity here. Nobody is going to create it for you. You get into a role, whatever that is (an Account Manager, Associate, or Team Lead) and your responsibilities and expectations are defined. But in the same breath, we're a company that says to you, "There's opportunity to mold your experience and role here, but it's on you to tell us what you want and how we can help you achieve that." I've gone through an identity crisis where I wasn't sure what my role was: "What am I to the team and this office in San Diego"? Now, we're about to have three Team Leads in the San Diego office when it was previously just me and I'm going through that identity crisis again: "How do I define what I think I should be doing day-to-day and where I can add the most value? More importantly, how do I communicate that to the leadership team?".
Break down your average week at Seer—what kind of stuff are you working on?
On an average week, I have around 15 hours of meetings with team members—understanding specific challenges they're having with their clients and teams, but also specific challenges in their day-to-day. They could be having challenges in their career, figuring out how to break through with a teammate, or maybe they're not connecting the dots on a client strategy.
The other thing that keeps me in a lot of meetings is spending time with other Team Leads and our Director of SEO to understand the project pipeline and how we'll staff those projects. With our new SEO Director, Team Leads have taken on more responsibility analyzing team workloads and matching Account Manager skillsets to client needs.
My time is also spent on the future space planning for San Diego; as we grow, figuring out ways to be creative with what space we have as well as exploring new locations once our existing lease is up. I also work on a lot of culture stuff—getting a gut check for how people feel in the office, how the PPC and SEO teams interact with each other, and getting a feel for whether or not we are doing the right things to work as a team.
I also have my own client, so I'm spending a lot of time still working on strategy and experiencing the same client issues (on a smaller scale) that my team is experiencing. I also try to get on the phone at least once a week to talk with a client for someone on my team to figure out how we can improve the relationship or help with any challenge
Ryan taking a break with Basher, in the San Diego Office
What are a few of the biggest learning experiences you've had at Seer?
I definitely tried to take on too much when I first came out to San Diego. When it was only 2-4 of us out here, it was fine. But then we were 10-12 people, and I always tried to take too much on without asking for help. I thought saying "no" would be an indication that I was unable to run the office. But I learned it was actually the opposite - without reaching out for help we were missing out on opportunities to grow a better team, sponsor events, and have a stronger presence in the community.
I also learned that the people investment means so much, but there comes a time when, if you're only thinking about the team and aren't thinking about how decisions impact the business, you won't be successful. When we were a company of 25-30 employees, I learned from Wil that everything we did was invest in our people, but as we grew, that didn't always scale. Wil adapted to that faster than I did. A lot of my early decisions for the San Diego office were only about the people. I struggled and butted heads with Wil quite a bit - it was a huge learning experience for me but I'm glad it happened as I now have a much better understanding of both sides.
People ask me this a lot: what's the collaboration really like at Seer?
It can be exhausting sometimes because there's an expectation that you need to be contributing. Some people may feel obligated to jump in on a brainstorm for something where they may not be the best or most knowledgeable person to help, but they feel bad or feel like they haven't collaborated in a while, so not always but, at times, it feels like some people force it.
On top of that, we have 100+ people sharing knowledge and information on a daily basis and it can be hard to retain it all. A lot of times you'll read an email and you're like, "Wow, that's a really great share,", but the next day, you forget information. On the other hand, it's really awesome to see a successful brainstorm at work.
We have a great team of smart people not just waiting to say what they need to say, but actually listening and having a really healthy discussion. I think we've built a really good culture where in cases when people disagree with an idea, we have a respectful way of shooting holes and saying, "I don't think this is hitting the mark or it doesn't align with client's goals and here's why."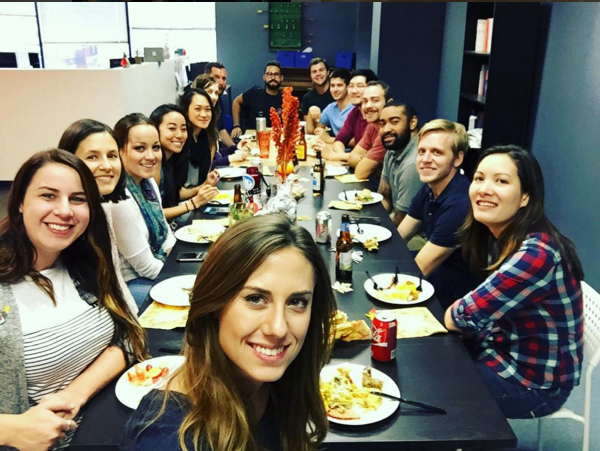 Seer San Diego Team Lunch
We've received feedback from the team that account transitions can be a little rocky. Do you have any thoughts on that?
I know that sometimes people can get a raw deal on account transitions and I don't fully disagree with that, but it's an agency and isn't always a perfect world. A lot of times we could have a solid game plan in place but something could shift because we live in an unpredictable environment. We try not to put someone brand new to Seer immediately on an account, but what happens when they get hired and then a week into their time here, someone else puts in their notice?
Now we have to make the decision whether to have someone who is new to Seer jump right in on a project (who is still trying to learn our process), or have an existing team member who may be a bit overloaded jump in and handle that transition. Neither situation is the best outcome for a client, but we have to work together as an entire team to make that transition as smooth as possible for everyone involved. It can be rocky early on, but we typically get it smoothed out in a reasonable amount of time.
Folks at all levels are always curious about career progression and opportunity to grow at Seer, can you share your thoughts on that?
It can be a challenge for people that want to wait for someone else (like their boss) to just give them the keys to the new car, so to speak. Those who advance are the hungry ones that take the initiative, tell us what they want, and then go out and get it. We have a great process in place now that we have specific, defined roles from Associate up to Senior Manager. You can look at a checklist and ask yourself, "Am I doing these things?" I can talk with my manager and share with them, "Here are areas where I know I'm weak, but here are areas where I'm really strong and these are the areas where I think I can overcompensate to take the next step."
We're in a better place to help people, but it still goes back to how bad you individually want it. Your manager isn't going to be hitting you up on a daily basis to check in on your tasks and goals that you've set,or whether or not you've completed them. We will check in every so often, but if you're not showing us you're taking that initiative, it's hard for us to continue to put our investment in your progress. It's a two-way street.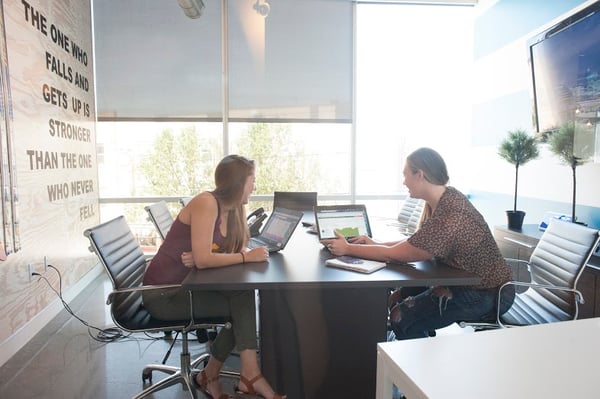 Seer Team Lead & Associate Meeting
I've been working with one of my team members who let me know she wanted to be more well-rounded and get experience with PPC. We sat down together and outlined the path and I provided her with resources she needed to get started. She took it seriously, charged that path and proactively came back to me with her progress and the impact it could have for Seer. From that point I worked with other folks in leadership to carve out a role where part of her day to day involved paid strategies at the client level. Had she not followed through or waited for me to follow up with her though, she wouldn't have gotten to that next step.
People tend to view Seer as a cool, "work hard play hard" kind of place. I agree it's an awesome place to work, but can you set folks straight on what it's really like to work at Seer?
[Laughs] I mean, in terms of the idea that it can be a bit loud and collaborative...in San Diego at least, we definitely have ebbs and flows of when you can hear a pin drop for hours at a time and then a person will stop by someone's desk and there's a bunch of energy and activity. I think that depends on the mood, time of day, what people are working on - a bunch of things - but it's definitely a place where there are times when the team is individually working on things. There is tons of great energy post-brainstorm, but you have to bear down and execute and actually create results which means heads down grinding. It can be stressful but it can also be very rewarding.
I also wouldn't say that Seer is a relaxed environment. It can be if you manage your time right, but again, it's an agency. You may have a week where you haven't even worked 40 hours and you've accomplished everything you needed to and others where you're staring at a 50-hour work week and still aren't done with everything you need to get done. You have to get good at prioritizing and knowing that if you can't get everything done, certain things can wait until next week; you just need to communicate that with your team and clients. Setting expectations and clear communication is the key to survival here. Anywhere, really.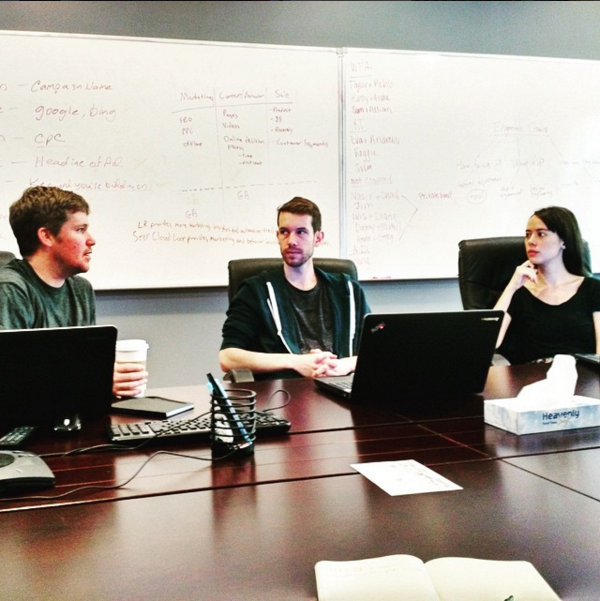 Seer team members in an internal meeting
What gets you most excited to come to work every day?
That's a good one. My biggest things are the one-on-one interactions I have with the team where we're talking about what they've done and where they're going—what direction they're headed with Seer, or just in their career, in general. Letting them know we don't expect people to stay at Seer forever, so figuring out how can I help them achieve their general goals and, at the same time, how they can add value to Seer while they're here. It's exciting to have someone on the team come to me saying, "I want to be a more well-rounded marketer because what happens when I only have SEO experience and SEO changes and I need deeper knowledge of PPC or other things?". That and working on things that are culture-related, specifically to San Diego—what are we doing to always feel like an extension of the Philly office but with our own identity, and, when that's not the case, figuring out how to fix that.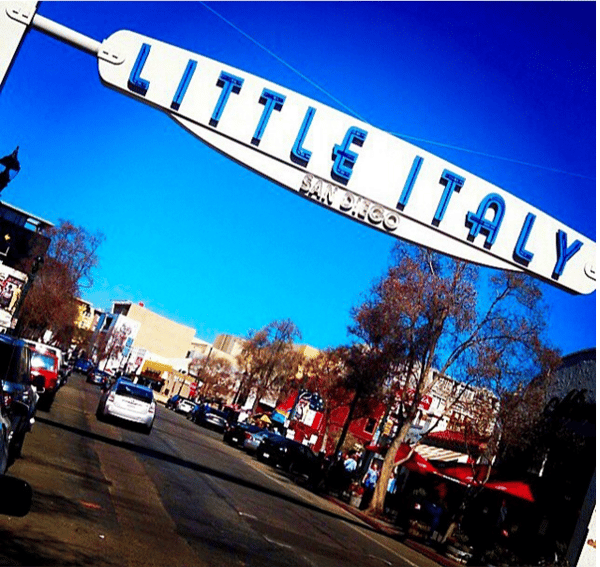 Little Italy is home to Seer's San Diego Office
What's the coolest thing you've done lately using Seer's unlimited PTO?
Thailand - no brainer. [Ryan recently took a two-week, much-needed solo trip to Thailand.] Going to Thailand was a life-changing experience for me. It was the first time I've ever traveled by myself and it was really good to have that experience—to have a destination but no plan in place, just figuring it out when I got there and hopping from island to island without an agenda.
I didn't check my email once because I knew I had the support from everyone on my team and that no balls would get dropped. I came back to some shit that happened while I was gone and people handled it for me. Knowing I could take a vacation that actually was a vacation was really cool. I came back super stress-free and ready to kick some ass. Every couple of weeks, I also take a day to work remote and sit at my favorite cafe in my beach town just to power through reviews or write content or connect with certain people. I'll sit in that cafe for 6 hours being super productive. Knowing that I have the opportunity to do that whenever I want is awesome.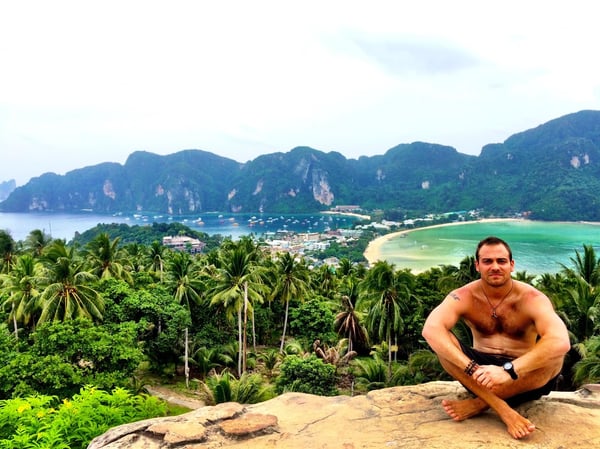 Ryan on his solo trip to Thailand
Interested in joining Seer's Team? Check out our Career page for current openings.