72% of internet users say they have looked online for health information within the past year. (Source: DMN3). What does this mean for doctors, hospitals and other healthcare organizations?
Consumers no longer solely rely on their physicians & healthcare providers for medical information. Most consumers turn to search engines with their health questions first - before contacting their doctors. As a result, the doctor and patient relationship has slowly morphed in a collaborative rapport as consumers research and use online resources to assess their health.
Unfortunately, a large majority of the health and wellness content appearing in search engine results pages are not written by experienced professionals. Consumers are getting medical information from unqualified websites - instead of reliable, and safe hospitals. Why is this the case? Many hospitals are missing crucial content opportunities and underutilizing online data sources.
Ali Freezman, a veteran Seer SEO Consultant for healthcare brands recently presented at the Hospital Marketing National conference in San Diego where she shared digital marketing strategies hospitals can use to create effective content that will help consumers answer their health questions accurately through the following tools:
Medical & Health Keyword Research

Trends in Medical Current Events

Patient Reviews

Practitioner Interviews
Ultimately these tools will help hospitals generate new patients, reduce acquisition costs, build consumer loyalty, humanize their brand, and earn trusted advisor status amongst consumers.
Utilize Keyword Research to Engage People and Solve Their Problems
How does a hospital or healthcare provider know exactly what content to create and place on their website? Why not tap into one of the world's largest and free data-base - Google, There are 17 billion searches per month on Google. (Source: Search Engine Land). By using free keyword research tools, marketers can pinpoint the health questions users search for every day. If your hospital can answer these questions online, before a consumer even has to enter the hospital - it will establish trust with new potential patients and build loyalty with existing customers.
For example, one of our hospital clients offers tumor procedures. Using the keyword tool, Answer the Public, we found that users have a variety of questions around this topic:
Most questions about tumors are consistent, but there are subtle differences in what people really want to know if you look closely. Users are searching for recurrent tumor questions, how they develop, how it affects the body, and even how do some tumor patients die. However, many users who are searching for these detailed queries, cannot currently find accurate and humanizing content to address their needs. For example, when searching for "how do glioma patients die" into Google, here is what the search engine results page looks like:
Within the top three ranked resources, you find an outdated community support page post, a medical journal which is probably to hard for anyone other than a medical professional to understand, and some virtual trials page. Once clicking on all three of these options, a user most likely goes back to the search results - disappointed and frustrated. No hospital is currently providing consumers searching for this questions with information on how death might look for this diagnosis or even support in understanding their concerns. Hospitals who do provide detailed guides on these tough topics, can bring a comforting voice to patients who are scared and in pain.
Taking a step back, I understand as a busy hospital marketer, creating content such as this takes significant resources. Are these specific, less searched for terms worth the time and effort to focus on?
Absolutely yes and here's why: Chris Anderson's economics theory of long tail. (Source: The Long Tail Concept and Economics of Long Tail.) In a nutshell, the principle explains that although high volume products drive the most purchases up front, smaller more specific products over time will earn the same amount of purchases as the high volume product.
This theory applies to the keywords users search for online as well. Large head terms such as "afib," generate the most search volume. Off the bat, it would appear that since this term has the most searches per month, you should create content on that one term. The reality of it is, if you're not Web MD or a major healthcare provider you're not going to rank well for "afib". Long tail queries is where there is more opportunity, such as "treating afib without blood thinners."
Additionally, if you have content for specific long tail concepts, you create a higher satisfaction rate. Consumers are more pleased to find relevant content for a more specific search, than for a larger head term.
"Creating content is less about putting content on your site and more about anticipating needs. Google can't send traffic to your site if you don't have the content." -Ali Freezman
When beginning to create content online, it's not only about being found in Google, it's about giving people the content that they need the most. Google's ultimate goal is to answer consumers' questions as accurately as possible in their most preferred format, such as the new, I'm Feeling Yucky, an online, mobile friendly way to diagnose symptoms in seconds.
Keyword research is a powerful tool and data source for hospitals to understand what to create to help consumers and provide them with what they are looking for. Take a dive deeper into what people want to know about specific conditions and treatments by using keyword research and create supporting material for patients to make their lives easier.
Use Google trend data to answer users' medical questions first & become a trusted advisor
On May 26th, 2016, a study linked to cancer was covered by a major news outlet. This peak below is snap shot from Google Trends that indicates the surge in search volume around this study.
On May 27th, a day after the study was released, the number of searches for "Mobile Phone, Cancer" was just as high as the number of searches for Justin Bieber, Golden State, & Donald Trump. (That's a ton of search volume!)
Among the top shared content on the Cancer study, was an article about a rat study that completely contradicted the cancerous cell phone study claims, leaving consumers confused about what to trust.
One week later, using Google Don't Hit Enter (also called Google Suggest), we found that consumers' top searches on cell phones inquired if they caused different types of cancers.

Not a single healthcare provider came forward online to speak to this study or its claims. Not even the hospitals that are considered leaders in cancer research and treatment by US News provided an opinion or statement. Healthcare organizations are trusted, reputable sources for consumers. Why aren't they coming to their rescue as consumers dig through the internet to find trusted answers?
How Healthcare Leaders can respond and build thought leadership.
By using Google Trends to watch for these peaks of interest, healthcare providers can show up in Google at the right time with answers, opinions or statements for their consumers. This will not only generate new brand awareness among their audience, but also earning trusted advisor status from consumers.
Reviews are a unique source of data - it's real, raw feedback just for your healthcare organization
Internal data is one of the few things that cannot be commoditized; it could be the differentiating factor between your hospital brand and a competitor's. Vitals Blog surveyed millions of patient ratings in 2013 to create a Valentine's day themed infographic highlighting 'Most Loved Doctors' and 'Top 3 Reasons to Break Up with a Doctor'.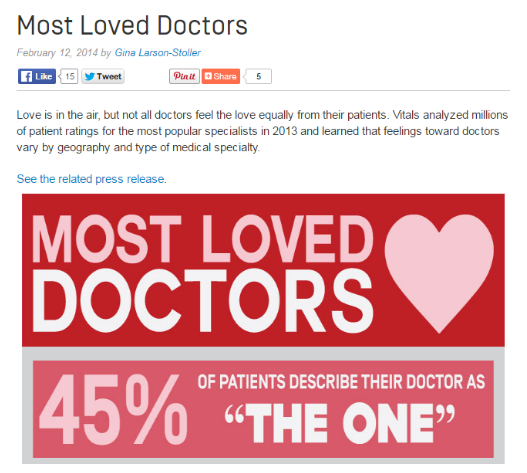 Internal insights equipped Vitals with a unique perspective and the result was a successful content piece.
Your team can create this personal, engaging type of content too! Begin with asking yourself and your team key questions about your common themes between reviews and reviewers such as, 'What triggers positive or negative sentiments towards physicians?'. To leverage your reviews, try the steps below:
Chose

RateMDs.com

based on volume and review distribution.

Analyze at least 5,000 doctor reviews and ratings (if possible).

Reviews with 4-5 stars are deemed positive, 1-2 stars negative and 3 neutral.

Analyze the most commonly used language across both positive and negative reviews.
Data scraping, also called web scraping, is the easiest way of collecting massive amount of data from external websites, such as review sites. Data scraping focuses on transforming unstructured website content (usually HTML) into structured data which can be stored in a database or spreadsheet (source: SiteGround). By using this, you can quickly gather all of the data you want, drop data into a spreadsheet to analyze it. If you're not familiar with data scraping, we recommend looping in your developer.
Once you've gather the data, you'll be able to digest and analyze the information to pull different content themes. It's critical to look at all sides of reviews, the good, bad and ugly. Possible themes that could emerge:
Doctors taking the time and listening to patients

Timeliness of appointments

Staff personalities, values and the office environment

Long lasting relationships you build with patients.
Use reviews to analyze what your patients are saying about you in reviews, try to get an understanding of what makes patients in your region or service line tick and highlight your strengths in terms of what is important to patients.
Through this analysis, you can tweak copy on various types of online content, i.e. treatment page copy, blog posts, doctor bios, etc to cater to customer's preferences and language.
Use internal site search - a commonly untapped source of information
Consumers who use internal site search are highly interested in your brand's online content and have a higher chance of submitting a lead form or making a phone call to your hospital. In many cases, websites are not optimized for site searches.
For example, on one hospital website, when a user types in "neurology," they find this:

Two irrelevant results.
This person could be starting to research what hospital neurology department they want to visit. With this current internal site search set-up, it's likely that this person will see these results, find it's not what they are looking for, and exit the site.
Some hospitals have harnessed the power of site search and even optimized its functions. For example, Children's Health site search not only recommends what a user might be looking for but corrects misspellings as well.
Anticipating the needs of your consumers and serving them appropriate content when they are coming to your website is crucial. You can also use historical site search data to uncover areas on your website that users are looking for - but currently don't have content on your website to answer. Overall, make sure your internal site search is pointing people in the right direction and use this data to help prioritize new content initiatives.
Tap into a unique & personal data source - Your Practitioners
As a healthcare marketer. leveraging practitioners within your different service lines can not only assist you and your team with marketing goals but differentiate your organization from others.
Start by setting up interviews with practitioners on a regular basis to learn more about the accuracy of your particular offerings on the website and to humanize your brand by letting the practitioner voices and personal stories shine through.
When you leverage practitioners, you uncover distinctive competencies. Maybe, Nurse Sue in NICU has created a sign in process that makes it more comfortable for parents. Or, perhaps Doctor Joe has increased his patient yield by 20% because he created a strong referral community. Whatever it may be, highlighting these competencies and skills will help your organization stand out among the pack of other hospitals online.
Interviews with practitioners also help you learn if the hospital is providing consistent patient experiences across service lines and delivering on procedures. It is common to learn that certain procedures, may not be performed at a certain hospital, or that a hospital has innovated the way they combine treatments to create better patient outcomes. Communicating these types of procedural changes to the general public boosts your customer loyalty and retention.
As you begin to gather information on your practitioners, one way to improve your website content is by updated and humanizing doctor bios.
Below are two examples:
Commonly, hospitals outline a doctor's credentials in their online profiles, but this may not resonate with your potential patients who are scared, nervous and unsure which doctor to turn to for help.. The after example, is a bio that is much more personal and helps people relate to their potential doctor.
Digital health trends are reshaping healthcare - forcing the industry to adopt and integrate these trends. Staying ahead of the curve with these tools can be the differentiating factor between you and your competitors.
Are any of the data sources already in you healthcare marketing tool kit? Share the ways you've used these data sources or suggest another to Ali Freeze @AFreeze or shoot her an email at alif@seerinteractive.com