I was given the opportunity to evaluate SEMrush's new competitive analysis tool for Facebook. SEMrush already boasts a bevy of tools for reviewing your competitions behavior in search, but this new tool is the first of its kind that allows you to garner advertising insight into Facebook. You're able to search by keyword, domain (self-explanatory) or "Top Ads," which displays ads with the most impression volume by country. For this evaluation, I'll be looking for insights into the highly competitive online education space.
Keyword
Searching by Facebook ads by keyword (specifically, "online college degree") allowed me to easily find a ton of competitors as well as their ads and images. You're also able to sort by the average unique impressions over the past week, month and 3 months. This could be a great way to find value propositions and image types to help you stand out from competitors.
There are a few nuances with this report. First, the results you get are extremely finicky. Searching for online education yielded just about every type of company under the sun. Definitely not a huge deal, as this is almost expected with any competitive analysis tool, but be ready to toy around a bit before you get satisfactory results.
Second, I'm not sure of the accuracy of the "average unique hits" metric, at least at this point. It seems as though the total number of unique hits/impressions decreases over time. May just be a bout of "new tool" syndrome, but looked a little off to me.

Domain/Competitor
Once you identify top competitors (using University of Phoenix for this example), you can simply drop them into SEMrush and get a few deeper insights using the Ads by Domain tool. The tool includes approximate impressions (and uniques) by day, a list of their ad copy/images and a full list of landing pages.
This is tremendously helpful with designing landing pages and copy, as you'll be able to isolate where you have an advantage over specific competitors. That said, the same nuances noted above are prevalent again, as the numbers look odd for day/week/month.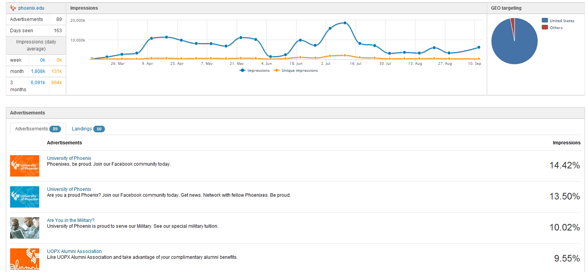 Top Ads
The top ads feature allows you to see the top ads in terms of volume by country or worldwide. Honestly, didn't see a ton of value in this section outside of just general "huh, good to know."
Overall
The findings overall are much what you'd see from any Search competitive analysis tool, only for Facebook. And that simple description definitely isn't a knock. Considering this is the first of its kind for Facebook-specific advertising, I think SEMrush has created itself a useful little tool!