Periods are not a topic that marketers have typically created funny and unique content for. However, this ad turns the "taboo" topics of periods into a hilarious video women of all ages can laugh about.
What makes this content great? We have all seen the platex ads that consist of pretty women dancing and playing sports. This video smashes the tpyical archetype of "period" videos and created a satirical story to depict a very human part of life. The video successfully takes a reality TV approach by documenting the young girl's horror and hysterical relationship with her mom, family, and friends.
What can marketers learn from this? Experiment with different content types to find out what connects with your audience the best.This video is not afraid to go where no one else has gone before – and takes it up a few more notches to entertain their audience. Although the satirical documentary style video may not be best for all brands, its fits this brand's millennial audience.
Similac's End Mommy Wars
We have all seen the cute baby ads advertising baby food. Cute, not typical. Similac US created a unique story and content campaign to connect with moms, all without showing the product once.
What makes this content great? Strong content all comes down to story-telling and connecting with your audience. This content campaign creates an "AH-HA" moment, where moms everywhere can nod their heads and think, yes, I've thought that before, or yes, I've felt that way before! Similac understood the common worry that moms have of trying to be the best mom possible. From this idea, the brand created a telling content piece that acknowledges this pain point, and gives its audience a light-hearted solution to squash this challenge, through the hashtag #endmommywars.
What can marketers learn from this? Similac's campaign never once mentions baby food. Instead, the content focuses on a movement that women would want to be a part of and support. Marketers – when thinking of a new content idea – think bigger than just product. Is there an emotional challenge that you can help your customers solve? If so, make content to prove it.

Picture the full Thanksgiving spread, complete with the place settings, turkey, favorite side dishes, and condiments. Like the full bread and butter Thanksgiving meal, successful content campaigns contain multiple elements to make a stand-out impression with their brand's audiences. The following are examples of high quality campaigns that include various content formats to tell a brand's story.
REI's #optoutside Campaign
Source: optoutside.rei.com
REI created a content campaign to support the company's unique decision to close all stores on Black Friday to encourage customers to go outside, instead of hitting the shopping malls for deals. REI named this effort, optoutside.
Why is this great content? REI created a movement, complete with its own inspiring hashtag, website, and videos. REI understands its audience; nature-loving, adventure-junkie, and environmental advocates. This movement speaks to their customer's driving passions in life. This campaign supports the brand's message, customers, and products.
What can marketers learn from this? All brands dream of creating a "movement." But to do so, brands need to be authentic and true to the brand's core values. It's one thing to say your mission is to encourage people to go outside and sell products around that idea – but it's truly living the mission to take clear actions to make it happen.
Netflix's Orange is the New Black Native NYT Ad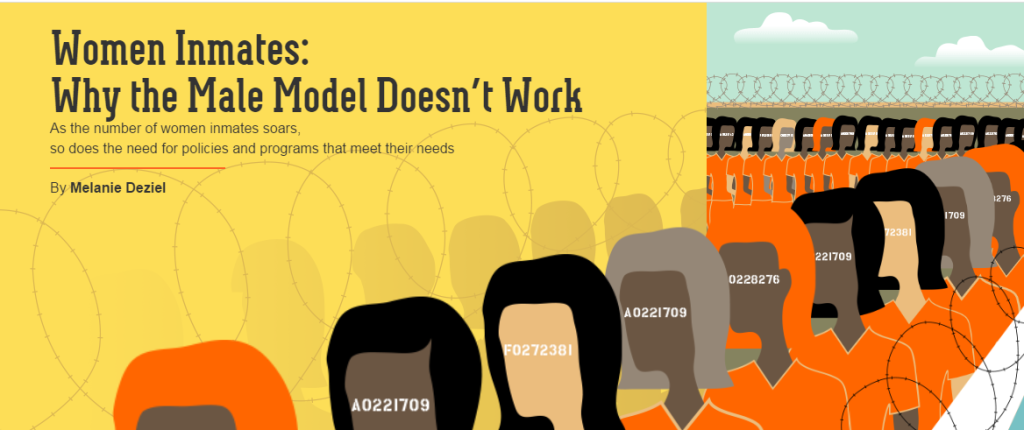 Source: New York Time's Native Ads
Netflix's Orange is the New Black's content campaign should be the defining example of "great content." Complete with interactive images, a captivating video, and journalistic content with a story backbone is engaging, interesting, and unique.
Why is this great content? The content piece combines key content elements for today's audience to be interested – visually appealing graphics, data weaved into a fascinating story, and a brand message that aligns with the end product – a TV show about women facing time in prison.
What can marketers learn from this? Sometimes, as marketers, we need to dive all in. This content piece has elements that can stand alone – the video, images, or the journalistic story. However, all the elements weaved together in one place creates a complete, well-rounded picture. When creating branded content, brainstorm all of the different formats you can use to create your message – then in vision them all in one place. Will it make your brand story more telling? If so, don't be afraid to combine all elements in one if that is what will connect with your audience the best.
Whether you have a sweet tooth or not, as marketers can all agree it's a great idea to leave your viewers with a sweet ending to your content. The following brands have created unique ways to end content that make users glad they read or watched the brands content all the way through.
Burton's Video CTAs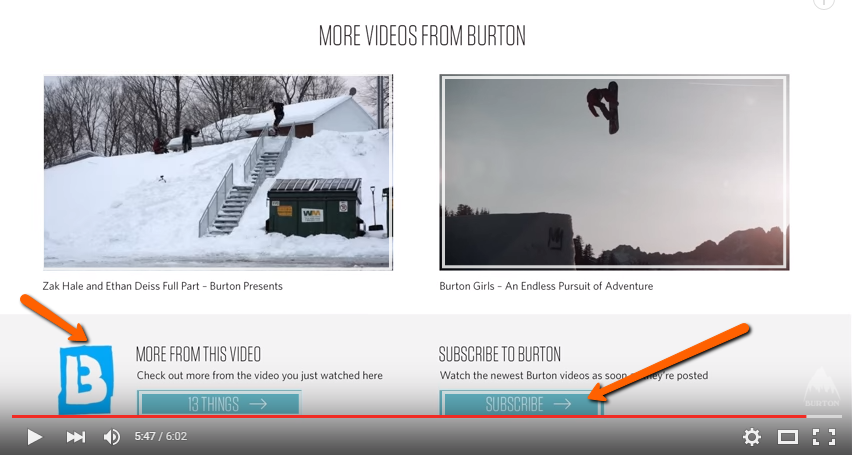 Source: Burton's YouTube Channel
Burton embedded video overlaps to make video CTAs appear before the video ends - enabling the brand to direct users to handpicked content that best suits the audience's needs.
Why is this content great? Videos are a powerful content platform, as seen through the numerous examples in this post. However, don't let the brand connection end once the video stops. Burden understands the importance of directing users to additional relevant content or signup areas to receive more information if the viewer is interested.
What can marketers learn from this? If a user watches your video until the end, they are most likely interested in your brand – and much more likely to sign-up or take the next step in the buyer's journey. Don't leave your viewers hanging! Create in-video CTA's that are relevant to the content they just finished watching.
BirchBox's Shop This Story
Source: BirchBox How-To Videos
Birchbox is known for creating informative videos for its customers to learn how to use makeup products. However, Birchbox takes it a step further by including the exact products mentioned – right next to the video.
Why is this content great? If a user lands on your educational how-to video, that's great news! However, once a user learns how to use the product, many will go back to google to find the products used in the video. However, Birchbox eliminates that step by showing the user exactly what the used products are, the price, and a link to purchase.
What can marketers learn from this? When creating educational how-to content, if possible, direct the user to a branded page where they can continue to answer their questions or make a purchase.
What branded content are you thankful for this year? Share your ideas in the comments below or tweet to us @Seerinteractive.