Meet Michelle Brown
Senior Paid Social Associate | Foodie and Content Creator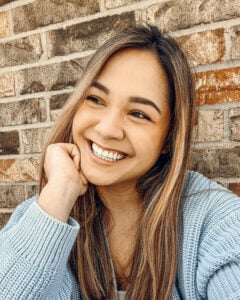 Where did you grow up? If you would like to share, what was your childhood like?
Sioux city, Iowa. I was involved in a lot of activities growing up. I was a junior Olympic gymnast, competitive figure skater, and I spent a lot of time in varsity track and in drama classes.
Who is your hero or role model?
My mom is someone I really admire and appreciate. She moved here from Vietnam during the war and she had three jobs even while she was pregnant with me. She's always worked so hard to provide. She owned her own gas station which I worked at growing up, since it was our family business. She worked hard so I could do junior Olympics gymnastics , varsity track, acting and even competitive figure skating.
She didn't have much but she really gave her all so I could be who I wanted to be. She's a huge reason why I work as hard as I do.
And even now she's pushing herself. She just graduated with her associates degree in business!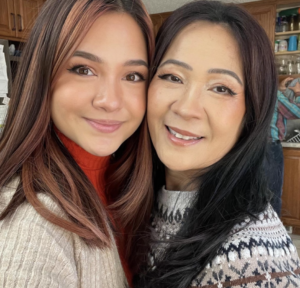 How did you get into marketing and advertising?
I graduated with a marketing, advertising and digital media degree. However, that was not the first degree that I was going for and I actually changed my major three times. I was actually a third-year nursing student spending a lot of time in the hospital and realized that daily life was just not for me - even though I really respect that work!
So I dropped everything and moved to Africa where I studied wildlife biology. When I moved back I did a lot of reflecting since I knew it wasn't realistic to pursue that field in the U.S unless I wanted to work at a zoo.
I've always been very creative, making videos and such so I decided to explore the most creative part of the business world which is advertising and marketing. I loved it and haven't looked back.
What were your first impressions when you first started at Seer?
"My first impression of Seer was actually, 'wow, is this real?'"
I have experienced a lot of things in the companies I've worked at previously and the way that Seer gives so much to their employees really was eye opening. It made me reflect on what the status quo at the companies I worked at previously was. Honestly it was a bit shocking.
That's interesting! What were some of the specific things that made you feel that way?
I think just the onboarding experience alone was pretty special. A lot of companies would send your computer and get you right into training but Seer sent me thank you cards and other little things. That really makes you feel important and valued.
Also the PTO policy at Seer feels really different. I had unlimited PTO at my last agency, but I never got to use it. At Seer, you actually get to use it and are pushed to use it. And that encouragement to leverage your PTO happened right away upon starting.
What's your favorite Seer chat group you are a part of?
Seer-ious eats of course - big foodie here!
What is one of your favorite parts of your job?
I work on the Paid Social team and I am a big innovation person.
So I love doing competitive analysis and creating expansion recommendations to help bring our clients to TikTok, Snapchat or other newer platforms. I really enjoy getting my clients out of their comfort zone and testing new things.
You have quite the TikTok following! How did you get into making videos on TikTok?
Yes I've always really enjoyed making videos since I was a kid. But when the pandemic happened I started uploading dancing videos, cooking videos, exercise videos, all these different things. But then I did some snack videos and for whatever reason those really took off and I've kept making them.
I feel really lucky to have a community of people who support me and some who give me some healthy critiques which I appreciate too!
How do you balance being an influencer while working at Seer?
I've always been someone who hustled. When I was in college I wanted to graduate debt-free so I worked five jobs from being an Amazon model to being a server and working at an agency - so I've been used to balancing things like that for quite awhile and I like it!
It's also pretty I really value the stability and community that Seer provides and I see influencer marketing and social media paid media overlapping quite a lot.
"At Seer, I'm working for the brand reaching out to influencers or strategizing their paid media. While on Tik Tok, I'm on the other side where brands are reaching out to me and I'm helping them out with their mission and goals."
So they both add to each other, which I like.
What is your perfect weekend day? Describe what you would do and who you would be doing it with!
I love going to community events! (renaissance fairs, cultural fests, etc).
The perfect day would be going to that during the day followed up with dinner and ending the night listening to a music show!
Want to Work with Michelle?
Check out the data only we can give you on what make Seer a great place to work (in addition to Michelle, of course!).
Roles from entry level to industry veterans available in Philadelphia, San Diego, or Remote:
Join our Talent Community for Career Advice & Digital Marketing Happenings:
Sign up for our monthly careers newsletter.