When we take over management of existing PPC accounts here at SEER, we generally let the existing AdWords and Bing Ads campaigns run until we are able to build out new campaigns that align with SEER's best practices. Recently, I was monitoring campaign performance for a new e-commerce client shortly after launching the new SEER campaigns. I noticed that CPC's were drastically higher in the new Branded campaign compared to the old one. Specifically, the CPC's jumped from below $0.10 to above $0.20 which meant we were hitting our daily budget cap faster and as a result, we were generating less clicks, less purchases and potentially less revenue.
The table below outlines average CPC's for the last 4 days of the old Branded campaign and the first 4 days of the SEER Branded campaign.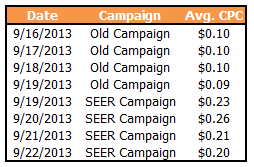 As you can see, the CPC's began to increase slightly once the new campaign was launched compared to the old campaign. It was alarming to see such high CPC's in our new campaign compared to those of the old Branded campaign.
So what did we do about it?
Not quite! We kept a close eye on daily performance and after running for several days, the campaigns' CPC's began to decrease. This allowed us to acquire more clicks and consequently, more purchases and revenue. The following graph illustrates the CPC trends we've seen since launching the SEER Branded campaigns.

There are other factors that could have contributed to this behavior: old campaigns were only running on week days, we increased match type coverage in SEER campaign, we increased use of negative keyword in SEER campaign, and we made some slight bid adjustments within the first days of the campaign being live. However, the main takeaway from this is that seeing high CPCs immediately after launching new campaigns is no cause for alarm. Since they are new campaigns with no performance history (a contributing factor to ad rank and performance), it's not surprising that it would take a few days before performance begins to improve.
While we're not quite at the level we were at with the old campaigns, I anticipate seeing CPC's continue to decrease as we acquire more performance history with our SEER campaigns. It's important to note, however, that because our keywords and match types aren't the same in both campaigns, we're not looking at an exact apples-to-apples comparison here. As such, we may never reach a CPC that's lower than the old campaigns' due to the nature of the keywords.
This isn't an uncommon trend among PPC campaigns as we have seen similar behavior across industries and verticals. The graph below shows a colleague's moving and storage client who, for the first few days after launching SEER campaigns, saw Brand CPC's start to rise before a sudden drop to a level drastically lower than the old Brand CPC's.

We continue to see this trend across non-brand campaigns, too. The graph below shows average CPC's for an online photo editing client who didn't adjust bids within the first week of launching a new campaign. They saw a spike in CPC's upon launch but almost immediately saw CPC's drop and remain fairly consistent. The CPC's continued to decrease as the campaign started to accrue more historical data when bid adjustments were then made.
Have you experienced a similar situation? If so, I'd love to hear about your experience(s) in the comments below!