Social media is moving quickly and it doesn't show sign of slowing down anytime soon. As we move into 2019 we continue to face the challenge of maintaining pace with the ever-changing landscape of social platforms. With an increasingly competitive set of marketing features, new mobile user experiences, and a strong influence over audience preferences and their expectations, paid social has become a vital component to a complete marketing strategy.
In this post, you can expect to find four of the top 2019 paid social trends you should consider adopting for your 2019 paid social marketing strategies.
Our top four trends:
Optimizing for mobile

Stories - video advertising

Holistic marketing strategies

Attribution & data
Optimizing for mobile
I know what you're thinking, "We have been hearing about this for years!" ... and you would be correct! But too many businesses have been underestimating the importance of a mobile-friendly website. Now more than ever it is critical that you consider taking a mobile-first approach seriously. With over 52% of website searches coming from mobile devices in 2018, not optimizing your website and landing pages to meet mobile standards is undoubtedly harming your conversion metrics. If that statistic alone doesn't convince you, check these out:
According to the Newzoo 2018 Global Mobile Market Report

there were a recorded 3.9 billion internet users in 2018, and 3.0 billion of them are smartphone users. According to the same report, that number is projected to increase to 3.8 billion smartphone users by 2021. That's 48% of the population of the PLANET!

"Mobile is currently the second-largest ad medium by spend, and will overtake TV across key markets this year if current growth rates are maintained," according to a new WARC report. (

Mobile hits tipping point this year, 2019

). Yup, you heard it here! Mobile is on its way to being the No. 1 advertising medium based on spend in 2019 and for good reason.

According to

this June 2018 graph by Statista

, user growth for our favorite social mobile app, Instagram, hit 1 billion users mid-2018 after a huge 200 million user increase from the year prior. Mobile is hot, social is hot and things are only heating up in 2019.
Image from Statista
Facebook even goes so far as to claim a new generation of solely mobile users is upon us, not defined by age but by device preferences!
So keep your website and landing page load times fast, make sure it is easy to navigate on mobile and keep things simple.
Video advertising
It's no question that advertising goes where the attention is and in 2019 the attention is around video, particularly "stories."
With video messaging easily being shared at the swipe of a finger, it's no wonder it has taken over the social space. Starting with Snapchat back in 2011 we were given the ability to easily and instantly send and share video clips with our friends, family and the world.
When Facebook unsuccessfully attempted to acquire Snapchat back in 2013, the company responded by releasing its own video sharing adaptation called Instagram stories. That release came in August of 2016 and the quest for quick, mobile video domination began. Now, it is reported that Instagram stories have grown to a user base of 400+ million users and that number continues to rise (and rapidly) into 2019. But Instagram isn't the only one seeing an increase here.
Facebook stories have reportedly grown to 300 million users and the company is planning to integrate cross platform sharing moving forward including WhatsApp status (450M users), Instagram Stories, and Facebook Stories. Now that is a lot of highly targeted eyes.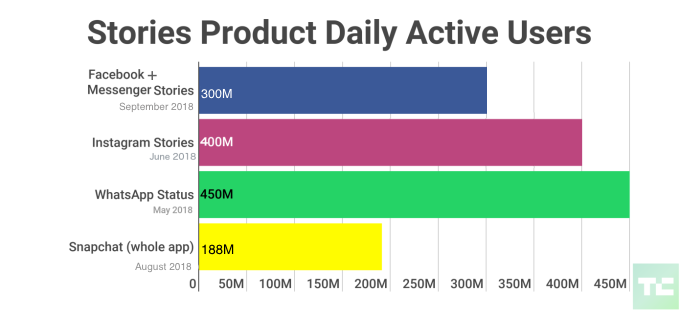 Image from Tech Crunch
Discover the Seer best practices guide for all Instagram ad types, including stories, here.
Beyond Stories, however, there is another new platform to keep your eye on. Facebook recently launched its YouTube competitor platform, Facebook Watch, which gives content creators a new way to reach their audiences (and monetize their content with Facebook Ads). Facebook Watch announced at the end of 2018 that they had officially gone live "in every country around the world" and in just after 3 months of a global launch, they reached 400 million monthly users and 75 million daily users.
What sets Facebook Watch apart is their attempt to bring social back to video by encouraging communities to watch together using features such as "Watch Parties" where users can invite friends and Facebook groups to watch videos and live streams together in real time encouraging engagement and interacting with polls and games set up by content creators. Imagine if someday soon we are gifted Facebook level audience targeting on a video platform like Youtube. Not to mention all the cool new advertising features we can likely expect to see with Facebook's history of creative advertising options and integration.
Holistic marketing strategy
Companies now are facing more competition than ever in the advertising space. This makes it more important to adopt a holistic marketing strategy and be present on all relevant platforms, not just prioritizing one. Although some clients are doing better than others to look at their marketing budget in a more holistic manner, many just aren't there yet.
At the end of the day, we shouldn't care so much about where our leads are coming from as long as we are hitting our goals.
Search has been taking a hit. Competition is increasing and voice searches are taking away volume. This increases the cost of advertising on specific keywords that clients are already bidding on. So how will companies respond in order to lower their CPAs? By continuing to test and innovate for new advertising channels.
Waiting is dangerous. Waiting to adopt new advertising channels can put you significantly behind your competition. As more channels are opening up, we (the advertisers) should be the ones to recommend these strategies to our clients.
Attribution & data
Justifying and proving the effectiveness of any multi-channel marketing strategy is a challenging feat but as we begin to adopt more holistic strategies there is a serious need for more effective data collection. One solution to this need is more granular cross-platform attribution modeling.
Take for example a fictitious user who is first introduced to your ad on Facebook while using her laptop. She clicks on the ad but eventually goes back to browsing her Facebook feed. Later, she decides to Google your brand and do a little more research on her mobile phone. She finds a product she likes, opens up the Reddit app for reviews, and later converts on a YouTube ad.
Were you there for her every step of the way? Were you displaying the appropriate creative at the right time for her spot in the funnel? Were you optimizing for a mobile experience? Do you have the data to back it up?
Without a more granular attribution model there would be no way to accurately collect and track that users touchpoints across her complete journey. We couldn't credit the appropriate platforms for their contributions to the conversion and we can not make data driven decisions and adjustments based on that users complete experience.
As competition increases and things get more expensive, it is more and more important to be purposeful with your ad spend.
Although developing a complete attribution strategy is not an easy task, we need to understand that these channels can and do affect one another. It is increasingly important to have data available to you so you can leverage these relationships and your ad spend more thoughtfully and holistically.
So what?
Paid social has become a vital component to a complete marketing strategy. Hopefully this has provided you with some context behind the top trends of 2019 and you are able to apply these concepts in your marketing strategies!
As always, reach out to Seer with any questions you may have, and be sure to sign up for our newsletter!