Protecting Your Privacy with Safe Browsing
Amidst concerns of privacy and leaked personal information, it's important now more than ever to make sure you are browsing the internet safely. Whether you're simply looking for some internet safety best practices or seeking ways to keep client data secure, we have answers (along with some tips for our fellow SEOs!).
Discover how Google is making the world wide web a safer place and get some tips and tricks on how to stay safe out there.
In This Article:
---
What is Google Safe Browsing?
Google Safe Browsing analyzes billions of URLs each day to flag any unsafe pages or legitimate sites that have been made vulnerable by malware.
Some Google Safe Browsing functions include:
Warning users of potentially risky pages by displaying a warning message beside the page in Google Search or in the web browser

Reporting unsafe or compromised URLs to the site's webmaster through

Google Search Console

and suggesting ways to fix the issue

Warning users if they are about to download malware such as hazardous software or code

Detecting phishing attacks

Providing information on how to recover the site
When Google detects an unsafe or compromised site, it will display a warning on the Google Search page or in the web browser to alert users. Google sends warnings to over 5 million users daily.
Safe Browsers
Google Safe Browsing is effective on all Google products, including:
Google Chrome

Google Search

Gmail

Android

Google Ads
Even if your preferred browser isn't Google, chances are you're still receiving protection from Safe Browsing. Google distributes its list of compromised sites to a variety of other browsers, such as:
Safari

Firefox

Vivaldi

GNOME
💡 Microsoft Edge uses its own safe browsing software, called Microsoft Defender SmartScreen. If you're a fan of Microsoft products, rest assured that your online activities are being safeguarded.
How to Check that Google Safe Browsing Is Activated
Now you're probably wondering, How do I know if Safe Browsing is working on my computer? Fortunately, Google makes it easy to detect if Safe Browsing is activated. You can also select your level of protection or turn off Safe Browsing with the following steps:
Open Chrome

Navigate to the three vertical dots in the top right corner of your browser and select

Settings

from the drop-down menu

Under "Privacy and Security," select

Security

From here, you can choose the level of Safe Browsing you want to use
Google offers three levels of protection: no protection, standard protection, and enhanced protection. Learn more about each level of protection below.
No Protection
Selecting 'No Protection' turns off Safe Browsing. This option is not recommended, as you won't be protected from dangerous websites, extensions, and downloads. Even if you choose to turn off Safe Browsing, you can still activate it in other Google services (such as Gmail and Search).
Standard Protection
Receive warnings about risky downloads, extensions, and sites when you access them

URLs are checked against a list of unsafe sites stored in Chrome. If you navigate to an unsafe site, Google may add the URL to its list.

Receive warnings of password breaches (optional)

Report information to Google should you come across a potentially risky or compromised site (optional)
Enhanced Protection
Receive warnings about dangerous websites, downloads, and extensions before you land on them

Receive warnings of password breaches and risky downloads, extensions, and sites

Send information to Google regarding your activity

In addition to Chrome, you may receive protection when signed into other Google apps

Receive warnings of password breaches

Send URLs to Safe Browsing to be checked. This level of protection also sends pages, downloads, extensions, and system information to Safe Browsing to identify new threats.
How to Have a Safe Browsing Experience
(6 tips from digital marketers who use the internet all day, every day)
Whether you're trying to avoid a computer virus or prevent client information from getting leaked, use these methods to ensure that you are browsing safely:
Use a VPN
A VPN (virtual private network) hides your IP address while you're online. As a result, your online activity and physical location cannot be tracked.
You can install a VPN on your desktop, laptop, iPhone, iPad, or Android devices.
Get an Ad Blocker
Block or hide potentially viral popups with an ad blocker.
Ad blockers like AdBlock are over a decade old and block all forms of ads such as pop-ups, banners, and video ads.
Update Your Browser and Plug-Ins
Don't give hackers a foothold with outdated software by keeping your browser and plug-ins up to date.
Download Antivirus Software
Find peace of mind with antivirus software. Best of all, there are a plethora of options for free antivirus software.
Use a Password Manager
As a digital marketing company, we get it--keeping track of login information across all of your accounts gets complicated pretty fast. Use a password manager to keep all of your passwords in one place. This way, you don't have to use the same password for each account and risk a password breach.
Seer uses LastPass to safely store the usernames and passwords for all the accounts and tools that our team uses on the daily.
Disable Autofill and Saved Passwords
While this tip doesn't apply to viruses, it will protect your devices should they fall into the wrong hands. Don't let unwanted users autofill your passwords or credit card information by disabling autofill capabilities across all your devices.
To disable saved passwords in Chrome, navigate to

Settings

>

Passwords

, and uncheck

Offer to Save Passwords

and

Auto Sign-In

To disable autofill in Chrome, navigate to

Menu

>

Settings

>

Autofill

. Under

Addresses and More

, switch the setting off.
Google Safe Browsing for SEO
If you're an SEO, you're likely wondering what impact Google Safe browsing has on search. (Hint: the answer is a lot.)
💡 Google is more likely to rank a website that has a history of being safe and in good standing.
In fact, Safe Browsing is one of the five major signals of Google page experience:
Safe Browsing
Because website safety directly impacts its search ranking in Google -- SEOs and website owners should make it a top priority.
You can implement keywords and metadata optimizations all you want, but if a page contains malware, Google will add your carefully optimized content to the Safe Browsing list of unsafe URLs.
How to Avoid the Safe Browsing Naughty List
Fortunately, Google makes it easy to check on the health of your website. With the Google Safe Browsing Transparency Report, you can examine a URL on your website and find out if it's unsafe in a matter of seconds.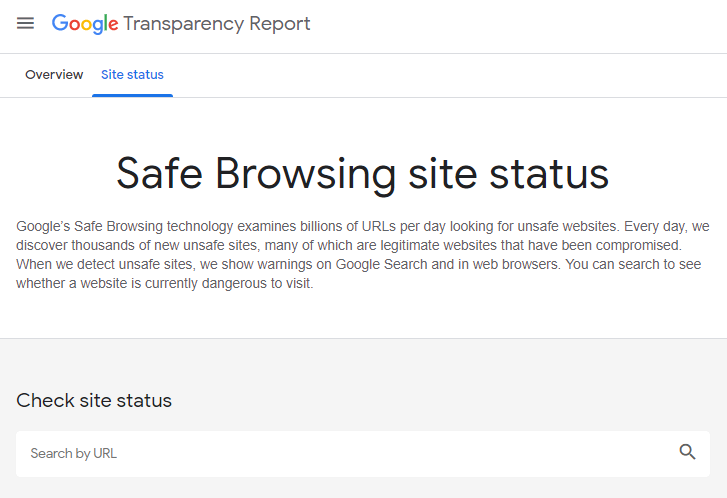 Webmasters can also use Google Search Console to view the Security Issues report, which identifies the following six security issues:
Malware

Deceptive pages

Harmful downloads

Uncommon downloads
HTTPS
Included in the five signals of Google Page Experience is HTTPS, which is closely tied to safe browsing. Google has begun to rank HTTPS sites higher than HTTP. In 2014, Google even called for "HTTPS everywhere."
💡 Learn more about the difference between HTTP vs HTTPs in this guide.
To add the "S" (which stands for "secure") to your HTTP protocol, simply purchase an SSL (Secure Sockets Layer) certificate. HTTPS encryption guarantees that any data entered on your website is kept safe.
Adopting HTTPS protocol is an easy way to prevent user information from being compromised on your website (and in turn, protect your reputation).
If you've got safe browsing tips or advice for keeping your website secure, we want to hear them! Drop your top recommendations in the comments below or reach out on Twitter (@SeerInteractive).
---
Sign up for our newsletter for more posts like this delivered straight to your inbox!