Last week, Google rolled out shiny new filter options. In addition to an improved, sorted format for the filters (below), there are also several new custom filters.
We can now filter traffic into or out of profiles based on the following criteria:
Campaign or AdGroup category:

Campaign AdGroup
Campaign Referral Path

Audience category:
Location category:
Event category:

Event Category
Event Action
Event Label
Honestly, any new filter options are welcome, but I was most excited about the Event filters and the Mobile filter.
Back in December, Michelle walked everyone through the slightly complex process to create a mobile profile in Google Analytics. For the past six months, we found this method to be the best way to properly capture the most mobile traffic possible.
The new Mobile filter changes everything. This filter means we can quickly include or exclude only mobile traffic, negating the need for the multiple steps listed in our previous blog post. Now if you want your profile to include mobile traffic, just add this quick filter: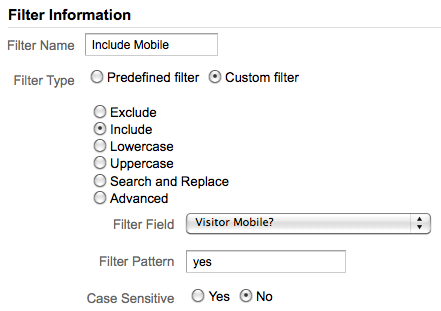 Easy, right?
Google just keeps innovating, adding more features to Google Analytics, and they're not slowing down. Any predictions for future feature releases? Or are there any new filter options you hope Google adds? Let us know in the comments!
Props to Michelle for noticing the Mobile filter first!