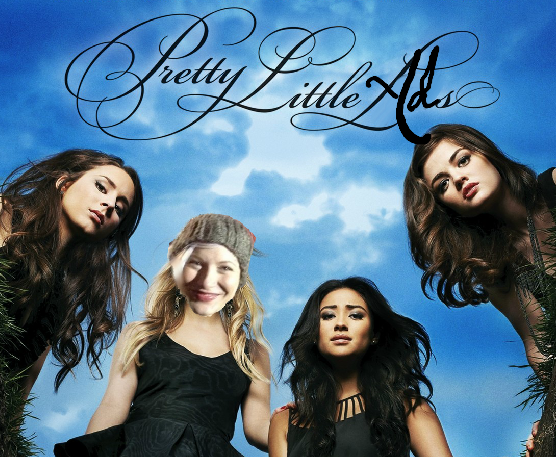 Let's say you are an online retailer of books, and you've noticed that in the last 6 months your traffic has been slowly declining. Your average position doesn't appear to be slipping; your ad copy hasn't changed, and yet… declining traffic. You do a few test queries to investigate and find: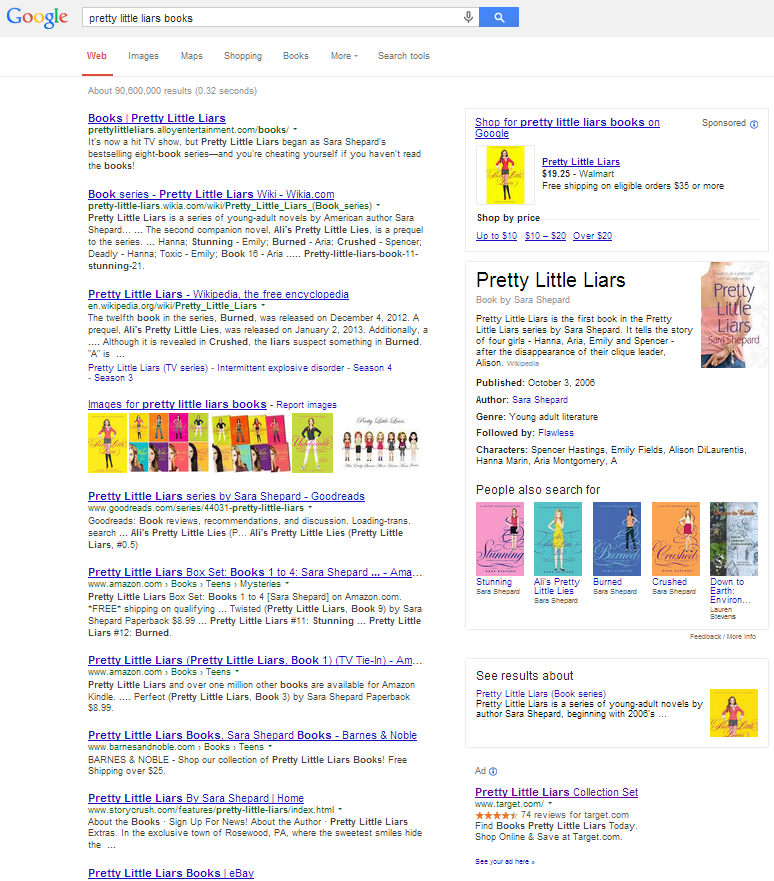 This.
Your ad, while technically in the second position (yes, in this example you are the little mom and pop bookshop known as target.com) has been pushed way down the page by this Google Knowledge Graph, which is bad enough, but you're also being edged out of the one paid ad position above the fold by an ad that has everything your ad does not (like the Alison DiLaurentis of ads, RIP). This ad has an image of the product, pricing information, shipping details, and also drives searchers straight to the product page. You can't compete with an ad like that! That ad is informative, highly targeted, eye catching, plus has long shiny blonde hair! How can you defeat this popular ad?
Okay, don't get crazy. You too can murder the competition…mysteriously…by running Product Listing Ads (PLAs) of your own!
What Are Product Listing Ads?
I'm glad you asked! Product Listing Ads evolved from Google Shopping/Google Product Search/Froogle, originally introduced in 2002. Online retailers were originally able to promote their wares via Google Shopping for free by supplying a regularly updated product feed. In May 2012 Google switched to a paid inclusion model. Product Listing Ads now operate on a cost by click model*, and are triggered by keywords searched on google.com or users browsing on google.com/shopping. *Can also run on a CPA model in the US
Should I Run PLAs?
Yes! Product Listing Ads have been climbing in popularity over the past year, and are unlikely to disappear any time soon. At SEER we've seen CTR in product listing ads 11% higher than traditional search ads across brand and non-brand terms combined!* *QTD Google AdWords data account wide
But Can I Run PLAs?
Maybe. To run PLAs you do need to meet a few basic requirements. I know, I know, I should have brought this up before letting you get so excited! To soften the blow, I've made this helpful flow chart that you can use to evaluate whether or not PLAs are an option for you.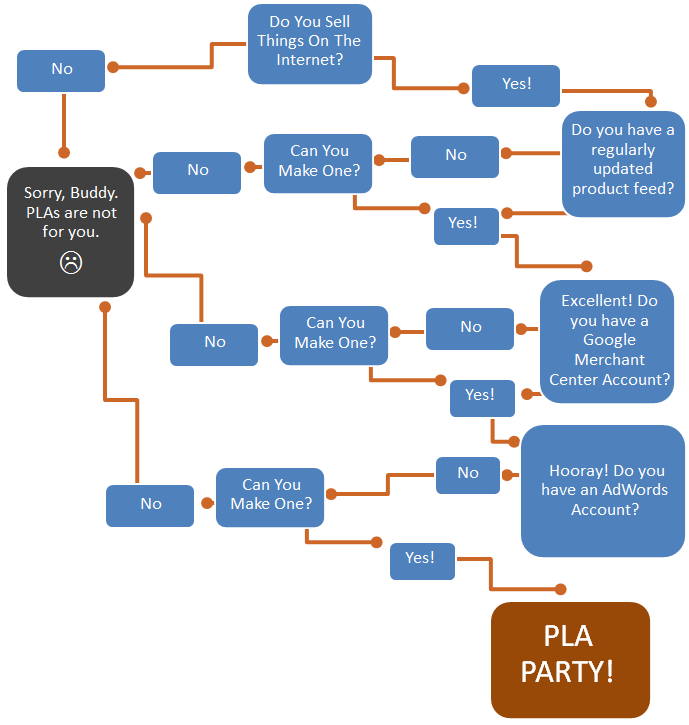 How Do I Get Started?
First, you'll need to link your Google Merchant Center and Google AdWords Accounts by following the steps outlined here.
Next, you'll create your Product Listing campaign within your AdWords account.
Depending on whether or not the new Google Shopping campaign type has been rolled out to your account, this step may vary. Based on the percentage of accounts here at SEER that have access to Google Shopping campaigns right now, I will walk through the steps of creating a legacy PLA campaign.
Step One: Campaign Creation Create a new search campaign, and then specify "Product Listing Ads" as the campaign sub-type.

Step Two: Targeting & Settings Set location, language and device targeting according to your preference. Note that language requirements for PLAs vary by country. I would recommend initially setting a fairly conservative daily budget. Because you will not be targeting specific keywords, the risk of spending a lot on irrelevant queries is slightly higher to begin with.
You will notice an setting category with the heading "Ad extensions." This is where you will set up your targeting. Because you've selected "Product Listing Ads" as your campaign sub-type, this box will by default be selected. Leave it alone, and select your merchant center from the drop down labeled "Select extension." (As a side note, all the language in this section refers to "extensions" despite the fact that product extensions are no longer offered, which is a little odd.)

Step Three: Ad Group & Ad Creation You'll want to name your first ad group something like "All Products" or "Main Product List," as this first ad group will be targeting all products in your feed together. Again, you'll have a default box helpfully checked for you doing just that.

You'll also be able to call out any promotions, which will then appear as a "Special Offer" expandable button beneath your ad.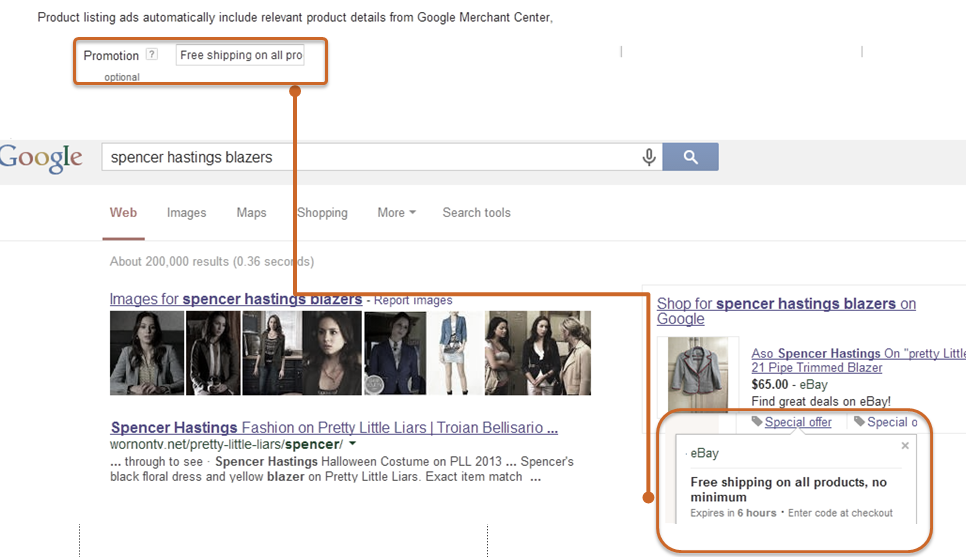 Now What!
Now you optimize! You mine SQR reports, segment out products into ad groups and adjust bids and budgets to get the most out of your product listing ads. Stay tuned for a more advanced post on PLAs in the future covering those topics.
Other FAQs
What's the difference between a Product Listing Ad and a Product Listing Extension?
Product listing extensions were an ad extension Google introduced in 2009 and stopped offering in May 2013. This used the same information as product listing ads to feature images and/or product details beneath ads in premium positions.
I've seen Product Listing Ads on Bing, too. Why didn't you mention set up for PLAs on other engines?
Bing Product Listing Ads are officially still in a closed beta, and are available to only select advertisers at this time. I'll follow up on other engines PLA offerings once enrollment is opened up.
Now that you're equipped with all the weapons you need to get started, start murdering your competition with PLAs! They won't know what hit them. -A