Let's face it, despite our best efforts most of us don't have unlimited PPC budgets. We're faced with the challenge of managing and optimizing accounts within a specified monthly budget which is why it's so important to maximize the valuable dollars we do have. Estimation tools are a great resource to help build out your account and plan your spend. Both Google and Bing provide helpful estimation tools to get you started however today I am going to focus on the new Google tool
The New Google Keyword Planner
Google's finally listened to years of feedback and recently launched a new, robust Keyword Planner that allows you to find new keywords & ad group ideas, pull search volume estimates, and identify competitive bids & budgets all in one place. Some of us in the SEER office have been playing around with the new tool and so far so good!
With the new release, Google expects to retire the current Keyword Tool and Traffic Estimator by the end of July. While the new Keyword Planner shares features we loved in the in the Keyword Tool there are some notable differences.
Keyword Research
Whether you are creating new search campaigns or expanding and refining existing campaigns, the Keyword Planner helps discover the most efficient keywords. You now have the option to target individual cities and regions (vs. only countries in the Keyword Tool) plus languages, and networks. You can further customize your results by filtering keywords by number of avg. monthly searches, CPCs and competition. The Keyword Planner will also hide any keywords that already exist in your account (awesome!).
One new Keyword Planner feature that could be really beneficial is the ability to 'multiply' keywords, or combine two or more keyword lists to generate new keywords, similar to this keyword concatenation tool.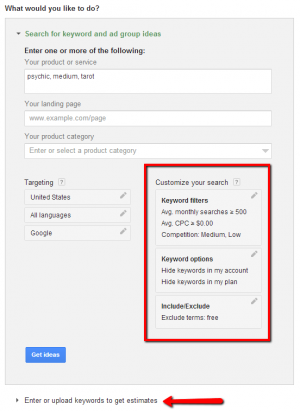 Keyword Estimates
After you've set up keyword filters and targeting the Keyword Planner uses historical data to provide keyword statistics for exact match (vs. broad in the Keyword Tool). To review broad and phrase estimates you must add the keywords to your 'plan'. Your 'plan' is a computation of keyword ideas you've selected. As you're building your 'plan,' you can adjust bid ranges and budgets to see updated volume estimates.

(click to enlarge) If you feel like the Keyword Planner average search volume data is higher than the Keyword Tool results, you're correct! With the move to Enhanced campaigns Google is now providing estimates for based all devices (vs. defaulting to just desktops in the Keyword Tool). It is not possible to segment by device in the planner. The average search volume data is also specific to your targeting options. In order to see global monthly search volume like before you'll need to select all locations to target.
Also new to the Keyword Planner is Avg. CPC estimates column (vs. approximate CPC in the Keyword Tool). Approximate CPCs took the average of CPCs across all ad positions and was not affected by your suggested bids. The new Average CPCs in the Planner are influenced by your suggested bids and will change accordingly. I'm excited for this update as it should help increase accuracy!
Once you click the blue "Get Estimates & Review Plan" button (shown in the screenshot above) you will receive more detailed estimates based on specific bids you choose. Similar to the Traffic Estimator, Google Keyword Planner provides a nifty graph with daily performance estimates for your keywords and ad groups based on your selected bids and budget. While its functionality doesn't differ much from the existing chart in the Traffic Estimator Tool I think its streamlined look is much easier to comprehend.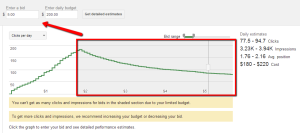 (click to enlarge)
In the screenshot above you can see that our traffic would be limited by the current bids and budgets for the selected keywords. This is a nice baseline to use for making adjustments. After you are satisfied with your selections Google gives you the option to upload your 'plan" directly to your account. While this may be a helpful feature for some, I'd recommend downloading the build to Excel and doing the actual build outside of the Planner and using this as more of a suggestion.
I'm personally excited for the new tool and look forward to streamlining the build process. We'd love to hear your experiences with the new Keyword Planner.