Let's face it. Phone calls are a major conversion goal and indicator of success for many businesses running PPC ads. A few months ago, I touched on the importance of properly tracking phone calls to your PPC campaigns. As we continue our Mastering PPC series I wanted to circle back and discuss some of the latest and greatest updates for tracking phone calls in Google and Bing.
Google and Bing call extensions are a great option for those of you who are still unsure about the necessity of call tracking for your business.
Google
When Google rolled out Enhanced campaigns, they introduced new call tracking options that were a welcomed change to many. Since some of these features are still relatively new, I wanted to call out some of my favorites below.
• No Fees - In the past Google charged $1 per call. Now with Enhanced campaigns, call extensions are FREE to implement making it a perfect opportunity to test call extensions for your business.
• Device Preference - Google allows advertisers to customize call extensions for each device. If you choose to create mobile specific call extensions you can then have the option to make your ads click-to-call only (users cannot visit your mobile site via the ad) or you can choose to provide both options.
It's important to note that when a user clicks on a "click-to-call" ad it doesn't always mean an actual phone call took place, just that the users phone was populated with the phone number. Click-to-Call ads are charged the CPC as someone clicking through to your website.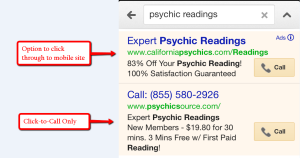 • Ad Group Extensions – You can now run call extensions at the ad group level which provides you with more control and more granular reporting abilities. I've found this to be extremely useful for a client of mine that internally tracks phones. In the past we were only able to track mobile conversions at the campaign level because we were using click-to-call ads. Now with Enhanced extensions we can apply separate numbers to each mobile ad group providing insights we didn't previously have!
• Google Forwarding Numbers – This is not an entirely new feature but it is important to understand. When setting up call extensions, you can choose to use a Google Forwarding Number or a can display your own business number. The biggest advantage to using Google Forwarding numbers is the ability to track calls in the interface and using Google's call reporting found under the "Dimensions" tab.
• Reporting Calls as Conversions - One thing that is new (and pretty awesome!) is that when you use a Google Forwarding number is the ability to report calls as conversions. If you know that a sales call for your business typically needs to run longer than 60 seconds to be a qualified lead, you can tell Google to report any call greater than 60 in your conversion total.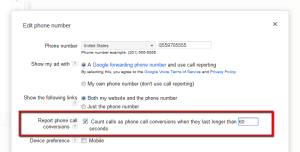 To review call extension conversions and performance data go to the "Ad Extensions" tab > Select Call Extensions from the drop down > set your date ranges. Just make sure you have the "Conversion" column showing (you can select this from the drop down "Columns" menu).
• Call Extension Scheduling – Maybe you are brick and mortar that is only open from 10am -7pm or you're a company whose call center closes over the weekend. Now you can schedule your ads to only run for certain hours on specific days. You can also choose start and end dates for your extension. Utilize this feature and keeps customers happy (what's more frustrating than reaching voicemail?!)
Google PSA - Historical performance for your legacy call extensions will be available until October 23, 2013. If you would like to retain this historical data, please do so before October 23.
Bing
Bing also has call tracking capabilities. While they may not have all of the advanced features Google does, Bing call tracking is easy to implement and track.
Unlike Google, where you have the option to either display a Google Forwarding number or our own business number, Bing will only display a forwarding number on desktops. You can only display your actual business phone on mobile devices.
While this not the most desirable option for all businesses, it should deter you from using Bing call extensions. By using the call forwarding number you're able to easy track calls in the interface. One thing Bing offers that Google does not is the ability to choose whether your forwarding number will display as a toll free number or a local number. If you are a small, local businesses having a local number display with your ad can be extremely valuable.
One other notable difference between Google and Bing is the level of tracking available. With Bing you only track calls at the Campaign level, but other than that Bing and Google are pretty comparable in terms of usage.
Both Google and Bing are doing their part to continually improve call tracking and making it as robust and easy-to-use for all advertisers. Now that you know more about the options available directly in the interfaces, do yourself a favor - set up and launch call extensions that make sense for your business!