Text ads may be the bread and butter of the paid search industry (and Jackie did a great job the other week breaking down the ins and outs of putting together great text ads), but there is another ad type that also pulls its weight around the paid search house, and can be used in conjunction with your text ads. I'm talking about image ads.
What Are They?
Image ads are like classic banner ads that have historically appeared across the web. They appear on websites that are a part of the Google Display Network (GDN) – Google's network of partner sites that include blogs, forums, and other Google properties, on both desktops as well as mobile devices. This is separate from the Search Network, which is exclusive to text ads.
You manage your image ad campaigns right in the AdWords interface, and they follow a CPC or CPM bidding model, just like text ads. When running image ads, you'll generally want to keep them in separate ad groups (or maybe even separate campaigns) so that you can more granularly manage your bidding strategies based on ad-type performance.

What Are The Specs?
Ads can and should be created in a number of different standard banner sizes. The more ad sizes you create, the more placements on which your ads will be qualified to appear. They can be static or animated, uploaded in JPEG, JPG, PNG, GIF, or SWF formats and must be smaller than 150 KB. The full list of specifications for AdWords can be found here.
Design Tips
Google does not want potential customers to be annoyed by their advertising, so there are several design restrictions/requirements in place to reduce the likelihood of encountering an annoying ad. We don't want any of those strobey, gimmicky ads that make you shoot 3 ducks before you even click through.
Ads must take up the entire ad space for those sizes listed above and can't be divided to appear as multiple ads in one. It must be clearly relevant to the product or service being advertised. Any animations can only animate for 30 seconds at the longest and loops cannot play for longer than 30 seconds total. Strobing, flashing, or mimicking system alerts are also out of the question. If you're trying to trick users into clicking your ad, you're doing it wrong and will probably get disapproved.
If you're animating your ads, make sure each frame clearly identifies the brand, product, and call-to-action. You never know which frame the user will actually see, so make sure the messaging and CTA carries throughout – especially at the end when the animation is over.
Image ads should be thought of more as a billboard than a print ad. They're something users are going to notice out of the corner of their eyes – make sure you keep the message simple, not too distracting, not requiring too much effort to take in, but interesting enough to pull their attention away from the more important thing they're concentrating on. Otherwise, users will keep driving by without absorbing your message.
Display Ad Builder
Not every advertiser has the creative department to design and build out multiple image ad designs. Those advertisers should not count themselves out of the game for image ads. Google provides a great tool called the Display Ad Builder right within the AdWords interface.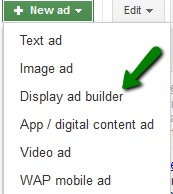 You can choose a template (Google includes both animated and static templates) and build an ad from scratch: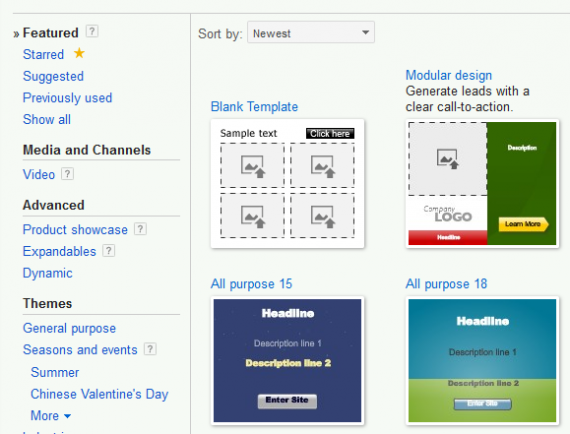 Or you can use the Suggested Ad feature, and Google will scan your site's URL and use elements of your text ads and resources from your webpage to build you several design variations automatically:
Not all of these designs will be winners, but you can tweak the images used, their sizes, the ad copy, the button CTA, colors & more to make them work for you. It also helps you build the ads out in several different sizes, so you can get into the image ad game, even if you choose not to work with a professional designer.
Image ads are a great way to expand your reach and grow your audience on AdWords (not currently available for BingAds). They open up placements on websites that you may not have been able to appear on previously with just text ads. While having a professional designer create the ads for you may be ideal, Google makes it easy for you to build ads with tools to get you started. Text ads are great, but remember that a picture is worth 1,000 words (and sometimes way more than 70 characters).
Let us know your personal image ad tips and how you've seen success with them!