As marketers, we advertise on LinkedIn to target the right professionals for our clients' business. The platform is a powerful tool with its wide gamut of demographic targeting, and is commonly leveraged for its skills targeting offering. Until now, though, the platform hasn't offered lookalike audiences like Facebook has. That is changing!
LinkedIn is rolling out lookalike audiences
LinkedIn has confirmed that they are rolling out their version of lookalike audiences to the platform. According to LinkedIn, these "combine the traits of your ideal customer with our rich member and company data to help you market to new professional audiences similar to your existing customers, website visitors, and target accounts. Since these members are already on LinkedIn, they're in the right professional mindset to engage and respond to your brand."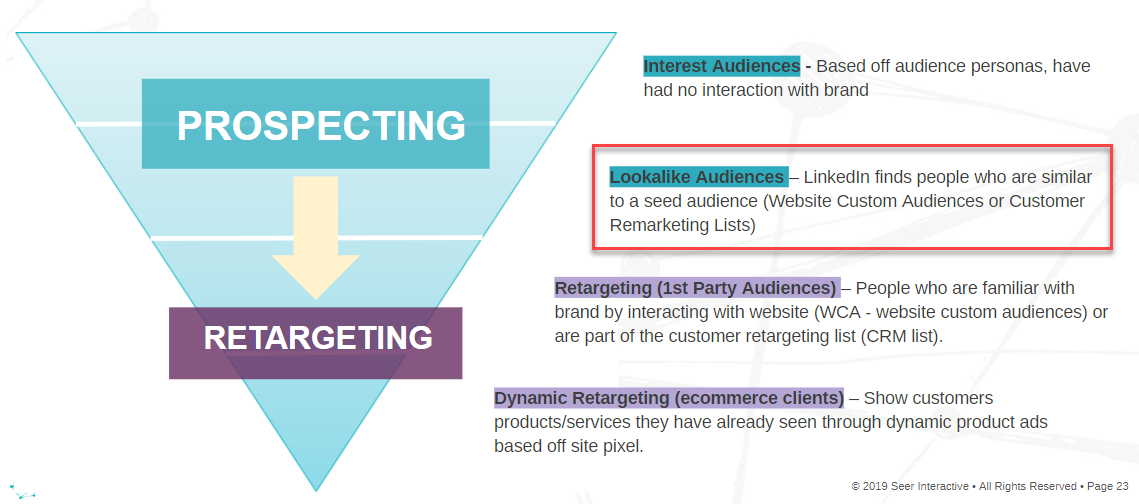 How do lookalike audiences work
Lookalike audiences will let marketers upload lists of people you already have on hand. For example, an email list from your CRM or people who have already been to your website. Once this is in the system, LinkedIn provides a pool of LinkedIn users who share similar traits as the people in your currently existing lists. Just like that, you have a whole new audience that you can be confident is likely to convert!
Improve campaign reach by 5-10x.
In the targeting option's testing phase, "customers in the pilot were able to improve their campaign reach by 5-10x while still reaching the kind of high-quality audiences that matter most to their organizations.
Time to test
The paid social team at Seer is a big fan of Facebook's lookalike audience targeting and has seen positive results in the past. Some of the benefits of lookalike targeting on Facebook include:
These audiences

closely mimic the target demographics of your seed lists, which tends to bring an overall efficiency to campaigns that you're unable to get from other interest or demographic based targeting.

They allow you to expand the type of campaign targeting already performing well.

💡 Pro Tip: For example, if your campaign targeting a list of warm Salesforce leads working really well? Create a lookalike from that and test it!
Since these benefits will also be carried over to the LinkedIn platform, we highly recommend testing this! If you're looking for an easy way to boost highly-qualified traffic in your LinkedIn campaigns, leveraging the platform's new lookalike targeting option is definitely for you. If you have any questions when setting these up for your client, feel free to reach out!
---