I figured I would throw all the "official tools" in the ring and see who wins by comparing them one by one. If you are looking for a wrestlemania style battle royale - go to the bottom of the post and just reminisce on why Mr Perfect = Google :)
With Yahoo's Launch of Yahoo Clues all three search engines finally have keyword research products…I'm going to compare the strengths and weaknesses of each one:
Google Insights | MSN Ad Intelligence | Yahoo Clues
Image from this site.
#1 - Ease of Use / Getting Started
All three products feel easy to use when you load them up, keep in mind that MSN's tool requires recent version of excel 2007+ and an AdCenter account to use. Fortunately you can put a minimal amount of $$ in to get access.
PROS - Google Keyword Tool
Its FREE!
Google is simple, put in a keyword and get results
If logged in you can download info via a CSV and you can also get more than 10 results for data items in an export
With question marks on every data point you can easily acclimate yourself to what the data means
Clicking on the map gives you more detailed information about that country/state/city, just point and click, very easy
Clicking on keywords or categories also makes life really easy as well
CONS - Google Keyword Tool
Google filters "questionable" areas of research
As with any tool the more granular you get (in locations) the less accurate the trends are likely to be
PROS - Bing Advertiser Intelligence Keyword Tool
From day 1 this was an easy to use tool, the fact that it is native to excel is HUGELY valuable for excel junkies.
It also lets you work quick…no waiting for pages to load here.
NOTE: Its important that you understand what each of the options are, since you can just right click and it runs data for you.
CONS - Bing Advertiser Intelligence Keyword Tool
Geographic results are here but are very limited usually to top 10 states, but there is no drill down to city/metro level.
A map is always easier to understand geographic trends than an excel sheet, so the fact you can work in excel here is a major help in some ways, but also a major hindrance in others.
Must have a newer version of excel on the PC, get one on ebay
Must have a live paid search account to use it
There are no references within the tool to where the data comes from or what it means, increasing the likelihood of misreading the data
PROS - Yahoo Clues Keyword Tool
It's FREE
Demographic info by keyword is HUGE, much better than Bing's demographic info
Yahoo Clues has a great "point and click" interface as well, giving you US breakdowns by state - once you get to the state level they will show you data for cities in that state for search volume
It had a less robust, but existent help feature to make sure you understand the data
VERY Strong & intuitive "comparison" graphs - like this highlight between coupons for Best Buy & Newegg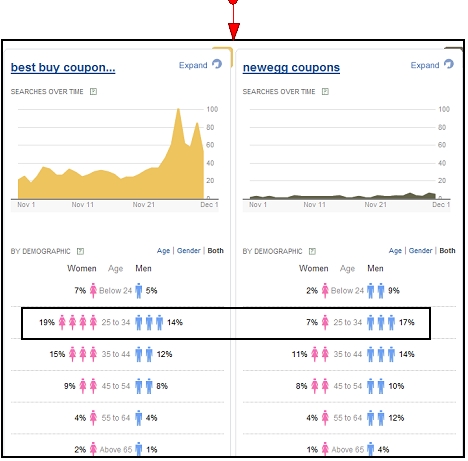 CONS - Yahoo Clues Keyword Tool
BEWARE unlike Google Insights clicking to the state level does NOT change the other data. For example, if I go from the traffic trend for payday loans US to Florida the search flow, by income, and by demographics data does not change the filters
The tool is new, so the data set is small, give it time
#2 - KW Data Pivot Options
Slicing data over and over again to hone in and make the right judgments about the keywords you are targeting is critical. So for this test I looked at the three search engines and how deep of a dive they let you take:
Google Keyword Tool
Google's ability to filter on 4 search types might be helpful, web, news, images, and product is great.
Obviously the country, sub-regions, and metros are a BIG way to split data, which Yahoo and Bing are very limited on.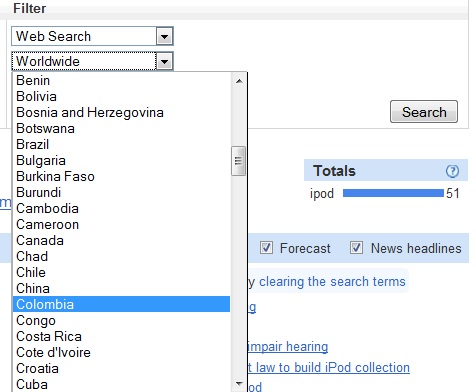 Google's Date filters are a big win, with the ultimate in flexibility, offering pre-packaged dates and also the ability to create totally custom date ranges.
Bing Keyword Tool
Bing gives you a pretty basic dataset, putting filters on top of filters (i.e. date and location) is impossible. Each keyword report you run is entirely one dimensional.
Bing gives you daily keyword traffic trends (at the time I ran it, it appeared to be for 2 weeks) and they also give you monthly trends for the last 12 months.
One of the issues again of having this in excel is that you don't see trends graphically.
Yahoo Keyword Tool
For slicing by dates Yahoo Clues only gives you Today, 7, and 30 days on your timeline, giving Google an edge.
Where Yahoo Clues gives you back some love is in the TODAY tab, if you deal with highly volatile keyword movements, or dayparting for SEM this is a nice filter.
(Looks like after lunch, Phillies fans start working and stop searching.)
BONUS - the filters for date (unlike the ones for location) change demographic, household income, and location, search flow (at the bottom) seems to stay the same.
#3 - Keyword comparison The ability to get a visual on keywords allows all of us to work very quickly, comparing metrics from one to the next
Google Keyword Tool
Google lets you enter in up to 5 keywords at a time, to compare traffic trends quickly.
Unfortunately when comparing keywords on Google, you get a traffic comparison, but nothing else.
Here's an example where I will show comparing 5 keywords in Google vs comparing 5 keywords in Bing, which one is easier to quickly spot seasonal and volume trends in?
vs.
Bing Keyword Tool
Bing has a MAJOR advantage here with the amount of keywords you can enter being limited to 20,000 queries /day. So its almost impossible to run out, let me show you the speed by which you can grab hundreds of keywords, faster than a speeding bullet on much more than 5.
Yahoo Keyword Tool
Keyword comparisons are limited to 2 at a time.
However the comparisons compare all data points, not just traffic, so you can compare demographics, income, location, and related searches side by side.
Bing wins for speed and Yahoo definitely wins for comparing data, even though they only offer two data points.
#4 - Data manipulation in excel Google - If logged in Google will allow you to download your info in a CSV giving you more than the stock 10 results per data point.
Bing - Because this keyword tool is native to excel is built to be an excel junkies dream, no need to export and import, run your queries and go with it.
Yahoo - has no export functionality, which could come back to hurt this tool for people trying to pour through massive amounts of data.
#5 - International capabilities If you are looking to use these tools to understand international trends, you are basically relying on Google only.
Google Google has data in about 100 countries making it EXTREMELY robust.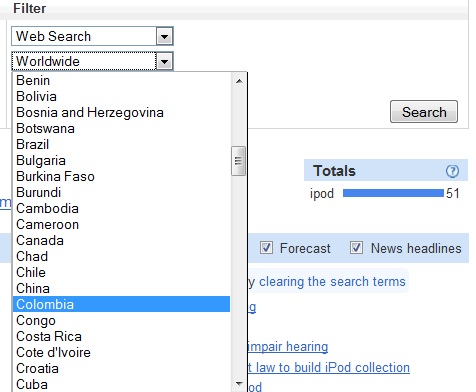 Bing Bing is US only from what I can see, but on their help (linked above) they say France , UK and Canada are supported. Yahoo Yahoo Clues is US only for now :(
#6 - Where does data come from?
There are times where before you make a BIG change to your keyword strategy that you want to really make sure you fully understand what the tool is telling you and where the data comes from. In this section I briefly go over the tools and how much disclosure they have about where the data comes from so you can make VERY informed decisions.
Google Google has the best help at actually getting into the where does the data come from question. Yahoo Yahoo needs a little help on giving us an idea on where the data comes from, but is decent given that this just launched recently. Bing WARNING...this is a PDF :( Microsoft Has this help, its more of a feature overview than anything, but it will give you some clues into what to look for. Keep in mind that to use this tool you need to have an MSN account.
Here are some tid-bits on where each tool does something unique:
What Yahoo's tool does that the others don't: Demographic data at the keyword level is provided by both Yahoo and Bing, but Yahoo gives you the also searched for by this age group. You can also compare men and women by age and you get household income. Don't miss out on the fact that the age groups are clickable, giving you further data insights.
Pre-query and post-query data (AKA what did the person search for before and after)
What Bing's tool does that the others don't: The ability to extract keywords based on a list of domains - even though you can use Google trends for websites to spy on what competitors are ranking well for.
What Google's tool does that the others don't: A real ability to get granular and slice data on multiple dimensions igoogle to keep reminding you of growing keyword trends every time you go to google.com
I hate to be a Google lover at the end of this comparison but I think it rings true...Google is still the strongest, but if Yahoo Clues can get some of the issues addressed above they'll be giving us a seriously grand keyword research option.