Within this post, we'll cover different options and considerations for your international site structure. Additionally, we'll dig into the importance of hreflang, how to implement hreflang and other international SEO best practices to keep in mind as you work to maximize the visibility of your international content.
International SEO Site Structures
Let's talk about international domain structures. When working to build a multilingual or multi-regional site, there are a few different routes you can take. It's important to set up a strong international site structure to help maximize visibility for your content.
ccTLD
Stands for country code top level domain. CcTLDs utilize a two-letter code that tells search engines and users where a website is registered.
example.mx

Subdomain
International content is hosted on a separate "child domain" that lives off of your root domain.
mx.example.com
Subdirectory
International content is hosted within a subfolder on the main domain.
example.com/mx/
Parameters
International content is hosted on the root domain with a parameter appended at the end.
[TIP] 

This method is NOT recommended.
example.com/?lang=en-mx
Comparing International Domain Options
Before establishing international domains, it is critical to ensure the technical structure fits within your strategy for the given regions or languages you're intending to target. Below are some options and considerations around international domain options.
ccTLD

example.mx

Subdomain

mx.example.com

Subdirectory

example.com/mx/

Country Targeting

Strong

Medium

Medium

Language Targeting

Medium / Low

Medium

High

Maintenance / Cost

High

High

Low

Authority

Difficult

Difficult

Easy
If your main goal is to target users by region, a CCTLD structure may be the best option for you. This method is known for sending the strongest geolocation signals to Google. If your main goal is language targeting, a subdirectory structure may be best.
What is Hreflang?
The hreflang attribute is a signal that helps Google understand the relationship between international pages and which version of your page is most relevant to a user based on their language and/or location.
Sample of hreflang code:
<link rel="alternate" hreflang="en-CA" href="https://www.example.com/">
<link rel="alternate" hreflang="fr-CA" href="
https://www.example.com/fr/
">
<link rel="alternate" hreflang="en-US" href="https://www.example.com/">
<link rel="alternate" hreflang="x-default" href="https://www.example.com/">
Risks of International Content not Containing Hreflang
If hreflang is not implemented on your site, content can be seen as duplicates and/or be served to the incorrect audience. If hreflang markup is incorrect on your site, it can cause Google to ignore the markup altogether.This is why it's important to ensure correct implementation and on-going maintenance and QA of tags.
When Should You Use Hreflang?
When your website has fully translated version
When your website has different versions in the same language and targeting different countries
When your website has different versions in different languages targeting the same country
How to Implement Hreflang?
There are 3 main ways to implement hreflang tags. It's important to implement tags using only one method.
On Page: In the HTML <head> section of the page
In HTTP header: HTTP header to indicate a different language version of a URL
In XML Sitemap: Instead of using markup, you can submit international information in a Sitemap
When comparing hreflang implementation methods, it's important to consider your development resources and CMS platform. Below are some pros and cons to each implementation method:
ON-PAGE

XML SITEMAPS

HTTP HEADERS

BEST FOR

Most sites, can simply be placed in the <head> section of HTML documents

Sites that may not easily have control over individual pages

Non-HTML files, such as PDFs

PROS

Some CMS platforms can support automation

Easy to upload

Crawled often by search engines

CONS

Could create a lot of HTML overhead for large amounts of URLs

Debugging challenges and size limitations for large websites




Sitemaps may not get crawled as often as on-page and header options

Difficult to debug as some SEO tools don't pull header information reliably
On-Page Hreflang Tags
On-page hreflang tags are useful for most websites of any size. As long as you have control over making individual page updates, this method of implementation should work for your website.
Below are important requirements for on-page Hreflang tags:
Add the hreflang tag to <head> of every page and every alternate language version of that page
All international versions of the URL will have the same hreflang tags
If there is not an international reciprocal of the page, the hreflang tag should not be added to the singular version of the page
The x-default attribute signals to Google that this page doesn't target any specific language or locale and is the default page to serve users when no other page is better suited
XML Sitemap Hreflang Tags
XML sitemap implementation for hreflang tags can be beneficial for large websites with numerous international versions. Ideally, the CMS platform would be able to auto-generate and update the XML sitemap and hreflang tags when new pages are added or removed from the website.
Below are important requirements for XML sitemap hreflang tags:
Each <url> element must include <loc> indicating the page URL
Each <url> element must list every alternate version of the page, including itself
The order of the <xhtml:link> elements doesn't matter. However, it's usually easiest to keep them in the same order throughout the sitemap for QA and troubleshooting purposes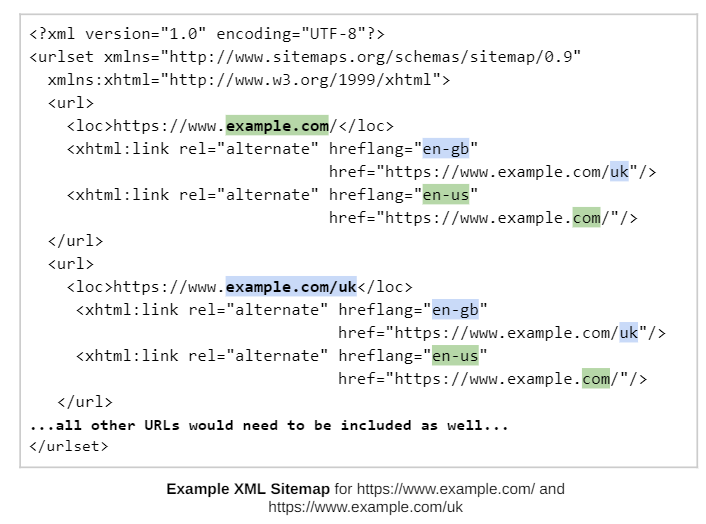 Additional SEO Best Practices for International
Create Unique URLs
Every international page should be on its own URL so it can be crawled and indexed by search engines. Avoid scripts that show your international content on the same URL.
Self-Canonicalize URLs
URLs you want crawled and indexed should contain self-referencing canonicals.
Avoid Auto-Redirecting - Avoid auto redirecting users to content based on things like IP address. If done incorrectly, this can prevent search engines from accessing content on your site.
Translate all Content
Ensure all content, including meta data and navigation elements are translated correctly.
Be Careful with Auto-Translating Content
Automatically translated pages sometimes aren't translated well and don't make sense. This is bad for bots and makes your site look unprofessional for humans.
Noindexed Pages
Do not include hreflang on pages containing a noindex tag.
Use ISO Language and Region Codes
Hreflang tags must include proper ISO language and region codes
Don't specify a country code by itself. Google doesn't automatically derive the language from the country code
Expand and Improve Your International SEO
In summary, there can be a lot of moving parts when it comes to international SEO that are important factors in making sure your content is found.
Looking to expand or improve your international SEO? Our technical and SEO teams can help:
---
Want more posts like this? Subscribe to the Seer Newsletter: