What are Lead form extensions?
Lead form extensions are ad extensions that show beneath search ads on mobile and tablet devices. They allow users to provide contact information directly through the ad on the search engine results page (SERP), rather than clicking through to the site and converting there. If the user is signed into her Google account, she will reach a Google-hosted form already pre-populated with their contact details and can immediately convert with one click.
You can read more about Lead form extensions here.
Advertisers often see success with Facebook lead ads, so Google's version seems like a no-brainer to test.
💡 Lead form extensions are currently in beta, so reach out to your Google rep to get whitelisted. 💡
How to use Lead form extensions
Lead form extensions are easy to set up. First, identify priority campaigns in which to test Lead form extensions before rolling out to your full account. To get more data more quickly, try prioritizing campaigns based on:
High mobile and/or tablet search volume, compared to desktop
Low mobile and/or tablet conversion rate (CVR), compared to desktop
High mobile and/or tablet cost per acquisition (CPA), compared to desktop
Once you've selected where to test, start working on your creative.
Extension creative requirements:
Call to action (options pre-set by Google)
Extension text (30 characters)

Form creative requirements:
Business name (25 characters)
Headline (30 characters)
Description (200 characters)
Questions (up to 10)

Google provides 11 standard questions in the Contact information and Work information categories, as well as additional questions in detailed categories

Privacy policy URL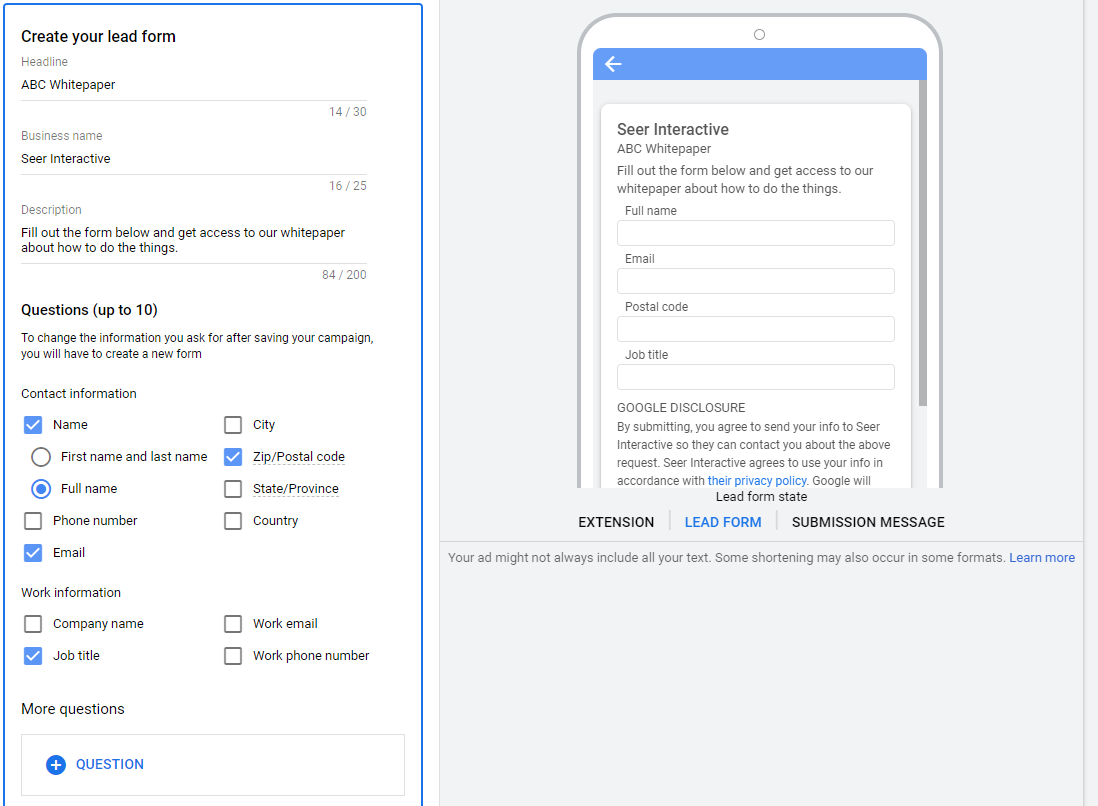 Form submission creative requirements:
Headline (25 characters)
Thank you message description (200 characters)
OPTIONAL: Call to action (options pre-set by Google)

If you are simply collecting lead information, you don't have to include a call to action. If you are sharing content, you can choose one of the below calls to action:

Visit website
Download

Call to action URL (where on your site do you want users to go once they've completed the form?)
You will also need a background image to run with your Lead form extensions. This image will mostly be obscured by your form, so be sure to choose something that shows your brand colors prominently and will still support the user experience even if it's not fully visible.
For a consistent brand experience, look to existing forms on your site and try to match copy and imagery as well as possible. That way, you can also avoid additional, internal creative approvals.
That's it! You're ready to launch!
After launch, we recommend testing for 4-6 weeks before reviewing performance and deciding next steps. At that point, decide whether to continue the test as-is, change the offer, expand the test to additional campaigns, or end the test in certain campaigns.
Obtaining your lead data
There are 2 ways to obtain your lead data:
Download leads as a CSV, directly from Google Ads

Pro:
Con:

Google only stores leads for 30 days, so you will need to download leads on a regular cadence (recommended every 2 weeks)

How to download lead data:

Click the Ads & extensions dropdown in the page menu (on the left), then click Extensions
Below the lead form extension, click Download leads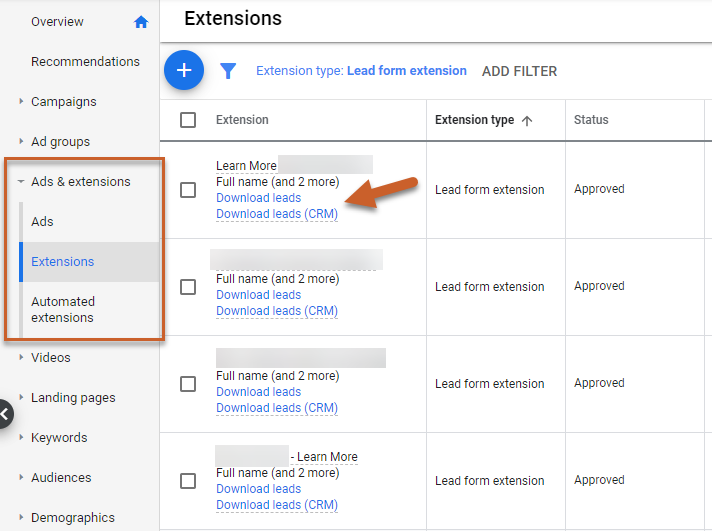 Set up a webhook integration

Pro:

Feeds leads directly to your CRM

Con:

Longer and more complicated setup time
Advertisers need to add a webhook URL and key to the lead form extension
You may need to do some configuration within your CRM system to generate the URL and key

How to set up a webhook integration:

Set up your lead form extension
Under "Create form submission message," click on Lead Delivery Option. This will show the "Manage your leads with a webhook" field
Enter the webhook URL and key
Click Send test data to view testing states and results. Check your data management system to confirm that you have received the test data
Click Add to campaign
Should you test Lead form extensions?
Our verdict: go ahead and give it a shot. Lead form extensions are low level of effort to set up and manage, especially if you are planning to download leads directly from Google Ads, and they don't cause you to spend more than your campaigns normally would.
Comment below if you've tested Lead form extensions - we'd love to hear about it!
Sign up for our newsletter for more posts like this - delivered straight to your inbox!