Starting a new job comes with a lot of training, learning and new experiences. It is an exciting time where you will be able to take in a lot of information and put it to use. However, some downtime is bound to happen as you are adjusting to your new role.
Before diving in, it is important to be able to properly prioritize tasks by urgency and importance. Take a look at the Eisenhower Matrix below.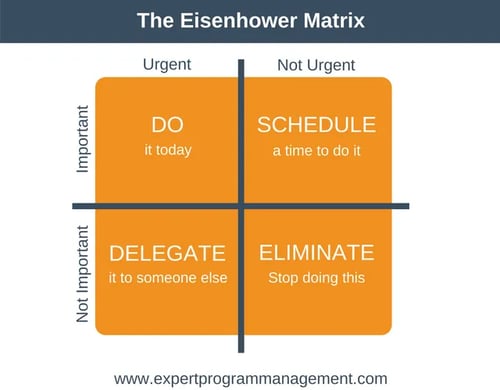 The result of this matrix is 4 quadrants that break tasks out into different work strategies. Note that "downtime tasks" will fall into the "Schedule a time to do it" category as they are not urgent, but still important for your career.
Now that you are able to properly identify true downtime, here are some ways that you can make it extremely valuable and beneficial to growing your career.
Self Assessment Assignments
I have always found that I only fully grasp a concept after I have put it to tactical use. It is a good idea to assign yourself "homework" based on any training you have had or skills you know you need to build on for success. You can keep these to yourself or share them with your manager for discussion and feedback.
Putting the new skills you are learning to use, even if it is hypothetical, will help the concepts and skills stick in your mind. Bonus points if you use real client data and uncover a new finding!
Shadow as Much As You Can
Your new team has been through their training and are now putting their skills to use in real time for clients in many different industries. There is so much valuable insight you can gain from them, simply from being a fly on the wall.
Reach out to your team (and even different departments!) to see if you can schedule some time to watch them work, shadow a client call, or attend an internal brainstorming meeting. They will be more than happy to have you!
Online Courses and Examinations to Level Up
Continuing education is vital for leveling up at your new job. There are so many resources out there that offer information and certifications in your field including online courses and webinars. Continuing education not only puts you in a better position for promotions and raises, but also increases your personal development. Be sure to ask around to your team if there are any specific courses or webinars they recommend!
Continuing Education in Digital Marketing
Below are a few resources specific to digital marketing that the Seer team uses to make sure our team is in tip top shape.
GAIQ Exam
Udemy Courses
Moz Whiteboard Fridays
Offer Your Team Assistance
While you may have some downtime, other members of your team are sure to be very busy. Ask around and offer your assistance wherever you can. This is a great way to learn and work with many different members of the team. Not to mention you will get some client exposure as well!
Work on a Plan to Reach Your Professional Goals
It's never too early to start planning out your future at your new company. Taking time to fully understand your role and responsibilities, as well as what you need to improve on, will set you up for success.
Create a spreadsheet that outlines your expectations and keep it up to date with examples of what you have been working on that meets or exceeds the expectations. This way, you can have a clear visual of skills you mastered and skills you need to work on.
Get to Know Your Team
Culture is a big part of any company, and you want to make sure that you are living into your new role and team life. Ask team members out for a quick coffee or lunch. Pick their brain on the company ins and outs, their background and their time at your new company.
Don't forget to ask them about their personal likes and interests as well - you want to make sure you are making genuine connections. You will be spending the majority of your time working alongside them, so it's fun to take a break from work talk to discuss what happened on your favorite TV show last night!
Looking for a New Opportunity?
Seer is a team that fully embodies and embraces the above tips for making the most of downtime. We make it a bit easier as well with weekly team lunches and monthly company-wide trainings that will fill your schedule with fun and education.
Sign up for our newsletter for more posts like this - delivered straight to your inbox!