Who Am I?
I'm a digital marketer. I've been at 3 companies prior to this job, from a 10-person startup to Fortune500. Every company has its fair shares of good and bad, but I always found myself asking more of the organization for which I worked.
How I Got Here
When it was time to look for a new job, I took the approach many people would take. What job is going to pay the most? Upon speaking to companies that could offer me such things, it reminded me of how unsatisfied I was in my last job that had a competitive salary. I took another approach.
I began searching for jobs at smaller organizations. After interviewing there, I got flashbacks of my time at the startup and smaller agency: Long hours, disorganization, lack of benefits/perks/competitive salary.
I am immensely grateful for my time at both of these companies, and I hope I'm not discouraging anyone from working for organizations like this. It just wasn't what I was looking for.
So what was I looking for?
I wanted to be valued. I wanted upward mobility and company-wide transparency. I wanted a work/life balance. I wanted flexibility with my hours and dress code. I wanted perks, benefits, PTO, work from home… (Sounds pretty unrealistic, right?)
I made the decision that I wasn't going to take a job if they didn't cross off most of those boxes. I literally googled "Best places to work in San Diego" and found Seer Interactive. They were checking off a lot of those boxes, even some that I didn't have on my list. I didn't believe it first, too good to be true.
Unlimited PTO and work from home?
I checked them out on LinkedIn and saw they had a job opening for an SEO Associate, which I saw as a lateral career move at the time. I almost didn't apply… then something hit me.
This job was a lateral move in the sense of advancing my professional career, but it would be a promotion in my personal life. This job will actually better my life ways other than just a title and a few extra dollars at the end of each month.
Fast forward a few weeks and I got the offer!
Why Is Seer Interactive My Dream Company?
Simply put: It's everything I've ever wanted in a company and more.
Quick Facts about Seer Interactive:
Just under 200 employees
Founded in 2002 by Wil Reynolds
Offices in Philadelphia and San Diego.

Aside from winning countless awards, Seer Interactive also has access to some of the most powerful and innovative tools in the world.

Let's get to the good stuff… Here are my favorite benefits:
Perks
Unlimited PTO. Unlimited WFH. Starting Day 1.
Summer Fridays from May-August, go home at 1:00 PM!
Snacks, 1 catered meal every week.
Kai-Zen Budget: $1,000 every year for your own personal/professional development

You can use on:

Massages
Gym memberships
Tickets to conventions (MozCon!)
New tech stuff

Extra screens, computer mouse, standing desk, etc.

Flexibility: Hours & Dress code

Casual dress, flip flops are pretty standard.

Student loan forgiveness
Transparency
This is never easy to put into words or numbers, so I'll share a quick fact instead. No one has an individual office in any of our office spaces. The founder, VP, President, and Executives, all sit at the same desk and chair that everyone else uses. From CEO to intern, everyone is treated equally.
There are no power trips, clicks, gossip groups, or any other toxic stuff.
Values
While all these perks are nice, this is really what gives this company its soul and identity in my opinion. Giving back. Uplifting the communities in which we live.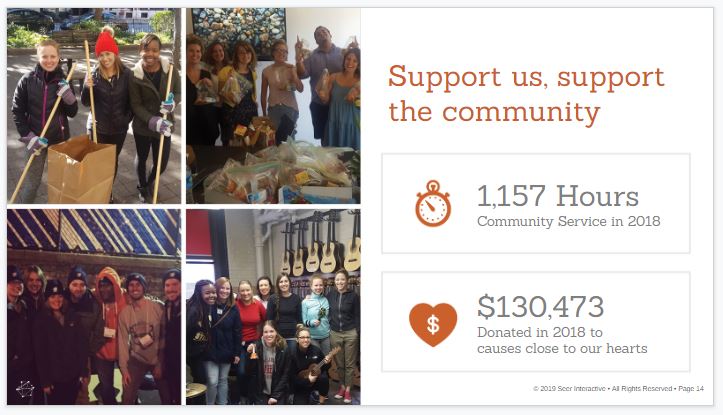 Support
I never knew this level of support could exist in the workplace. Everyone has your back.

Small Improvements - Platform for performance praise, etc.
Weekly meetings with Account Managers, biweekly 1:1s with my direct manager.

How many times per month does your boss ask you how you're doing, if you're overwhelmed, if there's anything they can help with? How many times do they ask what your goals are and how they can help you achieve them?

Group Chats - We have active online chats for knowledge sharing, troubleshooting, industry updates, and more. I haven't waited more than 15 minutes for someone to drop in and help me with a task when I reach out.
Employees first. I've heard stories of Seer parting ways with clients due to them being rude to our employees.
Overall energy - There's no metric or graphic for this. Just a feeling!
Collaboration
This is by far the most collaborative environment I've been a part of. Your peers and managers will help guide you to the solution and answer, rather than letting you spin your wheels for hours or just fixing it for you. We're constantly learning, sharing, and finding new innovative ways to do things.
Innovation
As if I wasn't bragging already, this will be the cherry on top. Seer Interactive's level of innovation has propelled it to be an industry leader in digital marketing. We leverage our ability to work with big data to inform decisions, rather than opinions and egos. We work with companies large and small based on what's mutually right for us and the client.
We do new, groundbreaking shit and it's really cool.
Why Should You Care?
Everyone has their own path. If you're happy in your lane right now, great! If you are like me and wanted more out of your company, here's your chance. Also, it's always healthy to ask yourself a few of the following questions.
Do you want a new challenge? Do you want to be valued by your employer? Do you want to change things? Challenge things? Do you question best-practices and think about new ways to attack solutions? Do you like these perks and benefits???
If you answered yes to any of the questions above, it's your lucky day. Seer is hiring right now! Here's your chance to make a change! Learn more about applying to Seer Interactive on our Careers section.
Sign up for our newsletter for more posts like this - delivered straight to your inbox!