Google has finally released Google Posts to the masses! Now that we all have access, we have been diving in to figure out how to use them, how to best utilize them, and where they are appearing in the SERPs. We will update this post with any new insights in the coming weeks as we continue to test.
What are Google Posts?
Google Posts allow you to post text and photos directly to your Google My Business (GMB) listing and will appear in search and maps. These posts are useful for small businesses that do not have a website or social media channel to post updates, such as new promotional offers, upcoming seasonal sales, same-day flash sales, or even a new product launch.
How do you set up a Google Post in Google My Business?
Posts can be made by logging into your GMB account or through the GMB app. A GMB account is required to use Google Posts and for your business to appear in the local pack.
As far as the benefits of Google Posts go, having the ability to publish on an app makes it really easy for business owners to share information on-the-fly without being tied to a computer.
Google Posts can be up to 300 characters, They can also be marked as an event which will prompt you to put an event name, start/end day, and time: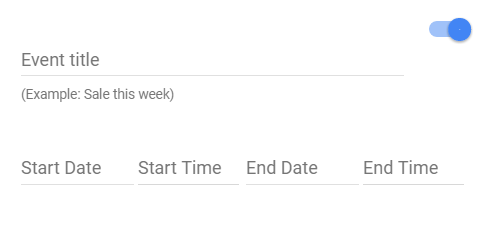 Or for non events, you can "add a button," which lets you include a website and prompt users to take action: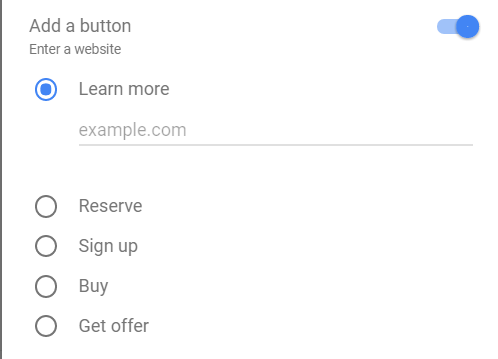 What opportunities can come from this?
Google Posts can promote events in advance or as they are happening. For example:
A store has a flash sale or one-day-only promotion. A Google Post can prompt customers to know about daily specials or in-store promotions.

Share emergency updates, such if there was a school closing due to inclement weather, that school could post directly on their listing.

For business that have a very visual process, Google Posts are another way to share photos.

Give people an easy, direct way to book appointments or reservations.

Gives the ability to push "People also search for" down below the fold for branded searches.

Share open job positions. (This is what we are testing out here at Seer.):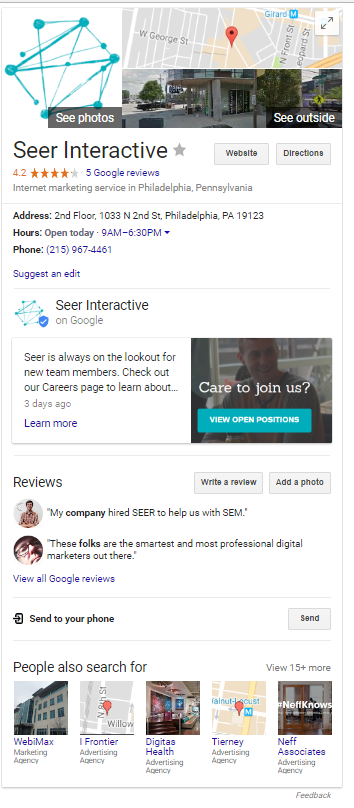 How can you track engagement if you spend the time to make a post?
Google reports on the number of views

URL tagging

Coupon codes can also be used to track engagement, specifically if a code was added to a post and people come into the business or make an online purchase with that code.
Have we seen this elsewhere? Any similarities between this & other products?
Facebook calls to action

- tracks Book Now, Contact Us, Use App, Play Game, Shop Now, Watch Video.

One more place to drive action
What is the future of Google Posts?
Presently, it's taking up right hand column space. Likely, you'd have to pay to be here in the future, as we've seen with other rollouts like Google Product/Base/Shopping. Since this feature is not even a week old, we'll be sure to follow up with more information on Google Posts as it materializes. Stay tuned as we'll have data from our own Google Posts to share!