What is an Optimization Score?
You may have noticed a new feature has popped up in your Google Ads campaigns. So what exactly is an Optimization Score and why should I give it my attention?
Find out where you can make an impact
Optimization Score is a helpful new feature that highlights relatively simple ways to improve the performance of your Google Ads campaigns. If you're looking for ways to optimize your account, (or maybe you're unsure of where to start), your optimization score can show you where you have the biggest opportunities to improve.
Your score is based on real-time statistics and settings, as well as the potential impact of the recommendations and your recent recommendations history.
One important thing to note is that Optimization Score is NOT the same as your Quality Score. While both are geared towards improving account health, the two are measured on separate criteria.
How to access your Optimization Score
To access your Optimization Score, you can look at the Account, Campaign, or Manager Account level to get started.
For an overall picture, select Recommendations in the grey side rail.
There you will see a top-line score of your Search, Display, and Shopping campaigns, and the suggested recommendations for your account.
For a campaign-specific look at optimization score, you can view each score under the Optimization Score column on the main Campaign page. By clicking on the blue percentage, you'll be taken to a recommendation page that is specifically tailored to that campaign's opportunities.

Recommendations
All views will have a mix of recommendations based on performance history, campaign settings, as well as Google search volume and trends. They can cover a wide range of suggestions such as adding Responsive Text ads or Callout Extensions, to adding automated bidding or even removing redundant keywords.
When you view each recommendation, there is a percentage attached to each one as well. This number is called the Score Uplift and is meant to reflect the estimated impact of the optimization.
You have options
Under each recommendation card is the option to View Recommendation(s). This will then take you deeper into the insight to see exactly where and how it can be applied.
If there are multiple options, you can choose to Apply All.

This is great for bulk actions such as removing redundant keywords.
If something is not the right fit for your business, you can choose Dismiss.

Select the three-dot icon, where you will then be asked to also provide a reason for rejecting.
This will give Google a better understanding of what might be appropriate for future recommendations.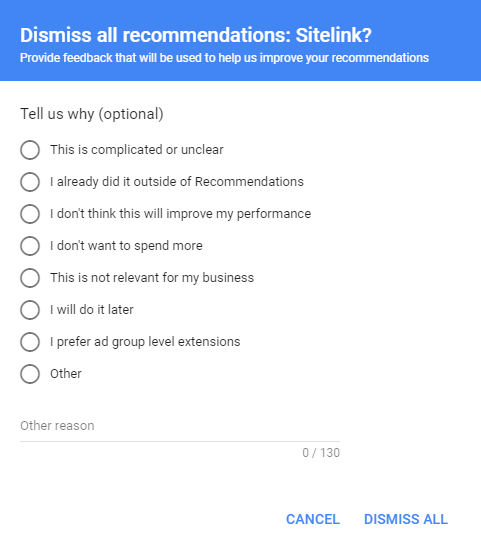 Both applying and dismissing a recommendation have the same Score Uplift.
Make your PPC campaigns as strong as possible
Google empowers you with an understanding of your account's potential, coupled with a targeted list of options.
Ultimately, you know what is going to be the best fit for your account. Google is simply providing you with a varied list of options in order to help you build the strongest (and most up to date) account possible. If you're curious about your score, or what else you could be doing to improve your performance, take a few minutes and see what they've put together for you.
Sign up for our newsletter for more posts like this - delivered straight to your inbox!