The Facts
It's the end of the desktop world as we know it! Mobile adoption is growing exponentially and Google is at the forefront, fighting the good fight to ensure that every mobile user has a great search experience. While more users have been searching on their mobile devices, Google has rolled out several changes to the algorithm to better serve these users. Google has also rolled out app indexation to show relevant content to users who are signed into Google and have the app with the content installed. At the end of February, Google announced that it would be expanding its use of mobile-friendliness as a ranking signal as of April 21, 2015. This algorithm update will affect mobile searches in all languages worldwide and per Google, will have a "significant" impact on search results.
We can't be sure exactly how the search results might change on April 21st, but we do know that having a mobile strategy in place will be more important than ever. All websites should be designed to help mobile users complete important tasks like making a purchase or filling out a contact form quickly and seamlessly.
What This Means For Your Website or Business
Websites that are configured properly for mobile may have already seen a bump in rankings. If your website passes Google's Mobile-Friendly Test, you are in the clear and eligible for a "mobile-friendly" label in the search results. If your site does not comply with mobile configuration and content best practices, you may see a drop in organic mobile visits.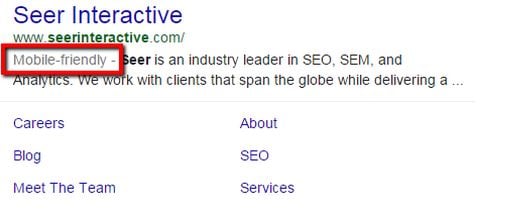 Track the Impact
As the April 21 deadline quickly approaches, you should be taking action to measure the impact of this update for your website. A great way to do this is to create a custom dashboard in Google Analytics to analyze important metrics such as:
Google Organic Sessions from Mobile
Google Organic Goal Completions from Mobile
Mobile Activity vs. Non-mobile Activity
Top 10 mobile Google Organic Landing Pages
For more information on creating custom dashboards in Google Analytics, check out their tips and tutorials here.
What You Can Do Today
Google has a number of tools and resources to determine whether your site is mobile friendly, such as the Mobile-Friendly Test and Mobile Usability Report. You should run your website through these simple tools to see where you stand. If your site is not mobile friendly, it's time to start thinking seriously about investing in a mobile strategy that works for you. If you are short on resources, you may want to consider a band-aid solution to get you ready for April 21, like optimizing your top organic mobile landing pages first.
Additionally, if you have been thinking about launching a mobile app (or already have!), now is the time to consider optimizing both your app and website to leverage app indexation, as Google has already begun surfacing deep linked app content more often in mobile SERPs.
Stay Tuned
We'll continue to update this post as we identify the impact of Google's update and any additional changes you can make to address it.