Now that Google Engagement ads are fully released from beta to all advertisers, they are beginning to gain momentum as an unique and viable ad format. We have been testing engagement ads at SEER and wanted to recap performance of one of our recent tests for a client in the health care industry.
What Are Engagement Ads?
If you're late to the party, engagement ads allow you to share interactive rich media ads across the Google Display Network utilizing all the targeting methods you're familiar with in AdWords. There are some limitations around which sites are able to serve these ads, but the opportunity is far from limited.
The two ad formats offered are Lightbox and Hover-to-Play, both of which require a 2 second hover over the ad to initiate the rich media experience. The big sell is that you only pay per engagement, meaning someone indeed hovered for 2 seconds. If the ad is served, but there's no hover, advertisers can generate free brand awareness from the static banners. In the case of the Lightbox ad format, you receive 100% share of voice when it expands.
You can experience a live example here for the Lightbox ads.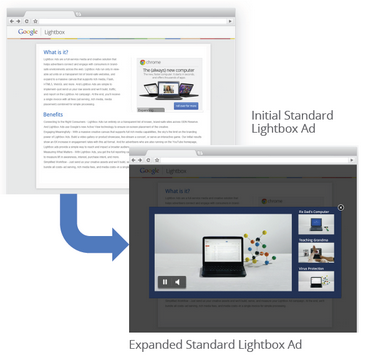 Our Engaging Test
For our health care industry client, the main goal was to drive brand awareness and engagement through the Lightbox video ads. We started with a mix of targeting including contextual keywords, affinity groups, and demos around our target audience. We later implemented a contextual keyword targeting ad group around branded and competitor keywords which ultimately became our top performing ad group in terms of engagement rate; 41% higher than our top affinity targeting ad group. Through regular analysis of top performing placements, and implementing exclusions around those with subpar engagement rates, we were able to grow engagement rates throughout the course of the campaign.
Main Performance Highlights
There were over 355K engagements during the course of the campaign with over 10M impressions and 70K video views.
The engagement rate for the campaign was 3.31% which was 89% higher than the industry benchmark of 1.75%.
Average cost per engagement ended at $0.28 which was cheaper than the industry benchmark of $0.30.
Our ads were interacted with over 630K times or over 1,000 hours (41 days) of interaction time.
What Else Did We Learn?
Outside of standard engagement metrics, the rich media reporting was extremely robust and tracked engagement down to every ad component. Despite over 335K engagements, actual CTR to the site came in at 0.1%. While that traffic was "free" and the CTR was within industry standards for display banners, it was less than anticipated. This could be due to the creative selection and approach, or lack of a compelling call to action after the video's were played, but it's hard to argue with the total interaction time with the ads and the brand. The most exits stemmed from the logo in the top corner of the lightbox ad and not the action button, a reminder to make sure all ad components are tagged appropriately to better analyze performance.
We ran this test while the ad type was still in beta, requiring the ads to be served through DoubleClick. The ad creation process and functionality has since been added into AdWords to simplify the process, a much appreciated addition. Engagement ads can be created by selecting Display Network Only > Engagement.

Advertisers that are considering this ad format should take the time to define their target audience to better align the display targeting methods used. If the goal is to drive traffic to the site, I would recommend compelling video assets that encourage those clicks with a strong call to the action at the end.
We're excited to continue testing this ad format for clients across different verticals and comparing performance. Let us know how your engagement ad tests performed or share tests you're running now!