Almost overnight, Google rolled out an update to add carousel results to the top of numerous queries. Carousels at the top of search results were expanded largely for queries containing the word "best," but also could be found for other adjectives like "top", "great", and "amazing."
Why did Google make this change?
There could be a handful of reasons (speculation incoming):
To ensure Google is recommending the best brand/product/service
To better match the intent of the search by immediately providing several "best" options
To keep people doing their research within Google search results vs. heading to a source that may or may not be trustworthy
Whatever the reason, it's happened. Let's dig into how far-reaching this change is and what it means for your website.
What Industries Does This Impact?
It looks like most industries were affected. We're seeing this across the following industries:
online dating
backup software
mutual funds
car manufacturers
office supply companies
One notable industry that hasn't changed is the online education space. Here, we're seeing featured snippets and "People Also Ask" boxes showing up... but no carousels.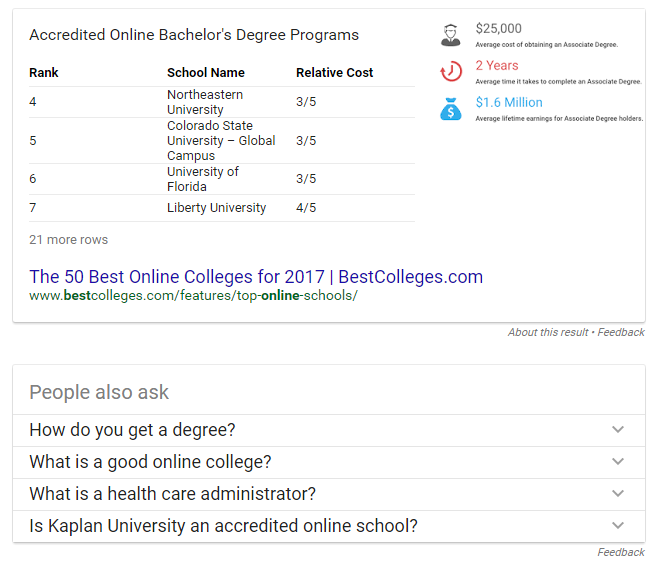 Another even broader industry that isn't showing up in carousel? Local results, which makes sense. Google likely has little to go on (Wikipedia & external site sources) to firmly evaluate a carousel result for local businesses. It's also likely not as useful to have a carousel deemed more important than a map, addresses, & phone numbers.
How far can this roll out? "It depends" is the answer that no one wants to hear. It's hard for Google to show the "Best Checking Accounts" or "Best Credit Cards" when those concepts are dependent on several other factors. Location, credit score, acceptance criteria for each bank, and perks/offers for each account are hard to quantify, making a carousel a potentially bad or odd first universal result.
Image Quality
While we haven't had time to dive into where Google is pulling images from for each of these new carousels, the variation of image quality stands out. Acronis, Time Machine, Dropbox, Google Drive, Macrium, and Backblaze all have carousel-optimized images. Other big names like Carbonite, BackupPC, and AOMEI have partial logos being pulled in, potentially making them feel less authoritative and trustworthy for a searcher's backup needs.
Identifying where and what image size is optimal for carousel is a good next step to ensure that if your company is showing up, that you look polished and image optimized.
Anything Else Strange Going On?
Yes! One of the stranger aspects of this new carousel change has to do with images. And another has to do with the number of search results.
Search results for "best mutual funds" bring back some of the more familiar names; Vanguard, T. Rowe Price, and Franklin Templeton. What's interesting is that Google is pulling in some individual funds alongside these mutual funds.
For Fidelity, Google is bringing in charts of specific funds for the image, which isn't a value add as they're too small to read. What's interesting is that the chart for Fidelity Magellan Fund listed in the carousel isn't taken from Fidelity, but from JPH Advisory Group. The Fidelity Magellan Fund image from their blog post is the first image result for a search for the fund. THIS IS A TERRIBLE IMAGE CHOICE. Why? Because it's a chart of the fund from 1977 through 1990. Not relevant for someone searching for "best mutual funds" in 2017.
For Vanguard, they get no image even though a search for "Vanguard Total Bond Market Index" brings back similar quality image results as Fidelity.
So How Do I Know If This Helps/Hurts My Site?
To answer that, you'll want to understand how many best/top/great/amazing keywords your site ranks for across Google. To do that:
Login to the tool of your choice; SEMRush, Conductor, BrightEdge, getSTAT or others to look at your keywords.
Find where the tool lists results with carousel as a feature (screenshot below).
Export, sort by page to understand which need to be closely monitored for any traffic impact.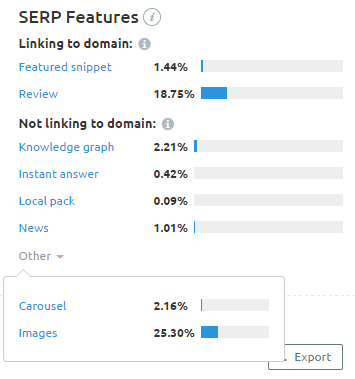 Are You Seeing Other Changes?
With this latest change rolling out less than 24 hours ago, we'll update this post as we see the impact across all clients. If you have additional information you'd like us to include here (and receive credit for!), please comment and we'll update accordingly.