If you're collecting website data in Google Analytics, you should know a few things about how data is organized within the interface.
Three stages of the Google Analytics hierarchy:
Account - Contains all of your data for all websites
Property - Each property has a unique tracking ID (UA-########)
View - Where you actually view your website data in the GA interface
When you're analyzing your website data you're most likely spending most of your time within the Views in Google Analytics. Views can be customized by applying FIlters to show you only the data you or your stakeholders want to see.
---
Why You Should Create Google Analytics View Filters
Pre-filtering your data before it reaches the final data collection stage in Google Analytics can save you a lot of time in analyzing your data - and there are a ton of possibilities for custom filters for your data! You can also be more specific when directing stakeholders towards the data that is most valuable for them.
Another reason to create pre-filtered views is to avoid sampling issues within the Google Analytics interface. Applying multiple filters or segments to data after it's already processed by GA can be tedious, and you run the risk of your data being sampled to the point where it can't be used to derive insights and recommendations.
Learn more about view filtering -- including why it matters how you rank (or order) filters in Seer's filter order guide here.
---
Basic Google Analytics Views to Set Up:
1) Raw (Unfiltered) Data View
You should always have a backup Google Analytics view that is truly an unfiltered view. In addition to acting as a backup, a Raw (Unfiltered) Data View is useful for reviewing changes that would otherwise be filtered out from other views. Once you apply a filter to a view you cannot retroactively remove it, so a raw view also ensures you have access to all historical data that flows into GA.
Like the name suggests, "Unfiltered" means that there should be no filters applied within the View Filter Settings, like below: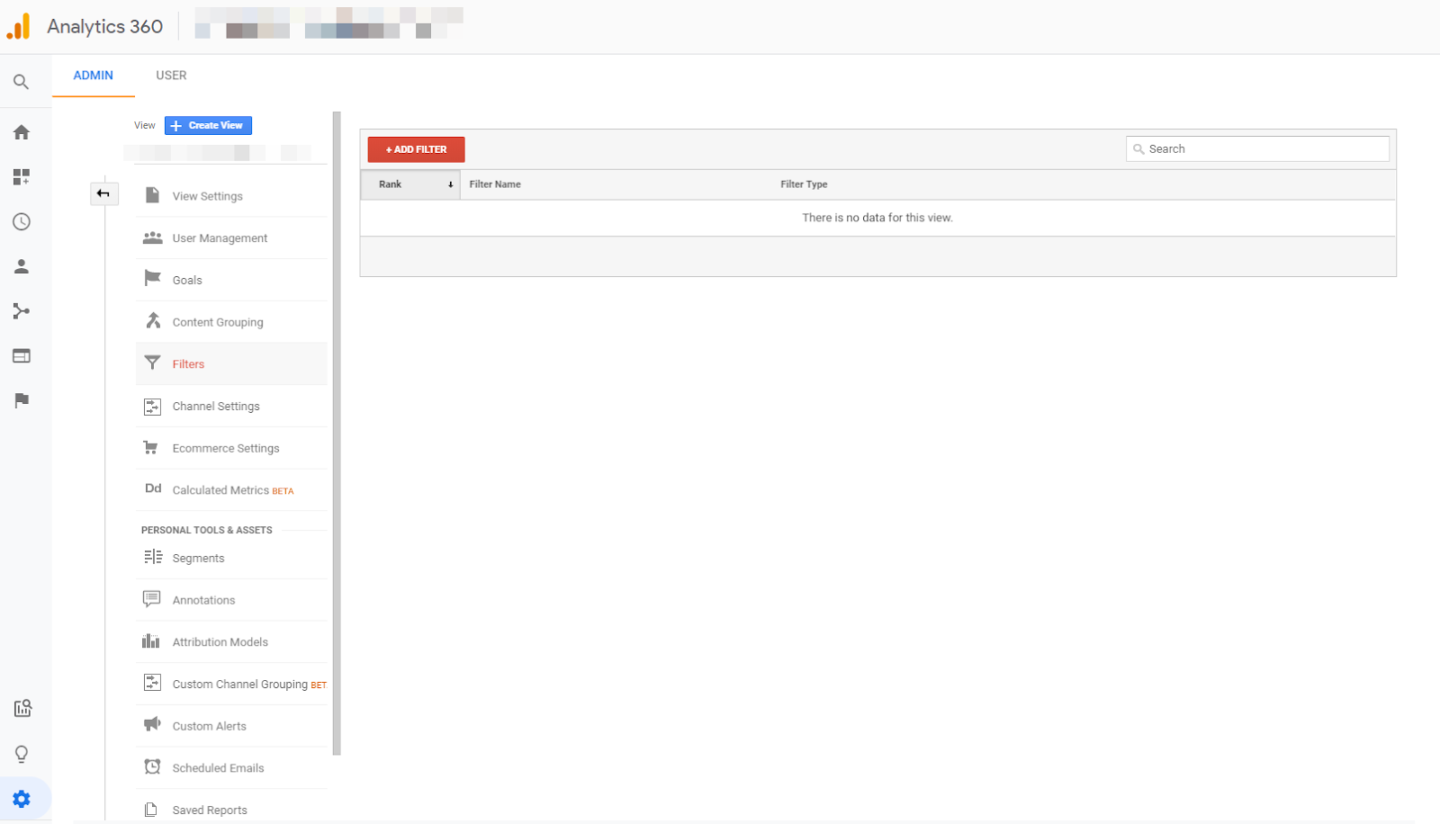 2) Test Data View
A Test Data View is also pretty self-explanatory: you use this view to test out any filters or configuration changes in Google Analytics! The reason for using a Test view is to make sure any changes are validated before applying them to your overall data - you can't go back and erase past Google Analytics data.
3) Overall View
Your Overall View is your clean data source that pulls in all Google Analytics data (aside from data such as IP addresses and spam that are purposefully filtered out). This view should include all hostnames of your website, all channels driving traffic, etc.
How to Set Up 6 GA View Filters
How to Set Up Google Analytics View Filter #1: Channels
You can make a view for any Channel or Source / Medium you'd like by using View filters!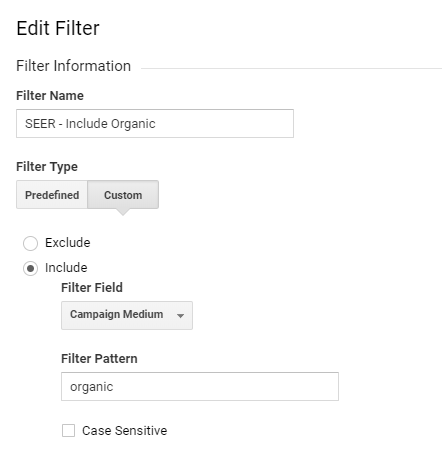 Organic Search Channel

Paid Search Channel

Social Channel
These are examples of top channels that you may have dedicated teams for (either internally or with Seer!). Pre-filtering these views can help make data analysis faster and easier, either in the interface or by connecting to tools such as Data Studio.
If you have teams dedicated to managing social media, have a specific view for them to measure the click through rate from social to your website from specific social sources, campaigns, and more. First, you should make sure that your teams are correctly tagging all social campaigns - check out this blog post for more info on campaign tagging.
How to Set Up Google Analytics View Filter #2: Device Type
Three more helpful views to set up are ones that filter for only a specific device type. If your site has a large mobile presence, this is especially helpful to monitor UX for mobile users to help identify any points of friction or UX issues.
Desktop Devices

Mobile Devices

Tablet Devices
To set up filters for a view specific to a certain device, you can simply include only the Device Category of your choosing, such as mobile.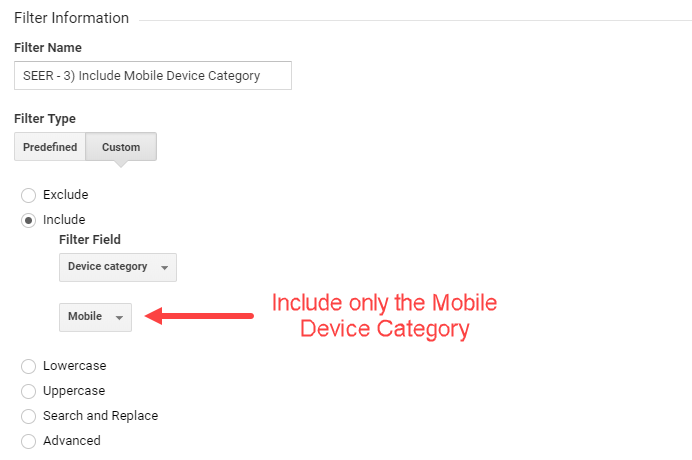 If you want to get even more granular here, you can choose to include only specific operating systems. Building a RegEx formula of Mobile OS that you want to include is a great way to even further segment your audiences by device.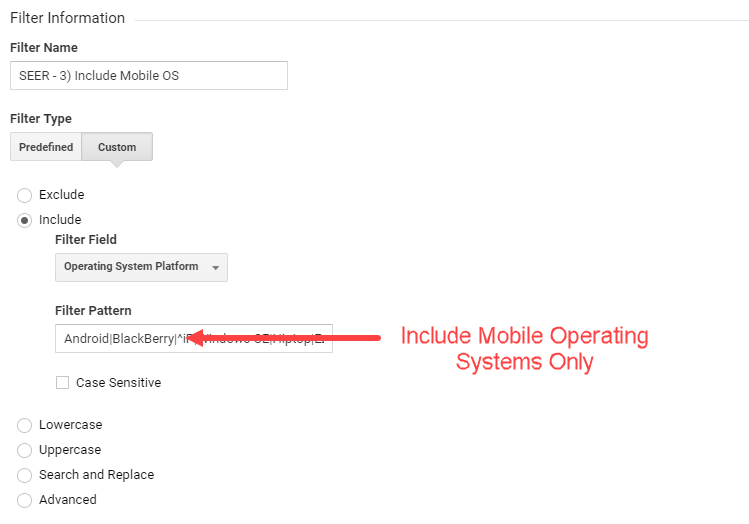 How to Set Up Google Analytics View Filter #3: Content Type
1. Blog Pages
2. Career Pages
If your website has a blog, it's most likely broken out into a subfolder on your site, or it might be an entirely different subdomain. If you have a content team writing posts, it's helpful to have a specific view for them to view blog engagement, top posts and categories, etc.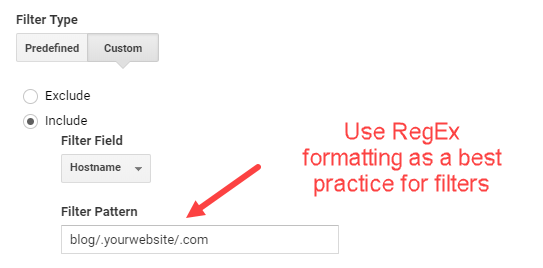 Additionally, although Careers page viewers may not be your target audience for your product or service right now, it's still just as important to understand their behavior. You might even have specific goals for viewing or applying to your job listings!
How to Set Up Google Analytics View Filter #4: User-ID
If your website offers a customer login or portal, you should have the User ID feature turned on so you can identify who your true prospective customers are compared to your existing customers.
To create a User-ID view, you'll first have to enable the feature within Google Analytics' Property Settings. Once you complete all the necessary steps, you'll be able to create a User ID view right from this screen! A great way to leverage User ID tracking is include only users with a User ID so you can understand user behavior for existing customers.
On the flip side, excluding users with a User ID can show you true prospective customer data such as traffic and conversion rates.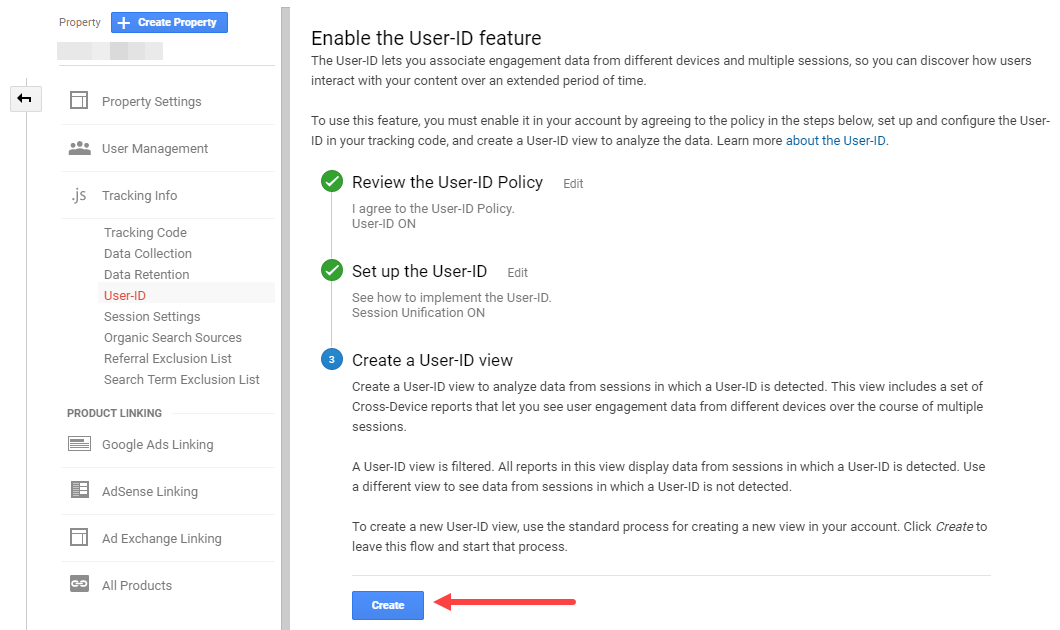 How to Set Up Google Analytics View Filter #5: Geography
There are several location-based filters you can apply to your views, which can be especially useful if you operate in multiple countries. However, you have the granularity to filter all the way down to the city level if you want.
Filter by Country

Filter by City

Filter by State (Region)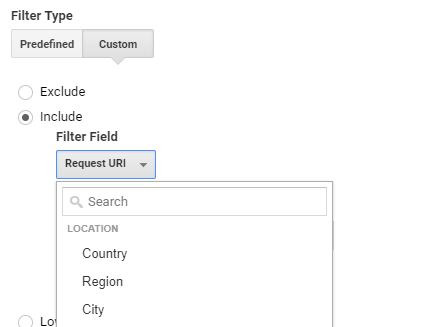 You can even filter by Language Settings, which can make your geo-targeting views even more specific to your audiences.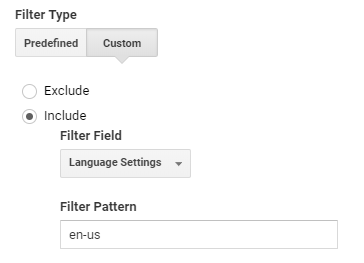 How to Set Up Google Analytics View Filter #6: Custom Dimensions
Google Analytics allows you to create Custom Dimensions that collect data unique to your website. Once you create a Custom Dimension, it will appear as an option to use in view filters, opening up even more possibilities to create audience segmented views.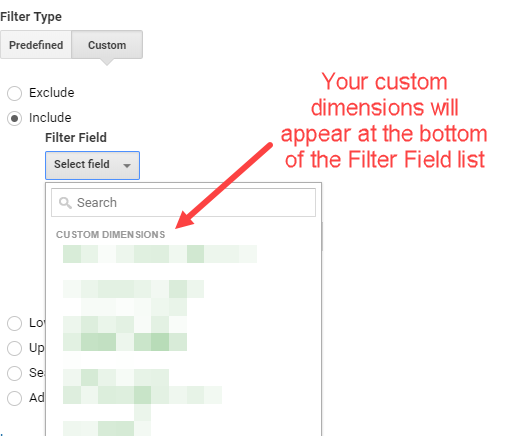 ---
Before you get too excited about your new view possibilities, keep in mind that the free version of Google Analytics only allows 25 Views per Property. This means you'll need to be very strategic with your views and plan for what to do when you max out. If you go over the limit or reach it, consider the following solutions:
Create a net new property - this requires a new property ID to be added to your site & splits your data between multiple properties in Google Analytics. However, we caveat that this can make it more difficult to find the data you need.
Upgrade to Google Analytics 360 to expand the number of views per property.
Want to learn more about upgrading to Google Analytics 360? Contact the Analytics team or keep reading our blog posts for more!