This post was written by Catherine Blake and Michael Sherrod.
On October 14, 2020, Google announced a new era of analytics called Google Analytics 4 FKA App + Web. All sites using Google Analytics will be migrated fully to GA4 in 2021.
Introducing App + Web Properties in Google Analytics
Who wouldn't want to know how mobile app experiences lead users to engage with and convert on-site (or vice versa)?
Last week, Google announced the launch of the new App + Web property type in Google Analytics to help answer this very question! While this version is still in Beta, its goal is to solve a disconnect in digital analytics: gathering app and website data for measurement in a single place. This presents new and exciting opportunities for those who collect and analyze both app and website data.
So what does this mean for you? Let's dive in and find out!
---
A New Solution for Cross-Platform Analytics
In recent years, the user journey has evolved to include more touchpoints throughout the digital marketing funnel. Mobile apps are everywhere today, generating more than $365 billion globally in 2018.
With more users interacting with brands across apps and websites, a unified picture of engagement throughout the digital ecosystem is essential for marketers. Insight into cross-platform journeys will allow us to understand the full user journey, predict customer needs and provide great brand experiences. Your business exists across platforms, so should your data.
Currently, many businesses measure app engagement with Google Analytics for Firebase (GA4F) or Google Analytics App Views, whereas website engagement is measured in default Google Analytics (GA) web views. While this goes part of the way to understanding the full digital experience, it falls short by collecting data from each platform separately, resulting in siloed data.
Enter, GA App + Web properties, a flexible tool to combine your data and discover insights unique to your business, not the platform.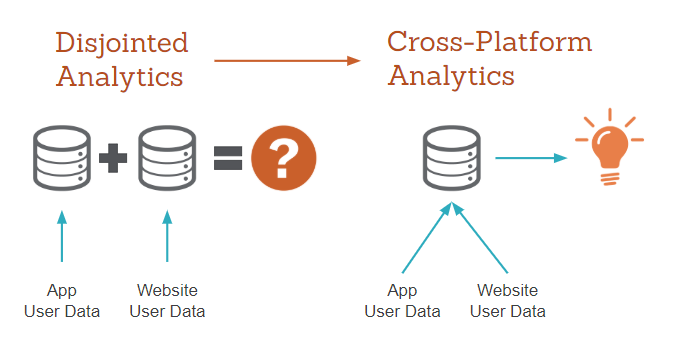 What is App + Web and How Does It Work?
App + Web is a new property type in GA that takes the best of GA4F and applies it to traditional web views. The combination allows you to measure app and website data together in Google Analytics for the first time.
This is done by sharing a single set of metrics and dimensions between data sources (app or web). If you are familiar with GA you will understand the session-centric data model used for your website's data. App + Web properties progress past this traditional data schema by switching to a more user-centric event-based model.
Users of GA4F will recognize this structure as it works in essentially the same way. This change is an exciting prospect for GA users, who have long awaited more flexibility in reporting and analysis.
For a technical overview of how the event-based model works, check out this blog post from David Vallejo.
App + Web Property vs App Views
Out with the old: Two analytics interfaces using different measurement models.
Google Analytics App View Interface: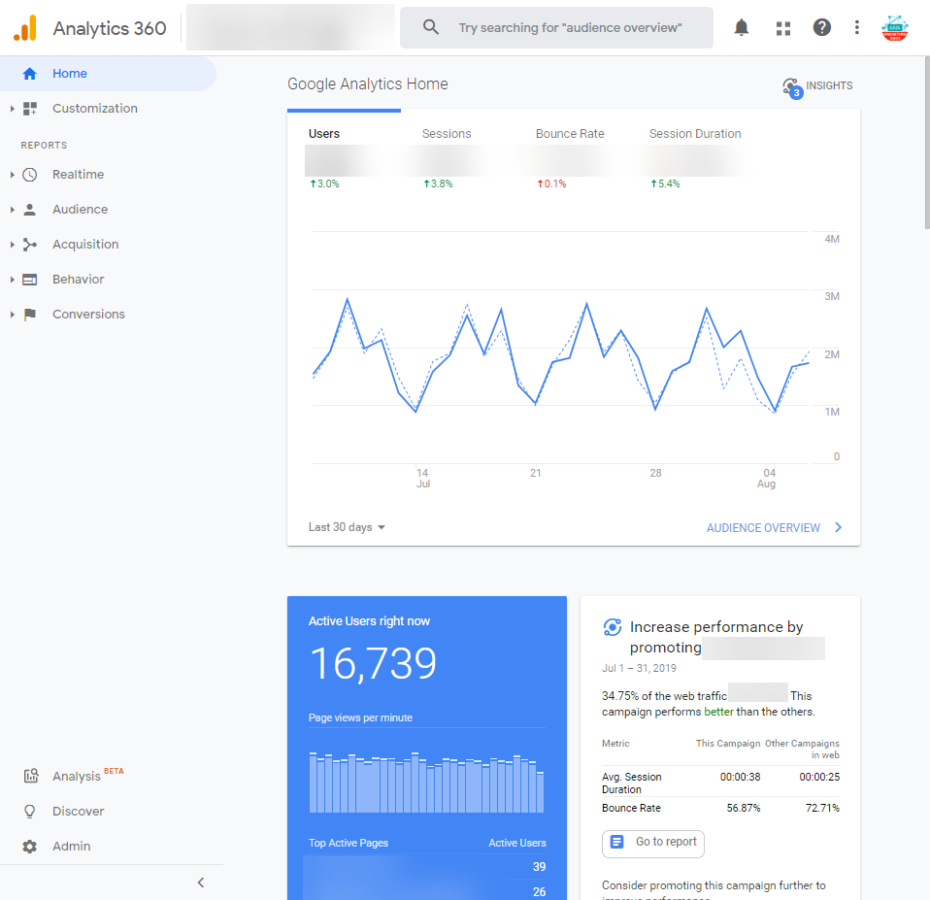 Google Analytics For Firebase Interface:
In with the new: One interface, one measurement model, all of your data from web and app.
New Google Analytics App + Web Property View: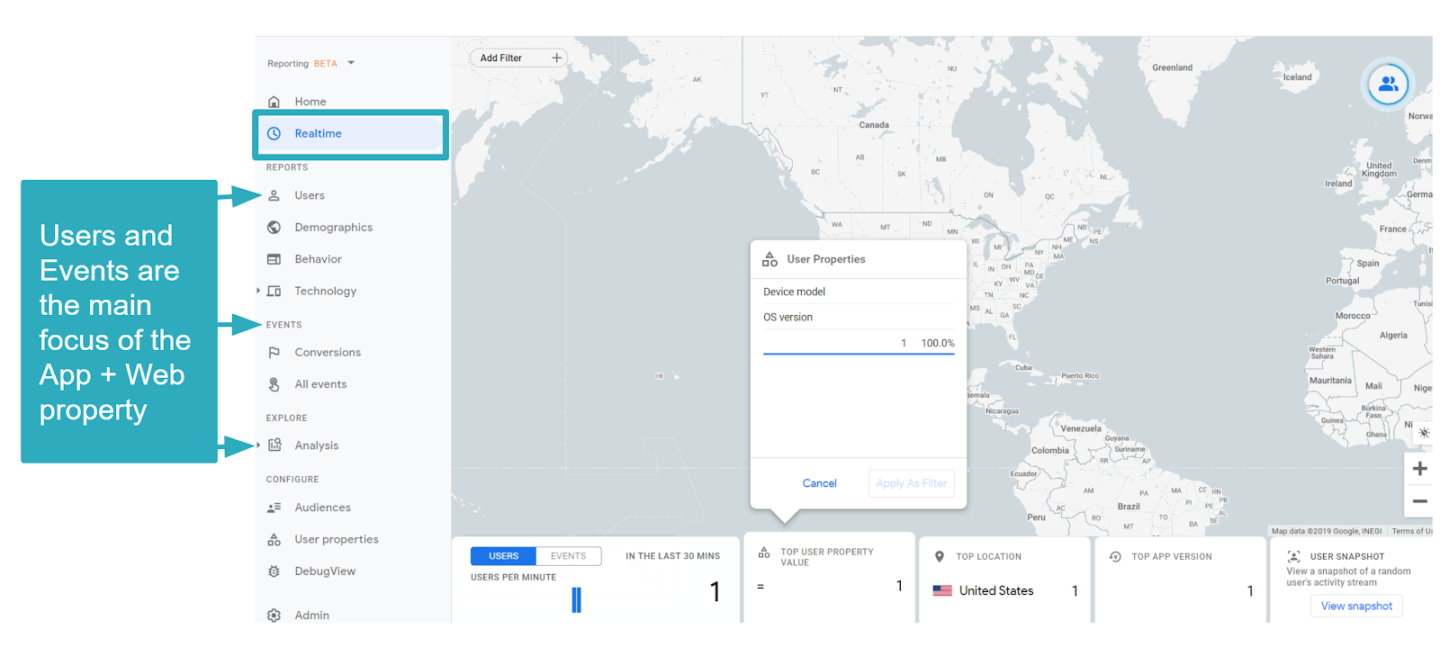 Benefits of Using the App + Web Property
Web + App provides us with a new opportunity to understand our users, in a more complete sense.
Here are just a few cool new things you can expect:
Enhanced Measurement: First off, this event-based model provides better out-of-the-box functionality allowing you to measure a diverse range of actions regardless of platform. This can include app opens, page views, downloads, and more. It automates the manual work of tagging these events without requiring any additional coding.
Exploration: Analyze a bunch of variables for ad-hoc visualizations all in an easy drag-and-drop interface.
Funnels: Illustrate your users' navigation steps, and identify key entrance and drop off points. There are even options for open and closed funnels.
Path Analysis: Follow your users' actions at each step of the funnel to better understand conversion.
Some of the questions we can now begin to answer with a unified analytics property are:
How many total users do we have across platforms?
Where are the majority of conversions happening (web or app)?
Which channels are most effective at driving new user acquisition?
What does the user journey between website and app look like?
And that's just for starters! Insights gained can provide us with a host of opportunities to optimize our digital platforms to better serve users. Read more from Google here.
How to Get Started with App + Web
To get started, go to Firebase Console to create a new project.
Follow the steps on screen and then once your project has been created, head over to Google Analytics to complete your setup.
Step 1: Create a Firebase Project

Step 2: Configure the App + Web Property in Google Analytics
Navigate to the Admin section of your new App + Web property and select Data Streams. This new measurement model revolves around streams. A Stream is your data source and can include iOS, Android or Web applications.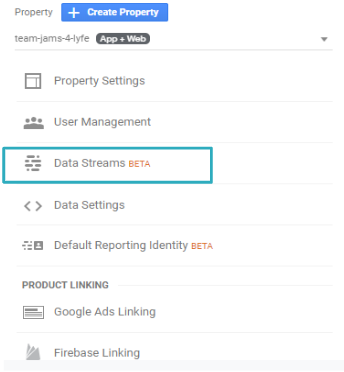 Here you will setup and configure your data stream.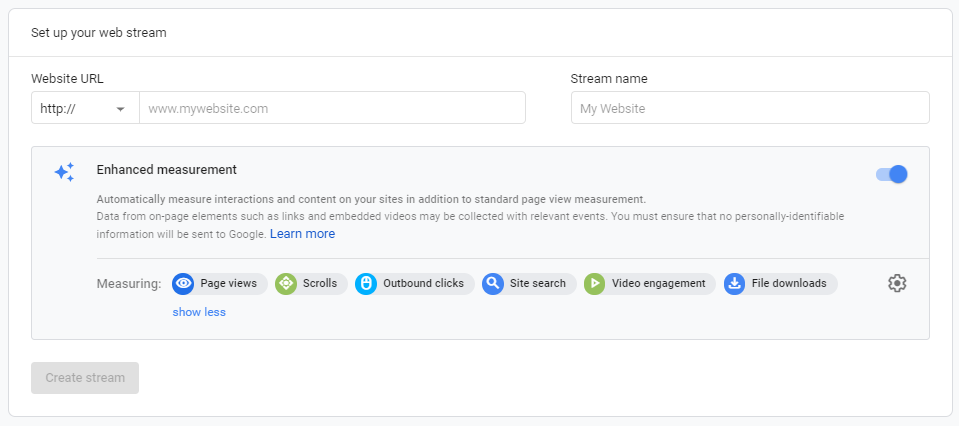 Finally, configure your tagging. Depending on whether you have GA tracking setup on your site already or not, you can choose either Add new on-page tag or Use existing on-page tag.
Follow the instructions for the implementation option that applies to you and start collecting data.
New Tag Configuration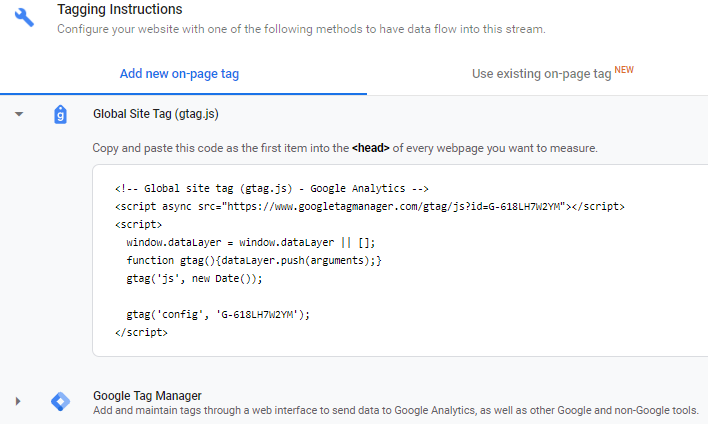 Existing Tag Configuration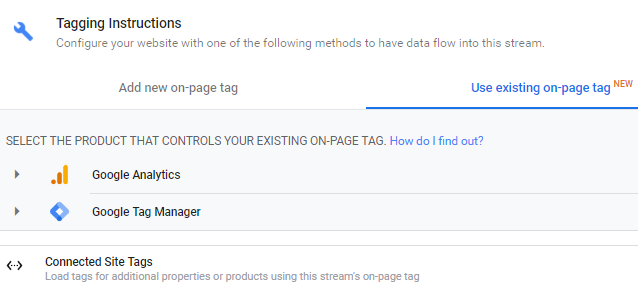 App + Web Property Settings
There are no Views in this property type. Anything you would usually configure at the View level admin will now be done in the property settings.
Data retention options of 2 or 14 months. Consult with your internal data/privacy teams to decide which makes the most sense for your business.

Default reporting identity options of User ID and Device or Device Only.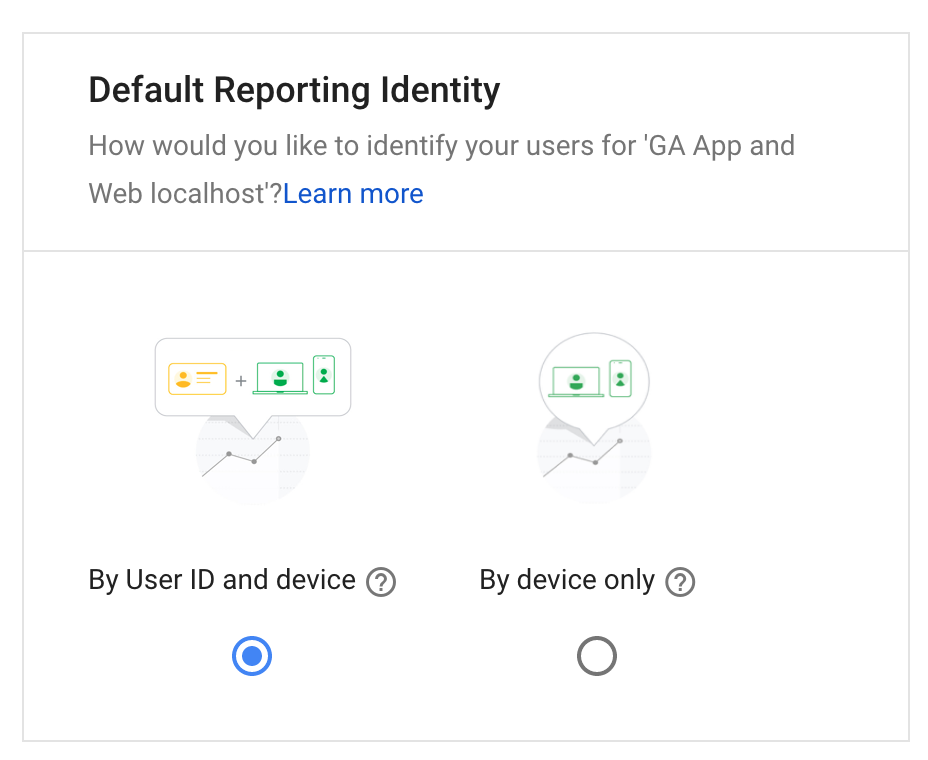 Measurement ID: G-xxxxxxx (acts as UA-xxxxxx-x in standard GA properties).
Current Limitations
As with any Beta, you can expect some kinks as the product evolves. Currently, App + Web properties are lacking:
If you depend on Enhanced Ecommerce measurement this solution may not be right for your business (for now). Enhanced Ecommerce Measurement is not yet supported.
There are no product-scoped Custom Dimensions or Metrics and no Custom Reports.
There is a slight learning curve. If you're not accustomed to Firebase, navigating around a Web + App property may throw you off at first.
---
Google Analytics new App and Web experience, with its new user-centric event model and new analysis capabilities is now available to all Analytics and Analytics 360 accounts in Beta.
If you already use Google Tag Manager or the global site tag for Google Analytics setup is a straightforward process. There's no re-tagging required for your website. App data can be included through the Firebase SDK implemented in your app.
While still in its infancy, this new model for combining data from app and website in one place, with on data schema is a welcome addition to the analytics industry.
We are excited to take the plunge into unified data reporting and analysis as the capabilities of App + Web evolve. Got questions about analytics? Reach out - we're here to help!